About 12 or so years ago, my favorite barbecue restaurant in the area kept a pet pig onsite. Her name was Daisy, and from her enclosure next to the entrance, she greeted customers upon arrival and gave only slightly offended looks when they left, the scent of barbecue swirling around them. One day Daisy was gone. I went inside and demanded to know what became of Daisy, afraid of the possible responses. It turned out that the business changed ownership, and Daisy left with the former owner. This put my fears to rest, but the whole experience diminished my taste for pulled-pork barbecue.
Like Daisy, there are quite a few four-legged characters known around businesses on the Outer Banks. These pets in residence bring homey and inviting creature comforts to local businesses. For some regular customers, it's the dogs and cats – not the inventory or offerings – that keep them coming back. Going from the northern to southern towns in the area, here's where you'll find a few popular characters.
Photo Credits to Lovie's Salon and Spa
Dogs are the name of the game at Oh My Dog in Corolla, both on the restaurant's menu and in the setting. The hot dog and sandwich joint sports fun dog-themed decor, which is brought to life by Norman, the owner Nadya's dachshund. Between the recent addition of the eatery's dog-selfie wall and Norman patrolling the grounds, customers feel comfortable bringing their own well-behaved pups, snagging a selfie with both their dog and their dogs.
There's no denying animals' therapeutic effects – whether it's a goofy dog dancing around you or a cat curled up in your lap, animals' company can help us release tension and reminds us that we deserve to feel special. It seems fitting that a salon and spa dedicated to making customers feel better in their appearance, emotions and spirit does so with the help of furry assistants. Lovie's Salon and Spa's onsite team of cats and a dog makes customers feel right at home. Unwind with some furry company from kitties Mama, Brother, Niles and Loki, plus Rosie the golden retriever, while hair, facial and massage services make you feel restored and pampered.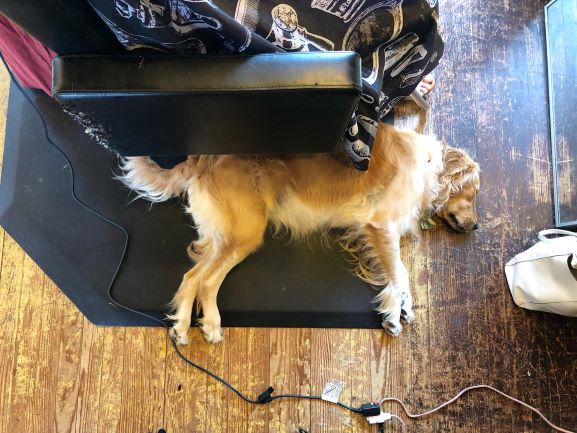 Rosie at Lovie's Salon and Spa. 
Explore Kill Devil Hills and Nags Head, pup-crawl style! Ashley's Espresso Parlour customers can expect to see the owner's bull terrier wandering between the dining area and behind the counter. He's frequently joined by friends LuLu, the golden retriever, and Chola, a funky hairless dog. This artsy coffee shop in Kill Devil Hills welcomes dogs, so feel free to bring your pooch with you to grab a cup and then head to the nearby Helga Street beach access.
For a similar coffeehouse vibe that includes both ambiance and four-legged friends, check out the eye-catching Morning View Coffee Co. in Nags Head. House dog Lorelei, the golden retriever, spends her days relaxing alongside customers on the comfy sofas, occasionally getting up to greet her favorite regulars when they enter the shop. And if you pair a pastry treat with your coffee drink, be prepared for Lorelei to approach with her unwavering, puppy-dog-eyes stare. Resist the urge to feed her, though.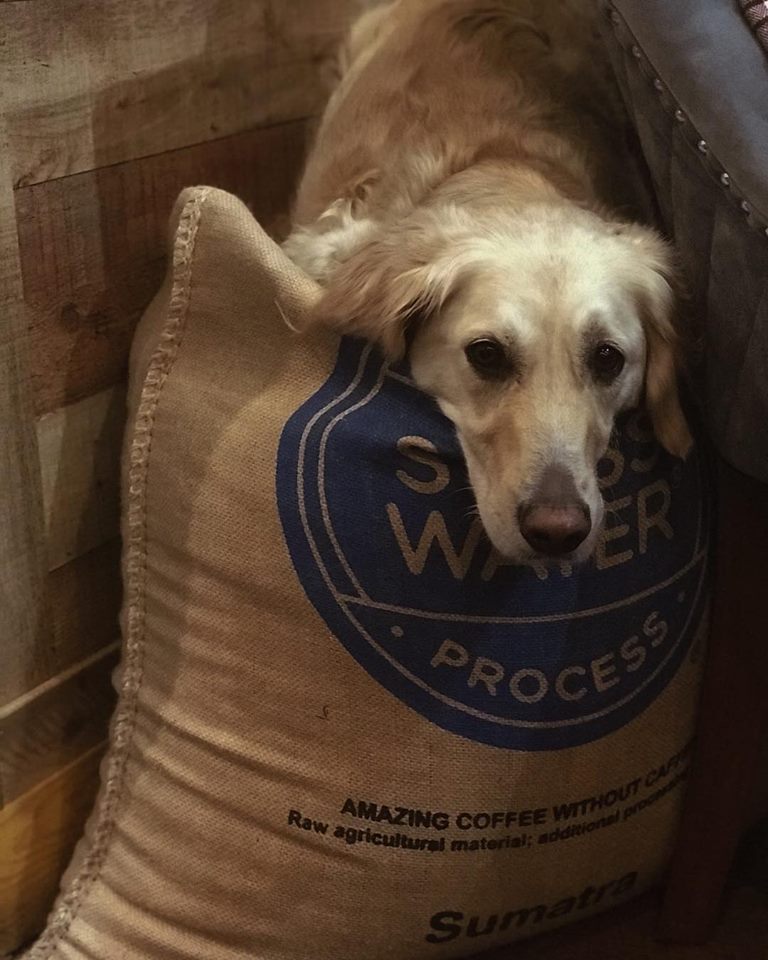 Lorelei at Morning View Coffee Co.
In Manteo, you can tour the walkable downtown with a pet-friendly focus in mind. The Magnolia Market Place is a preferred haunt of Sam, a fluffy calico cat. Always looking for head rubs and treats from visitors shopping or strolling around the complex, Sam lends an affectionate touch to a visit to the shopping center. Keep in mind that he's deaf and won't respond if you try calling him over.
For the pet who wins the name game, look no farther than Bubba Darlin'. This endearing Norwich terrier is the official welcoming committee at The Island Shop. Don't miss him as you browse the women's clothing, locally made jewelry and home decor at this coastal-inspired boutique.
And does it get any better than spending your days curled up at a bookstore? Ask Piper, the Cairn terrier, at Downtown Books in Manteo. The bookstore's quiet and cozy setting urges visitors to relax and let go of time, which Piper demonstrates masterfully, spending her days napping and nuzzling up to customers.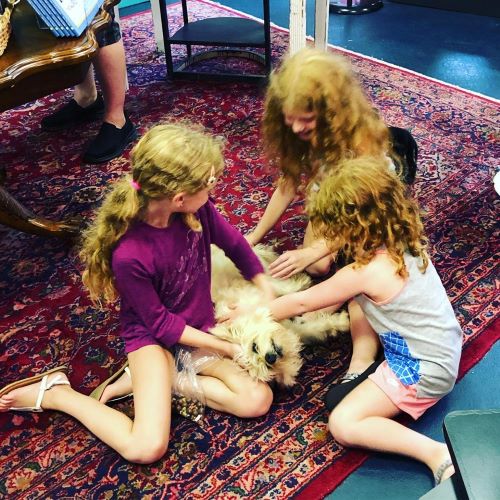 Piper knows it's important to get all ages reading at Downtown Books in Manteo.
Most people head to OceanAir Sports in Avon for watersports gear, equipment rentals and on-the-water lessons. That said, the cool clothes, goods and rentals in OceanAir's shop take on an additional appeal with the presence of Stash, a friendly little dog who was rescued from Puerto Rico after Hurricane Maria. Although a petite pooch, Stash can't be missed thanks to his saucer-sized ears.
A notable contributor to Ocracoke Island's charm comes from the quirks that local businesses are known for. While the cat cafe trend has yet to appear in the village, shoppers can expect to see a few cats hanging around outside of Mermaid's Folly, a boutique for women's and men's clothes, beach-inspired accessories and artisan crafts and decor. Inside the shop keep an eye out for Oreo, the resident cat.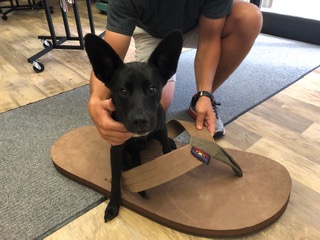 Pistachio, aka Stash, in the giant flip-flop at OceanAir Sports.
Who are your favorite furry friends at local businesses? Share with us in the comments.
And if you're spending Labor Day weekend on the Outer Banks, check out the events scheduled on our Daytime Events and Nightlife calendars. With festivals, surfing tournaments and loads of live entertainment, the activities and forecast for perfect beach weather have the makings for an exceptional holiday weekend.