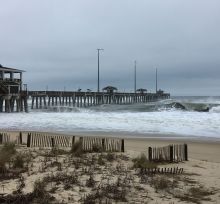 When at the beach or planning a visit there, the hope at the forefront of everyone's thoughts is, "Oh, I hope the weather's nice!" This is totally fair. Sunshine seems to go hand in hand with surf and sand. However, that shouldn't mean that a rainy day is a complete washout. Far from it, in fact.
I love the Outer Banks in the rain. The area has an abundance of shops and indoor activities and as cool as they are, I always feel a little guilty about doing anything indoors when the weather is nice outside. But then we get those days or afternoons when the clouds blanket the sky in charcoal-gray and the thunder rumbles overhead. You could hole yourself up inside, staring miserably into the rain as you brood about the tan you're not getting or the waves that you're not catching. But what's the fun in that? This time is as good as any to explore the Outer Banks activities that don't require a clear sky or the application of sunscreen every couple of hours.
A number of Outer Banks things to do will satisfy a diverse range of interests. And if you've kept yourself from driving from Hatteras to Corolla or vice versa because you can't justify spending a beautiful day cooped up in the car, take a break from the weather and gear up for a little Outer Banks road-trip – you'll be glad that you did!

Make Art
Create your own mosaic, paint pottery, bead necklaces and bracelets for your friends and family members, tie-dye that boring white tee shirt or craft your own sea glass or driftwood sun catcher for a truly Outer Banks-inspired souvenir. Some studios also have an on-site spot to grab a tea or coffee drink to help chase away those rainy day doldrums. Try these: Deja New in Kitty Hawk, (252) 261-1205; OBX Art Studio in Kill Devil Hills, (252) 449-2134; Island Dye It Yourself in Kill Devil Hills, (252) 480-0076; Cloud Nine in Nags Head, (252) 441-2992; Beads & Beans OBX in Rodanthe, (252) 305-2352; Studio 12 in Avon, (252) 995-7899; Kinnakeet Clay in Avon, (252) 995-0101; Sandcastles in Avon, (252) 995-0147; Blue Pelican Gallery in Hatteras, (252) 986-2244
Buy Art (and Other Stuff)
Shopping for beautiful art can be just as much fun as crafting it yourself. Gallery hopping is a relaxing yet sophisticated way to escape the rain. Browse through beautiful pottery, photography, paintings, jewelry and woodworks or even mosaics and stained glass. A rundown of Outer Banks art galleries from Corolla to Manteo to Ocracoke can be here in the Arts section of our Shopping guide. If you want to explore several galleries, know that some areas of the Outer Banks have several galleries clustered together. Duck is one of those places, as is the Gallery Row area of Nags Head. Downtown Manteo has several galleries in a small area, including the very large Dare County Arts Council Gallery in Manteo, (252) 473-5558. Hatteras Island has lots of art galleries, but they're more spread out. Ocracoke is known for its charming art galleries scattered around the village.
If you just want to shop in general, you'll find wonderful independently owned shops, boutiques and outfitters in every community on the Outer Banks. See our Shopping section, which is searchable by area of the Outer Banks and also by the type of goods you're looking for.

Work Out
Don't wait until you hit the beach to work on your beach body! Gyms, fitness centers, yoga studios and other athletic-oriented activities are open year-round on the Outer Banks and their offerings can fit into all sorts of interests and workout styles. Build strength in the weight room. Socialize and learn a new skill at CrossFit or in Zumba classes. Or wait for a morning rain shower to roll out while centering yourself with a soothing session of yoga. Outer Banks Family YMCA in Nags Head, (252) 449-8897, has child care, an indoor pool, a gymnasium and a variety of classes. You can find all the gyms, yoga studios and fitness options in the Gyms, Fitness & Indoor Sports section of our Things to Do guide.

Play Inside
Escape the dreary gray skies in the fun, flashing neon lights of a bowling alley and arcade, complete with music and the satisfying sound of bowling pins collapsing against the wooden floor. Make it a lunch or late-night excursion by grabbing a pizza or beer to complement your game. Laser tag or simulated sports and video games are activities that can help all ages burn off some energy, or you can use your collective brain power in an escape room. OBXscape Rooms in Southern Shores, (252) 564-9636; Turfs Up OBX in Kitty Hawk, (252) 715-5820; OBX Bowling Center in Nags Head, (252) 255-1187; OBX Laser Tag in Nags Head, (252) 480-8512.
Relax
Relax your mind with the rhythmic drumming of rain against a windowpane as a trained massage therapist helps relax your muscles. From Chinese acupressure to a Swedish deep tissue massage to Reiki, you'll find that on the Outer Banks, not every way of unwinding involves a day on the beach or cold drink in hand (though we don't mind when they do!). Check out our Outer Banks Spas and Massages listings to find a practitioner or spa near you.  
See a Movie or a Show
If you're like me, you have trouble justifying staring at a screen when the weather is beautiful. Take advantage of a rained-out beach day by catching the latest blockbuster that you've been dying to see. Just remember that a ton of other people will have the same idea! The Outer Banks only has two movie theaters. If you're here in the summer months you might be able to catch a live children's performance at Roanoke Island Festival Park or The Lost Colony, both in Manteo.
Get Interactive
As all kids know, the best types of activities are the ones that involve doing something yourself. Outer Banks things to do include many interactive attractions that teach you and your little ones about the area's history, culture and natural environment by putting you in charge of the fun. Bake bread in an 1850s-era hearth oven, pet a live sting ray and much more. Here are some attractions with indoor hands-on things to do: Corolla Wild Horse Museum in Corolla, (252) 453-8002; Outer Banks Center for Wildlife Education in Corolla, (252) 453-0221; Jockey's Ridge State Park Visitors Center in Nags Head, (252) 441-7132; Jennette's Pier in Nags Head, (252) 255-1501; Island Farm on Roanoke Island, (252) 473-6500; North Carolina Aquarium on Roanoke Island, (252) 475-2300; Roanoke Island Festival Park in Manteo, (252) 475-1500; and National Wildlife Refuges Gateway Visitor Center on Roanoke Island, (252) 473-1131. You'll find a more comprehensive list on our Attractions page.

See the Outer Banks of Yesteryear
One of my favorite thing about the Outer Banks history museums is that they aren't really "museums" in the conventional sense. Rather, they're restored historic buildings or grounds that have stories to share or are places dedicated to the research and preservation of something unique to the Outer Banks. They're much more interactive and casual than anything you'll find in a metropolis, and the docents and staff love sharing their knowledge with you. These are some of my favorites: Whalehead in Historic Corolla, (252) 453-9040; Wright Brothers National Memorial in Kill Devil Hills, (252) 473-2111; Fort Raleigh National Historic Site in Manteo, (252) 473-2111; Chicamacomico Life-Saving Station in Rodanthe, (252) 987-1552; Graveyard of the Atlantic Museum in Hatteras Village, (252) 986-2995; and Ocracoke Preservation Society and Museum in Ocracoke, (252) 928-7375. Of course you can always climb a lighthouse on a rainy day: Currituck Beach Lighthouse in Corolla, (252) 453-4939; Bodie Island Lighthouse near Nags Head and Cape Hatteras Lighthouse in Buxton, both (252) 473-2111.