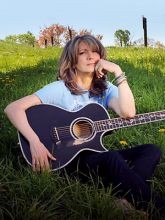 Waterside Theatre, the area's newest musical venue and home to Roanoke Island's very own Tony Award-winning theatrical production, The Lost Colony, welcomes two Grammy Award-winning artists to the Outer Banks as part of the PNC Bank Presents: Live At The Waterside Concert Series. On Sunday, July 7 at 8 p.m. Dr. Ralph Stanley brings his Clinch Mountain Boys to The Lost Colony's beautiful stage for an evening of all-American bluegrass music. Ocracoke Island band Molasses Creek (award winners from Garrison Keillor's A Prairie Home Companion) will open the evening at 7 p.m. with their blend of traditional Americana music and contemporary performance style. Doors open at 6 p.m., and tickets for both regular seating ($25) and VIP seating ($50) are available online at The Lost Colony website.
Just two weeks later on Sunday, July 21 at 7 p.m. two-time Country Music Association Female Vocalist of the Year, Kathy Mattea makes her Outer Banks debut at First Flight High School.
! PLEASE NOTE: THIS IS A CHANGE OF VENUE !
Due to the threat of inclement weather and extreme heat the venue for the Kathy Mattea concert has been changed to First Flight High School in Kill Devil Hills. The school is located at 100 Veterans Drive off Colington Road (Ocean Bay Boulevard) near milepost 8. Doors open at 7 p.m. New tickets will be assigned to patrons already holding tickets. See the Will Call station in the theater lobby. The VIP lounge has been moved to the Forth Floor Ballroom of The Ramada Plaza Nags Head at 1701 Virginia Dare Trail (Beach Road) in Kill Devil Hills at milepost 9.5. The lounge will be open from 6:30 p.m. to 7:30 p.m. For additional information contact The Lost Colony Theatre Ticket Office at (252) 473-6000.
Long one of country music's most distinctive and acclaimed artists, Mattea has sold more than 7 million albums and won two Grammys in addition to her two CMA Vocalist of the Year awards. Tickets for Mattea's performance are also available at The Lost Colony website and are $30 for regular seating and $50 for VIP seats. The limited number of VIP tickets include seating in the first few rows from the stage, access to the lounge at Ramada Plaza Nags Head in Kill Devil Hills, a limited edition poster, plus an opportunity to meet Mattea! Both concerts are rain or shine events and rain insurance is not offered.
Long regarded by locals and visitors as a top-notch musical venue waiting to happen, Lost Colony staff worked closely with officials at the National Park Service to bring this year's two-concert series to Waterside Theatre. The planning and procedures put in place for the shows this summer will pay off big time for what is expected to be a six or eight concert series in 2014!
RALPH STANLEY & THE CLINCH MOUNTAIN BOYS with MOLASSES CREEK
Dr. Ralph Stanley has long been an icon of American roots music, beginning in 1946 when he formed the Stanley Brothers duo with older brother Carter and later with the formation of the Clinch Mountain Boys. Stanley's band has nurtured several musicians who later went on the become stars in their own right, including Ricky Skaggs, Larry Sparks and the late Keith Whitley.
Along the way Stanley received an honorary doctorate of music from Lincoln Memorial University, the National Heritage Award presented by President Reagan, the Library of Congress' Living Legend Award and the National Medal of Arts. Stanley was inducted into the International Bluegrass Music Hall of Honor in 1992 and was inducted into the Grand Ole Opry in 2000.
Although well-known and respected in music circles for decades, it was only with the release of the Cohen brothers film O Brother, Where Art Thou? and its soundtrack that Stanley's mournful voice was introduced to a mass audience. The album, named by National Public Radio one of the 50 most influential recordings of all time, sold more than 8 million copies and earned Stanley a Grammy Award for Best Male Country Vocal Performance.
Opening act Molasses Creek has won fans throughout the United States and around the world with their elegant harmonies, blazing instrumentals and quirky sense of humor. The band has recorded 13 albums over the past 20 years, and in April 2012 An Island Out of Time reached #4 on the National Folk Radio DJ Charts.
AN EVENING WITH KATHY MATTEA
After more than 20 years in the music business Kathy Mattea is still taking creative risks. With a track record of 16 Top Ten mainstream country hits, Mattea broke new ground four years ago with the Grammy-nominated album Coal, a collection of traditional Appalachian mining songs.
She continued delving into this rich vein of folk music with the 2012 release of Calling Me Home, a celebration of the Appalachian culture of her native West Virginia and the songs and stories of bravery, pride and grief that define the region. The Waterside Theatre concert will feature the songs of Calling Me Home as well as many of Mattea's biggest hits. Her top 10 list includes "Walking Away a Winner," "Eighteen Wheels and a Dozen Roses," "Train of Memories," "Love at the Five & Dime," "Comin' from the Heart" and "455 Rocket" among others.
This event is sponsored by ACE Hardware of the Outer Banks.