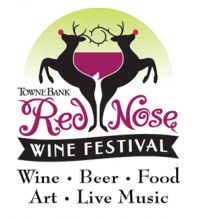 "Eating is not merely a material pleasure. Eating well gives a spectacular joy to life and contributes immensely to goodwill and happy companionship. It is of great importance to the morale."
Elsa Schiaparelli
Thankfully, there are those who document the practice of eating well so that others can later share in the experience. Elizabeth Wiegand, author of The Outer Banks Cookbook, is one of those people. She will be at Duck's Cottage Downtown Books in downtown Manteo on Thursday, July 11 from 11 a.m. to 1 p.m. to sign copies of her newest release, Food Lover's Guide to North Carolina's Outer Banks: The Best Restaurants, Markets & Local Culinary Offerings. Written for locals and visitors alike, the book is perhaps the ultimate guide to the Outer Banks food scene, providing the inside scoop on the best places to celebrate local culinary offerings as well as identifying the producers and purveyors of tasty local specialties. The book includes indispensable information about food festivals and culinary events, specialty food shops, farmers markets and farm stands, trendy restaurants and recipes using local ingredients and traditions.
Mark your calendars and buy your tickets now for Kathy Mattea's Outer Banks debut Sunday, July 21 at 8 p.m. at First Flight High School in Kill Devil Hills.
Please note: This is a change of venue. Due to the threat of inclement weather and extreme heat the concert has been moved from The Lost Colony's Waterside Theatre to the new venue at First Flight High School.
Appearing as part of the PNC Bank Presents: Live At The Waterside Concert Series, the two-time Country Music Association Female Vocalist of the Year has long been one of country music's most distinctive and acclaimed artists, having sold more than seven million albums and won two Grammys in addition to her two CMA Vocalist of the Year awards. Tickets for Mattea's performance are available on The Lost Colony website and are $30 for regular seating and $50 for VIP seats. VIP tickets include seating in the first few rows from the stage, access to the lounge at the Ramada Plaza Hags Head in Kill Devil Hills, a limited edition poster, plus an opportunity to meet Mattea herself! Doors open at 7 p.m.
Kids
Duck's two book stores, Duck's Cottage and Island Bookstore, have partnered to offer Children's Story Time in the Duck Amphitheater in Duck Town Park each Thursday morning at 10 a.m. from July 11 through August 8. Story time is a free activity targeted toward children ages 3 to 7. All children must be accompanied by an adult.
The Duck Amphitheater is also the site of the Children's Interactive Theater series on Tuesday mornings at 10 a.m. The series will feature a variety of free family-oriented shows. Gates open at 9:30 a.m. and seating is on a first-come, first-serve basis until the venue is full. The Tuesday, July 16 show will be a performance of Garden Tales, presented by The Elizabethan Gardens.
On Saturday, July 13 at 1 p.m. popular local children's book author Suzanne Tate will read from her latest book Davy Sand Dollar at The Museum Store at Roanoke Island Festival Park as part of the North Carolina Department of Cultural Resources' summertime 2nd Saturdays initiative. Tate has sold more than 2 million books and has received numerous awards including Children's Choice awards, a joint project of the International Reading Association and Children's Book Council, in which children across the country select the books they like best.
Mari Beth LaRose taps into her own talent and creative spirit to offer a memorable artistic experience for children ages 7 to 12 on Tuesday, July 16 from 10:30 a.m. to 12:30 p.m. For only $35 children can learn how to paint sunflowers on canvas, creating their very own unforgettable Outer Banks keepsake made with their own talented hands. Pre-registration is required. Another session is scheduled for Thursday, July 18.
Nightlife
In these complicated times, laughter is truly the best medicine. And The Comedy Club of the Outer Banks provides not one, but two venues prescribing doses of much needed comedic remedy. Comedian Andy Hendrickson will headline three consecutive evenings of humor at The Ramada Plaza Hotel in Kill Devil Hills beginning Wednesday, July 10 and continuing through Friday. Each night's show begins at 9 p.m. and the opening act will be comedian Mike Easmeil. At The Currituck Club, the Comedy Club's northern venue in Corolla, Mike Burton will headline with opener Matt Bergman on Wednesday, July 10 at 9 p.m. Admission at each venue is $26/person; children 16 or older are welcome with parent or guardian.
The 2nd Annual TowneBank Red Nose Wine Festival uncorks Thursday, July 11 from 4 p.m. to 9 p.m. at Marshes Light on the Manteo Waterfront. Wines produced in North Carolina and from around the world will be available for tasting alongside dishes from some of the Outer Banks finest restaurants. New for this year, craft beers from North Carolina breweries join the mix of libations! Local and regional bands will provide live entertainment and wine seminars will be offered several times during the festival. The Red Nose Wine Festival is an Outer Banks Relief Foundation fundraiser to assist community members faced with debilitating illness or tragedy. Tickets are $50/individuals, $500 for a reserved table and $1,500 for a private cabana. For more information, contact the Outer Banks Relief Foundation at (252) 261-2004 or visit their website.
History
It's astounding how often the name Frank Stick appears in the last several decades of Outer Banks history. On Saturday, July 13 from 10 a.m. to 11 a.m. the Outer Banks History Center and curator KaeLi Schurr will present "Fort Raleigh's Log Buildings and Frank Stick's Vision: From Reality to Fiction and Back Again." Attendees will have a rare opportunity to view the original watercolor sketches of the log buildings as they were conceived by Stick and built by the Depression-era Works Progress Administration. Later removed when their authenticity was questioned, years of additional research hints at the possibility that the structures might have been more historically accurate than originally thought. The program supports the History Center's current exhibit, "Dare County in the 1930s: Decade of Determination."
Family Fun
Take EVERYONE out to the ballpark! No, really, you can take everyone because it's so darned affordable! The Outer Banks Dare Devils, members of the collegiate Coastal Plain League sanctioned by the NCAA and Major League Baseball, are about 2/3 of the way through their 2013 season and you'd be hard-pressed to find a cheaper, more fun family outing! This Thursday, July 11 at 7 p.m. the Dare Devils take on the Tidewater Drillers at the First Flight Baseball Complex in Kill Devil Hills. The Dare Devils' next home game is Friday, July 12 versus the Virginia Warriors. Tickets are $3/adults, $2/seniors & students with children 12 and younger admitted free. Check their website for the remaining 2013 schedule.
Willy Wonka and the Chocolate Factory is this week's installment of Movies on the Sound at the Outer Banks Event Site in Nags Head. Gates open Friday, July 12 at 7 p.m. with the movie beginning at dusk. The movie is free and parking is a mere $10/vehicle! Bring your own blankets and chairs! Concessions are available each evening. Call (252) 261-0290 for weather updates & cancellations.
Theatre
Theatre of Dare, the Outer Banks' homegrown community theatre organization, has set its schedule for the coming season and local audiences can look forward to performances of Steel Magnolias, One Flew Over the Cuckoo's Nest and Oliver. The first production, playwright Robert Harling's Steel Magnolias, requires a cast of six women aged 20 and older. Auditions will be held Wednesday, July 17 through Friday, July 19 at 6:30 p.m. in The Pitt Center at the Southern Shores Town Hall Complex. Steel Magnolias will be directed by Mike Mazza.

This week you have a chance to win a $50 gift certificate to Ocean Annie's Craft Gallery and an evening cruise for two on the Crystal Dawn!
For more information about Crystal Dawn, check out their website.
For more information about Ocean Annie's, check out their website.
Last Week's Winner
Congratulations to Amy Zombeck!!!

You won a $50 gift certificate to Peppercorns Restaurant and two tickets to the Outer Banks Comedy Club!
For more information about Peppercorns Restaurant, check out their oneboat page.
For more information about The Comedy Club of the Outer Banks, check out their website.