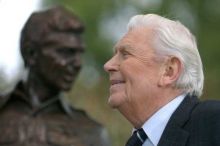 Outer Bankers are mourning the loss of Andy Griffith, who died at age 86 on the morning of July 3 at his Roanoke Island home.
The Outer Banks' most famous resident, Griffith lived a very private life on 70 acres on the outskirts of Manteo. He wasn't extremely visible in the community and only a few trusted locals made it beyond his gated driveway, but we knew he was here.
Many longtime Outer Banks residents have a story of their Andy Griffith sighting - at Seamark grocery store, Ace Hardware, Island Pharmacy, Owens' Restaurant, Penguin Isle Restaurant, at Waterside Theatre and other places around town. We remember him joining the fight to prevent a chain grocery store from coming to Roanoke Island. We remember him starring in a local commercial for Seamark. We remember him bringing his TV show, Matlock, to film two episodes in Manteo. We remember his appearances at The Lost Colony and his support of the show where he began his acting career. We remember him appearing in a Brad Paisley music video, which was filmed on the Outer Banks.
Outer Bankers gave Griffith his privacy, for the most part. Tour boats and airplanes routinely paraded tourists by Griffith's house along the Roanoke Sound, but at a distance. Locals were friendly but didn't ask him for autographs, and that's the way he wanted it.
A native of Mt. Airy, N.C., Griffith started his acting career at UNC-Chapel Hill and came to Roanoke Island in the summers to act in The Lost Colony. He started as a soldier in 1947 but was promoted to the starring role of Sir Walter Raleigh two years later and played that role in the summer production until 1953. His first wife, Barbara Edwards, played opposite him as Eleanor Dare. The two were married on Roanoke Island in 1949.
Griffith's big acting break came with a standup comedy routine called "What It Was Was Football." A recording of the monologue landed him an appearance on The Ed Sullivan Show. He went on to star on Broadway and in movies.
When Griffith starred in A Face in the Crowd in 1957, Ye Olde Pioneer Theatre in Manteo showed the film, and the proud Roanoke Islanders who knew him from his days at The Lost Colony came out to see the film.
Eddie Greene, who was in The Lost Colony with Griffith in 1953, says people on Roanoke Island were following Griffith's rise to stardom. "Everyone took pride in knowing Andy," says Greene.
Of course Griffith's most famous role was on television, playing Andy Taylor in The Andy Griffith Show, which ran from 1960 to 1968.
Griffith lived in Los Angeles but he escaped to the quiet Roanoke Island.
In a Virginian-Pilot article, Mal Vincent reported that in 1947, when Griffith was in The Lost Colony, he was on a scavenger hunt on Roanoke Island with the cast of the show. Wandering around the island, Griffith saw a piece of property that he knew he wanted to own one day. After making money on Broadway years later, Griffith bought the property and came to the island often. He met his third wife, Cindi, when she was a dancer in The Lost Colony. They were married on Roanoke Island in 1983.
Greene remembers that Griffith helped out in the Outer Banks community when he could. Green says he was very appreciative when Griffith wrote the foreword to Reflections of the Outer Banks, a commemorative coffeetable book that Green commissioned in 1976.
Griffith also had a hand in establishing the Outer Banks Community Foundation. In 1982 Outer Banks resident David Stick solicited the help of Andy Griffith, George Crocker and Eddie Greene to establish the nonprofit organization, which is marking its 30th anniversary this year.
Starting in 1986, Griffith had a second hit show with Matlock. The show was filmed in Los Angeles but later moved production to Wilmington, N.C. In 1989 Griffith brought his TV show to Manteo to film a two-part episode. Locals were excited to be extras and to see their hometown on the small screen. Settings included the streets of Manteo, the Green Dolphin Pub and Waterside Theatre, home of The Lost Colony.
Griffith spent his final years on Roanoke Island. He and Cindi made occasional appearances at The Lost Colony and were longtime supporters of the show. When The Lost Colony costume shop burned, Griffith donated his sword from his role of Sir Walter Raleigh back to the show.
Griffith was a beloved native North Carolina son. In 2002 Griffith had a North Carolina highway named after him - The Andy Griffith Parkway, U.S. 52, in Mt. Airy. In the same year, a statue of Griffith in his role of Sheriff Andy Taylor, along with his son, Opie, was erected in Pullen Park in Raleigh. In 2005 Griffith was awarded the Presidential Medal of Freedom from President George W. Bush.
While we realize that many thousands of people around the country are mourning his passing, we Roanoke Islanders know that we have lost a part of our island's culture. Godspeed, Mr. Griffith.
If you have a special memory of Andy Griffith on the Outer Banks, please share it with us here. Click on Add Your Voice/Contribute Your Knowledge.