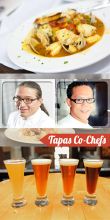 All good things come to he who waits. Boy, did I hear a lot of that one during my youth. To be honest, I was never personally convinced of the relationship between patience and the arrival of a satisfactory deliverable. That being said, the virtue of patience has certainly proven advantageous for the Dare County Arts Council. After years of suffering through a series of cramped, low-visibility locations, then celebrating a welcome relocation to a spacious new headquarters in the historic Dare County Courthouse in downtown Manteo only to lose the space to Hurricane Irene's floodwaters and months of extensive repairs, the Arts Council has long been deserving of a good thing or two. The past couple of years have seen an amazing metamorphosis take place as the downstairs space of the Old Courthouse has been gradually transformed into a centerpiece of the local cultural arts scene, resurrected as a bright and open combination of galleries, retail space and staff offices.
And now the positive trend continues with the Arts In The Belfry: Ribbon Cutting Ceremony this Friday, March 7 from 4 to 8 p.m. at the DCAC Gallery in the Historic Dare County Courthouse. The Outer Banks Chamber of Commerce ribbon-cutting highlights the completion of months of interior renovation and restoration of the second floor that has helped to transform the arts council gallery into the Dare Arts Center, a complete facility with significant upstairs space available for workshops, performances and exhibits.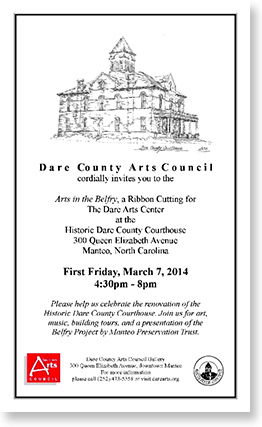 The evening also marks the launch of the Belfry Project, a new partnership between DCAC and the Manteo Preservation Trust to restore the belfry, an element of the old courthouse that has been missing since its destruction during the Hurricane of 1933. Manteo Preservation Trust's gift of the belfry to the people of Dare County was approved by the County Commissioners in January.
The celebration is open to the public and includes a welcome address by the Outer Banks Chamber of Commerce, the ringing of the courthouse bell, tours of newly renovated spaces and the opening reception of the International Women's Day Art Show from 6 to 8 p.m. For more information call the Arts Council at (252) 473-5888, visit the Arts Council website or like the Manteo Preservation Trust's page on Facebook.
2014 Taste of the Beach
Taste of the Beach, one of the Outer Banks' most anticipated culinary events, is just around the corner. Spread over four days, from Thursday, March 13 through Sunday, March 16, the food-centric festival boasts the participation of more than 50 local restaurants and features wine tastings, cooking classes, special multi-course menu presentations, brewery tours, tapas crawls, cook-offs and showdowns and much more! From fancy dinners to organic farm-to-fork experiences to an intimate cooking class with one of the Outer Banks' world-class chefs, there is something for everyone.
Trust me, there is no hyperbole at work here. Just take a look at some of Thursday's scheduled activities! Start your day with Bonnie's Breakfast Club at Bonnie's Bagels Deli Café in Kitty Hawk or enjoy the Eat Outta The Pan Breakfast at The Good Life Eatery in Kitty Hawk. Afterward you've got all day to Toast the Coast with Outer Banks wines at Sanctuary Vineyards just a few miles across the bridge in Jarvisburg on the Currituck mainland. Take in a cooking class with Kill Devil Hills' Beachside Bistro, take part in Bad Bean Baja Grill's Ceviche and Tequila Tasting, expand your horizons with a three-stop Outer Banks Restaurant Tour, taste test olive oils and vinegars with Outer Banks Olive Oil Company, savor Oysters at the Creek with Sugar Creek Restaurant in Nags Head. The Taste of Duck Dining Crawl makes dining stops at Aqua Restaurant, Roadside Raw Bar & Grill and Red Sky Café. Hatteras Island is represented with Troy & Sons Carolina Whiskey Dinner at Café Pamlico at the Inn on Pamlico Sound in Buxton. And this is just a small sampling of Thursday's events - three more fun-filled days of gastronomic bliss are still to come!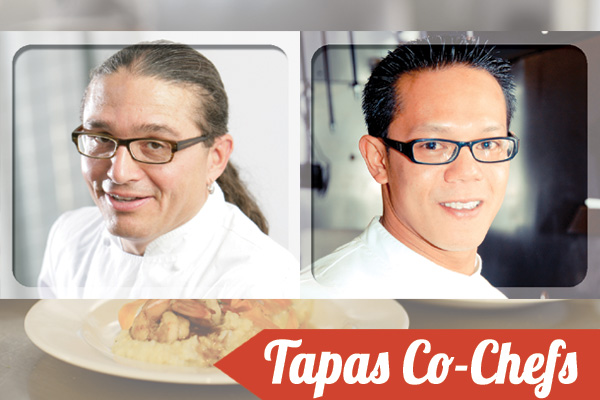 One of the weekend's highlights takes place Friday, March 14 when James Beard award-winning and nationally renowned Kansas City guest celebrity chef, Michael Smith, teams up with the Outer Banks Brewing Station's Chef Pok and Chef Tony for Tapas Fusion Night, a first-of-its-kind Taste of the Beach chef collaboration to be held at the Brewing Station from 4:30 to 10 p.m. Chef Smith, who has also appeared on the Food Network and Cooking Channel, will capitalize on the innovative tapas ideas and skills honed at Extra Virgin, his highly successful Kansas City tapas restaurant. Working in collaboration, Smith and the Brewing Station's beer-centric chefs will create a menu of extraordinary small plate creations. A $30 ticket includes three tapas plates and a glass of Brewmaster Scott Meyer's award-winning beer or a specially paired wine selection. There is also a $25 alcohol-free tapas dinner option. After purchasing your tickets, call the Brewing Station directly at (252) 449-2739 to reserve a dining time for you and your party. Reservations are highly recommended.
The festival finale, The Grand Tasting, takes place on Sunday, March 16 beginning with a first session at 4:30 p.m. and a second session beginning at 7 p.m. Approximately 25 area restaurants and beverage vendors will serve a sampling of original hand-prepared foods, fine wines and beers from around North Carolina and the world. Restaurants will compete for Best Booth Presentation, Best In Show, Best Outer Banks Catch, the Chef's Award and the coveted People's Choice awards.
Taste of the Beach is a fantastic way to introduce yourself to the culinary creations of the Outer Banks' finest restaurants over the course of one extended epicurean weekend. As expected, tickets are selling fast, so check the Schedule of Events online, make your choices and purchase your tickets as soon as possible - some events have already sold out!
Other Happenings
Registration is closed for the 2014 Graveyard 100, but you can still turn out this weekend to watch and support these extreme road warriors as they traverse the 102.7 mile point-to-point curse, oops, I mean "course" over two days - Saturday, March 8 and Sunday, March 9. Beginning at 8 a.m. in Corolla and traveling south, the run ends 100+ miles and some three full turnings of the clock later at the end of Hatteras Island. As the website notes, runners and supporters will have numerous opportunities to appreciate beautiful Outer Banks landscapes along the full length of the course, including three lighthouses and panoramic views from the Bonner Bridge. Good luck, runners.
I encourage readers to stop by the Dare County Student Art Show currently exhibited at Duck Town Hall and scheduled to run during normal business hours through April 25. Although I have not yet seen this year's show, last year's show boasted a number of pieces that I, as an adult artist, would have been happy to have called my own. There's a wealth of burgeoning talent in our art classrooms, and the 33 pieces currently on display are only a representative sampling of it. For more information call (252) 255-1234 or visit the Town of Duck website.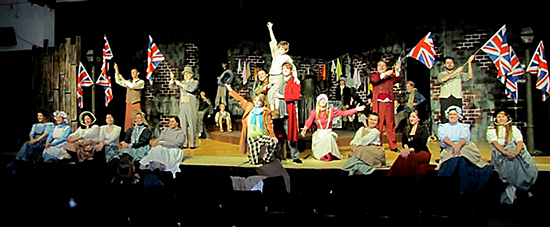 Second week performances of Theatre of Dare's production of Oliver! are scheduled for Friday, March 7 and Saturday, March 8 at 7:30 p.m. with a matinee Sunday, March 9 at 2 p.m. Tickets are $8/students and $15/adults and can be purchased at the door or through the Theatre of Dare website.

This week you have a chance to win a chance to win two tickets to Bob's Wild Horse Tours & a $35 gift certificate Salt Water Grill!
For more information about Bob's Wild Horse Tours, check out their website.
For more information about Salt Water Grill check out their website.
Last Week's Winner
Congratulations to Becky Nelson!!!
You won a $35 gift certificate to Lone Cedar Cafe & a $35 gift certificate Duck's Cottage Downtown Book!
For more information about Lone Cedar Cafe, check out their website.
For more information about Duck's Cottage Downtown Book check out their website.