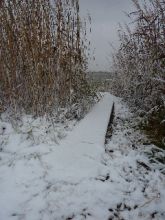 If you read my blog last week, you know I wasn't exactly dreaming of a white Christmas, but I have to admit that Sunday's snow was beautiful, although slightly inconvenient. The snowstorm cut our Christmas vacation short - we raced out of the Triangle area late Saturday night instead of Sunday to avoid the risk being stuck in the city for days...
Yep, we went all Griswold and took Christmas on the road this year. Here, let me give you an image that might make you appreciate your cozy Christmas a little more: purple Barbie Jeep bungeed to the roof of the SUV; husband hunched down to peer into the one patch of windshield that wasn't iced over by the sleet and snow; all the cars on I-40 going either 35 or 80 mph in the blinding snow; kids zonked out in their car seats, their heads rolling around and their necks about to snap; gifts jumbled up in the way back, falling all over the poor dog in his measly square foot of empty space... Good times...
Needless to say, we were glad to get home to the empty streets and quiet life on the Outer Banks and hunker down with the Legos and babydolls inside. * Snow on the Outer Banks is way prettier than in the city - I love seeing the snow fall over the sound and in the marsh. * And although my favorite vantage point for watching snow is out the window, I love going out in it with the kids, wearing every blessed piece of warm clothing we can muster, catching snowflakes on our tongues and laughing at the dogs as they prance around in the newness...
Anyway, by the time you read this the snow will be melting and we'll all be on to the next thing, including warmer temperatures as the week goes on...
If you haven't seen it yet, this week is your last chance to see WinterLights at The Elizabethan Gardens. The show is from 6 to 9 p.m. on Tuesday, Wednesday and Thursday of this week. * The Gardens also are having a Gate House Gift Shoppe sale through Thursday - 40 percent off some items. * Call (252) 473-3234 for information...
If you're entertaining children this week, consider a trip to the Outer Banks Center for Wildlife Education in Corolla. Some of their free programs this week include Bass Class for Smallmouths, Marine Mammals of N.C., Sandy Claws, Bear Necessities, Fish Stories, Whale Tales, Archery (for kids or adults), Submersion Excursion and Nature Photography for Kids. Call (252) 453-0221 for information...
Here are some good reasons to head down to Ocracoke for the New Year's weekend, as if there aren't already enough good reasons. * The 5th annual Oyster Roast and Shrimp Steam fundraiser sponsored by the Ocracoke Working Watermen's Association is going to be held on Thursday from 2 to 5 p.m. at the Fish House. Besides seafood, there will be dessert and hot cider at the Working Watermen's Exhibit. * On New Year's Eve, the Ocracoke community has a New Year's Eve Party featuring The Mighty Saints of Soul, a beach music band, at the Ocracoke Community Center at 8 p.m. The cost is $25 per person, which includes beer, wine, light hors d'oeuvres and music. Sign-up at the Island Ragpicker. All proceeds benefit the Ocracoke Volunteer Fire Department...
If you're planning on partying on the Outer Banks this New Year's Eve, you're in luck. Here are some of your many options for bringing in 2011:
The Outer Banks Music Showcase in Kitty Hawk is running its popular Tribute to Elvis Show with Elvis impersonator Sterling Riggs on New Year's Eve. There are two shows - one at 7 and one at 9:30 p.m. Call (252) 261-7505 for info...
Live entertainment is abundant for New Year's Eve. Here are some of the highlights:
- TR3 with Tim Reynolds at Outer Banks Brewing Station
- ASG with Four in the Floor at Port O' Call
- The MoRons at Beach Road Grill
- Dueling DJs Party at Kelly's
- Buster Curtis at Aqua S
- 9:58 Band at Sunset Grille
- The Wilder Brothers at Peppercorns at the Ramada
- Matt Hoggard at Awful Arthur's
- Gangsters of Love at Longboards Island Grill
- Sea Level at Pirate's Cove
- The Walker Brothers at Poor Richard's
- Old Enough to Know Better at Lone Cedar Cafe
- Jeremy Russell and Force of Habit at Stripers
On Hatteras Island, the Hatteras Village Civic Association is hosting a New Year's Eve Dance from 8 p.m. until 12:30 a.m. at the Civic Center. Cost is $5 per person and there will be a band, appetizers, drink setups and transportation by Island Hopper...
My favorite way to ring in the New Year is at the Tortugas' Lie Annual Blue Moon 5K Run. It starts at 11 p.m. on New Year's Eve. There's no registration and it's free. Just show up and run three miles in the cold and dark. Everyone is finished in time to toast 2011 - inside, of course...
Have a fun and safe holiday weekend. * If you're so inspired, post some comments below. We'd love to hear from you!...