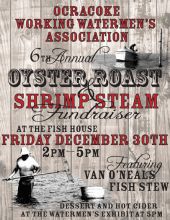 Did anyone else get a good look at the sunrise on Christmas morning? What an astoundingly beautiful morning it was. Lucky for me, my little peeps actually slept in, so I got to wake up slowly, watching the sky change colors of orange. The wind was dead still for a little while in the morning, so the sound was slick, like a mirror reflecting the sky. I stayed in bed for a long time before I got up, watching birds land on the water, listening to swans honk and seagulls cackle in the eerily still morning air. With a Christmas wake up like that, who needs presents?...
Of course that moment of leisure didn't last long. Within 10 minutes of that bliss, I was riding my bicycle around the block - pre-caffeine and in my pajamas - with my son as he tested out his new bike, but that's a different kind of happiness. How very blessed I felt that day...
As I write this I am off the island visiting family, longing in a way to get back to the Banks. I love my family, but not the concrete jungles they live in. I'm craving a run through Nags Head Woods and a long beach walk in search of sea glass...
I've heard there are a quite a few visitors on the Outer Banks this week, and it's a great time to be there! It's not crowded, it's not cold, but there are definitely some good things to do. And if you're looking for a fun-filled New Year's Eve in northeastern North Carolina, the OBX is definitely the place to be...
Let's start with an ending: This is the last week of WinterLights at Elizabethan Gardens. Tuesday through Friday are the last days, and if you haven't seen it you should. And on Friday you can bring the kids to write Thank You Letters to Santa. WinterLights starts at 6 p.m...
For Wednesday night, there's a Craft Beer Dinner that I think sounds like a great option. It's a team effort between Bad Bean Baja Grill and Chips Wine & Beer. They're pairing Southwestern fare with microbrews from around the country, and there will be live music too. It's Wed. at 6 p.m. Click on the link to get more info...
This next one isn't really something from the fun department, but I feel like I should pass the news along: Free Mammograms on Thursday for Dare County residents. It's Thursday from 3 to 7 p.m. at Outer Banks Hospital. Call 449-5918 to register....
Back to the fun stuff: If you can make it to Ocracoke on Friday, get to the Ocracoke Fish House for the Sixth Annual Oyster Roast and Shrimp Steam from 2 to 5 p.m. They serve steamed shrimp and oysters plus Van O'Neal's famous fish stew, dessert and cider. It benefits the Ocracoke Working Watermen's Association. (We had some Hatteras Inlet area oysters (via O'Neal's in Wanchese) on Christmas Eve, and they were super yummy...)
A little pre-New Year's party on Thursday: Outer Banks Brewing Station has Carbon Leaf playing on Thursday starting at 10 p.m. This high-energy Celtic rock band is quite popular, so you might want to get your tix early: $12 in advance, $14 day of show...
Here are a few of your options for NYE. To see the whole list, go to our By Night page...
Jolly Roger in KDH has a DJ and karaoke, a champagne toast and a Good Luck buffet starting at midnight.
Lone Cedar in Nags Head has dinner and dancing with Old Enough to Know Better band starting at 10 p.m.
Port O'Call has a DJ dance party starting at 9 p.m.
The Pit in KDH has two DJs: DJ Black Beard blasting hip hop and DJ Incean with Electro Tech House. Cover is $10...
Pamlico Jack's is opening up for a party with The Walker Brothers and Sister Ali indoors from 9 p.m. to 1 a.m...
Brewing Station is having a Swing Band, plus champagne toast and balloon drop from 9 p.m. to 1 a.m....
Trio in Kitty Hawk is having some light cocktail music from 7 to 9 a.m. then Ask Fester from 9:30 p.m. to 12:30 a.m. with no cover.
Tortugas Lie in Nags Head is having its annual late-night, very informal 5K starting at 11 p.m. Go for a run, then enjoy a drink to ring in the new year...
And when you wake up on Sunday morning (I love New Year's Day being on a Sunday! It's such a clean start to a new year), with your head full of resolutions, here are some options:
The Resolution 15K Beach Run. This one is at 6 a.m. and it's a pier to pier course on the beach at low tide. There's a post race buffet at the Hilton Garden Inn. Go to outerbanksbootcamps.com to register...
At 8 a.m. on New Year's Day, the yogis on the OBX can do 108 Sun Salutations with yours truly at the Ashtanga Yoga Center in Nags Head. Or you can sleep in a little longer and do your yoga later, at 1 p.m. for the 3rd Annual New Year's Day Rejunvenation from 1 to 3 p.m. * Outer Banks Yoga in Kitty Hawk has a New Year's class with Anne from 4 to 6 p.m...
That about does it for me this week. Hope you have a fun and safe New Year's Eve and a prosperous and healthy New Year! Don't know about you, but it does not seem possible that it's 2012. It seems like 2002 was last year. I guess that's just because I've been having so much fun. And I'm hopeful for more of the same - and many more peaceful sunrises - in 2012...