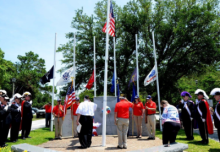 Ties to military duty and service run through the Outer Banks, and Veterans Day holds a place of high esteem within the community. While the calendar sets one day aside to honor and remember those who served the nation, the Outer Banks takes it a step beyond, establishing an entire week of programs, events and specials specifically for veterans and active-duty service members. From art workshops to concerts and patriotic marathons to meals, find all that the 7th Annual Outer Banks Veterans Week holds to honor and thank our vets.
Must-Do Events
The week of events (really a week and a half if we're being exact) begins with a bang – of country. Country music legends Keith Anderson and Ray Scott travel in from Nashville to kick off the week with the Outer Banks Veterans Concert at Secret Island Tavern on Thursday, November 7 at 7 p.m. With ticket prices only $10 for veterans, active-duty military and their families and $15 for general admission, it's an incredible opportunity to see the stars up close.
With the lineup of activities and offers happening over Veterans Week, I recommend running into them head-on. This you can do, quite literally, during the Outer Banks Marathon Weekend. The two-day collection of races features the TowneBank Outer Banks Marathon, the Southern-Fried Half Marathon and the Southern Six (the last 6 miles of the marathon) on Sunday, preluded by the Outer Banks 8K, Outer Banks 5K and a fun run. Veterans interested in competing can participate for free in the Southern Six category. This race begins at the Outlets Nags Head, crosses the Washington Baum Bridge to Manteo and ends at the Manteo waterfront. Join the after-party fanfare upon crossing the finish line. In order to receive free entry for the event, bring proof of veteran status to packet pick up.
Running (whether 1 mile or 26.2 miles) isn't for everyone. If you prefer a quieter, more contemplative activity, this weekend is your chance to settle down with a pen and paper and let your thoughts flow onto the page. The annual Outer Banks Veterans Writing Project Workshop involves a two-day, writing-intensive poetry workshop led by veterans Ron Capps, who founded the National Veterans Writing Project, and Colin Halloran, M.F.A. teacher at Coastal Carolina Community College. The workshop will be held at the Coastal Studies Institute, with spots open for 25 people. Apply through the Dare County Arts Council's website.
Offers for Vets
As another way of thanking those who have and are currently serving, several organizations and individuals on the beach invite vets to take advantage of special deals and offers during Outer Banks Veterans Week.
As the song goes, "Pack up your troubles in your old kit bag and smile, smile, smile …" which is exactly what Morgan Family Dentistry wants vets to do this week. This clinic will provide vets with free fillings and tooth extractions on Friday, November 8. While not on the Outer Banks, this dentist's location in Currituck is about a 30-minute drive off the beach. Bring your military I.D. and the contact information of current healthcare providers and take a trip to the dentist between 8:30 a.m. and 3 p.m. Patients are seen on a first-come, first-served basis. Call (252) 453-2181 for more information.
It feels good crossing items off your personal maintenance list. Continue down the line by taking care of your car next. On Saturday, November 9, Meineke Car Care Center offers free oil changes for veterans at their location in Kill Devil Hills. Bring your military I.D. and your trusty, motorized sidekick, and visit them anytime between 7:30 a.m. and 3 p.m.
Sometimes nothing is more valuable than advice. Veterans interested in becoming property owners on the Outer Banks will find it offered for free by broker and realtor Al Friedman. He leads a Buyer-Seller Real Estate Workshop on Monday, November 11, at the Dare County Arts Council in Manteo. He'll discuss the process and details of selling your home with veterans' benefits. Join him from 9:30 to 11:30 a.m. Email alfriedman@sunrealty for more information or to RSVP.
If buying or selling a home stirs up the need for any sort of home repairs, head to one of the many Ace Hardware locations on the Outer Banks. Vets and active-duty service members who shop with them receive a regular 10-percent discount on their purchase every day. All you need is a military I.D.
Outer Banks schools are closed for Veterans Day, so plan a fun family outing with a trip to the North Carolina Aquarium on Roanoke Island. They offer free admission for all veterans, active-duty military and their families on Veterans Day.
As the week comes to a close, Dare County invites local vets to join them for an Appreciation Luncheon at the Dare County Center in Manteo. The luncheon begins at noon and is hosted by the Dare County Center, Monarch Beach Club and American Legion Post 26. Call (252) 475-9270 to RSVP.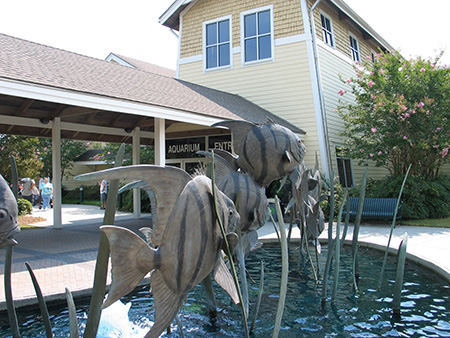 Take a family trip to the North Carolina Aquarium at Roanoke Island on Veterans Day, when veterans and active-duty military and their families get in free!
Outer Banks Veterans Day Ceremonies
On Veterans Day itself, you can join others in remembering those who served the nation at these ceremonies:
Roanoke Island
9 a.m. | Pirate's Cove | Flagpole at the entrance | 2000 Sailfish Dr.
Downtown Manteo
9 a.m. | Dare County Veterans Memorial | 300 Queen Elizabeth Ave.
Southern Shores
11 a.m. | Southern Shores Hall | Flag Pole Pavilion |5375 N. Virginia Dare Trail
Nags Head
11 a.m. | Nags Head Town Hall | 5401 S. Croatan Highway
Kill Devil Hills
12:30 p.m. | Veterans Memorial | 102 Town Hall (Town Hall Address)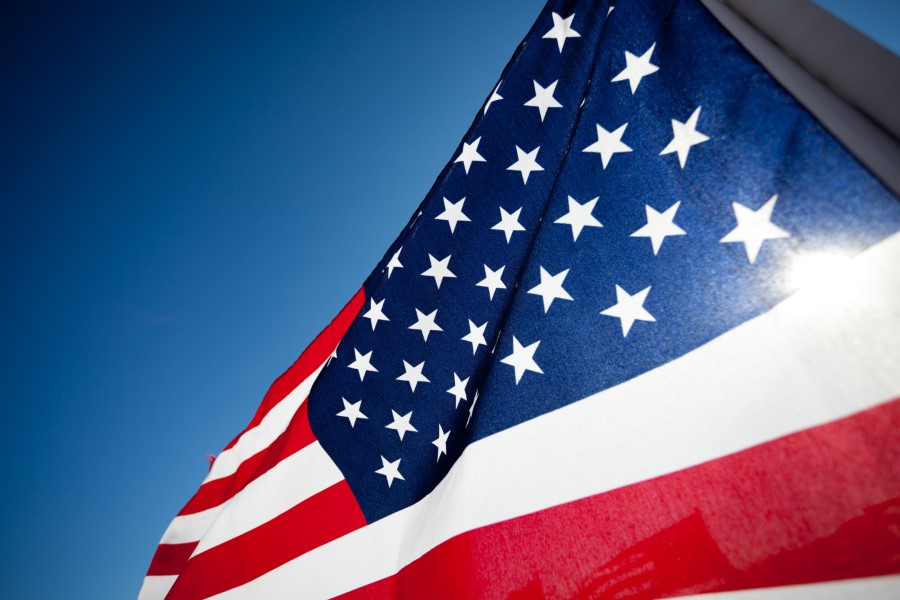 ---
Believe it or not, there's even more going on for Outer Banks Veterans Week. For an inclusive list of all the activities and offers, check out the Dare County Arts Council's page for the week. More activities going on around the beach can be found on our Daytime Events page, and if you want additional options for live music and evening entertainment, find it listed on our Nightlife calendar. Everyone from Outer Banks This Week thanks our troops and vets for their service and wishes them a happy Veterans Week on the Outer Banks!