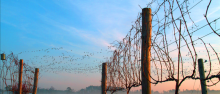 Okay, we've still got about two weeks left until spring is officially here, but I can't help but feel that the Outer Banks is already shaking off winter's chill and embracing the cool festivals, almost beach days and all around good times associated with spring. The sun is shining (most days), and when it's not the rain is a soft, grow-your-flowers type of rain rather than the snowy mix we've been having. So in my mind, the seasons have shifted, and what better way to celebrate than with an event that actually takes place outdoors?
Winter Sunset Concert at Sanctuary Vineyards


Here's a place that's definitely worth leaving the island for – although you'll only have to drive for a few miles. The serenity of the vineyards, the calls of migrating waterfowl and, of course, the wine all make Sanctuary Vineyards magical for me. Honestly, I'd probably attend any event they were having, but the fact that this one is an outdoor concert that takes place alongside the setting sun – not to mention, you can bring your own picnic! – means you all should too. The earthy, edgy duo Mercy Creek will take the stage while attendees enjoy a free wine tasting and wine available for purchase by the glass or by the bottle. It all starts at 5:30 p.m. on Friday, March 4 and is free to attend.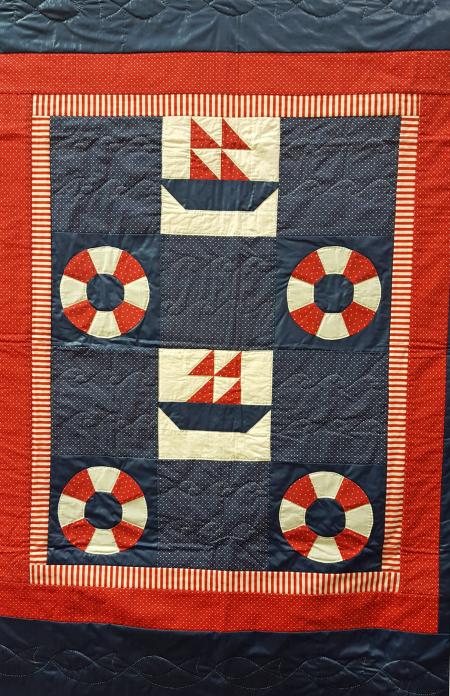 Outer Banks Community Quilt Show
The vintage and antique quilt display is returning to Roanoke Island Festival Park for a two-week show beginning this weekend. Do you appreciate quilting or quilts with close ties to the area? The Outer Banks Community Quilt Show will feature quilts made or owned by quilters from coastal North Carolina and will showcase a wide range of quilting techniques including embroidery, applique and other needlework. Local quilters will be on site too to answer questions and discuss their pieces. The free show will kick off with an opening reception in the Festival Park Event Room on Friday, March 4 at 6 p.m. Thereafter, it will be open from 9 a.m. to 4 p.m. on weekdays and from 10 a.m. to 4 p.m. on Saturdays until Saturday, March 19.
Block Play Extravaganza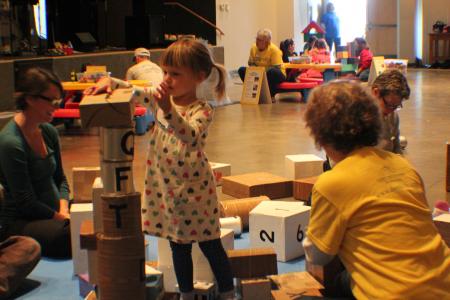 Kids, this one's for you. Experience the fun of math and science learning through block play during this interactive building extravaganza for children aged 8 months to 5 years. Parents and kids can explore the hands-on learning laboratory and begin to understand math and science concepts, and early childhood educators from the Children & Youth Partnership will be available to demonstrate techniques that will maximize learning. Give the Partnership a call at (252) 441-0614 to schedule a free session on either Friday, March 4 or Saturday, March 5 (pre-registration is required). Block Play Extravaganza will be held at Nags Head Church.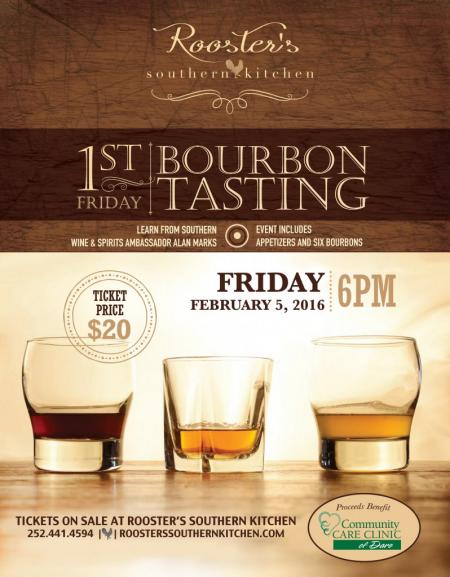 Rooster's 1st Friday Bourbon Tasting
Warm up this Friday evening with a Bourbon Tasting at Rooster's Southern Kitchen in Kill Devil Hills. $20 gets you six samplings of bourbon as well as appetizers and the knowledge of Southern Wine + Spirits Ambassador Alan Marks. The event marks the start of a series of fundraisers to take place on the first Friday of each month benefiting different local charities. Each beneficiary will receive 100 percent of the ticket sales. In addition, 10% of the restaurant proceeds go to the charity from any meal on Friday. This week, you'll be helping out the NC Missions of Mercy! Stop by Rooster's today to purchase your ticket for the tasting on Friday, March 4 from 6 to 7 p.m. 
Weave Your Spring Dreams Workshop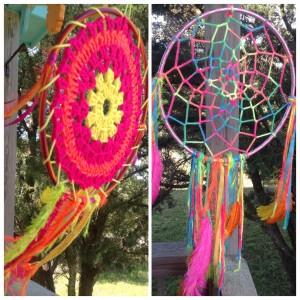 Blue Pelican Gallery in Hatteras has all kinds of cool workshops lined up this season. This weekend, weave or crochet your own dream catcher in the Weave Your Spring Dreams Workshop. Hatteras Island's resident Crafty Diva, Michelle, will be teaching the fun class on Saturday, March 5 from 10 a.m. to 1 p.m. Email craftydivacottage@gmail.com to sign up.
Your night isn't even close to over when the early evening bourbon tastings and sunset concerts end. Visit our Nightlife & Events page to check out all the live music, shag dancing, art classes (with drinks) and more. Also, keep Taste of the Beach in mind as you're planning your days and nights this month. It's coming up quick, and individual events will sell out. View the full lineup here!