(Psttt ... I didn't know how to say "Slainte" either, but this handy video helped me out!) 
In the doldrums of winter, St. Patrick's Day brings a dose of energy back to the Outer Banks. After several long and quiet weeks, there's finally a good reason to go out and join the numerous restaurants, organizations and locals as they don their green and celebrate Irish food, drink and fun. The variety within these events gives everyone cause for excitement, no matter their interests. From restaurants' parties, live music events, races and annual parades, the luck of the Irish flourishes throughout the Outer Banks this weekend.
One of the keynote events of St. Patrick's Day weekend on the Outer Banks is the annual Running of the Leprechauns. The 5K and 10K courses lead runners around the scenic Nags Head Woods Preserve, inviting the participants to admire the lush maritime forest and tranquil setting. This event is known for participants' high levels of enthusiasm, so be sure to wear your St. Paddy's Day finest. The race starts at the Satterfield Landing and Lark Avenue OBX Soccer Complex on Saturday, March 16, at 8 a.m. Awards will be presented to the top three male and female finishers. Stick around for the Outer Banks Sporting Events after party, where you celebrate your race results with Irish stew, sweet potato biscuits and beer. Register for the race here.
If you're feeling all loose and limber after the race, you can get a different sort of rush at the Outer Banks Brewing Station's St. Patrick's Day Party on Saturday. This annual celebration features a Leprechaun-themed beer-mile run, and runners are encouraged to dress for the occasion. After each ¼ mile, runners get a 12-ounce drink, and you must be 21 or older to do this social run. This mass-start event begins at 2 p.m.; stick around afterward for the awards ceremony and costume contest.
Photo: Lost Colony Brewery and Cafe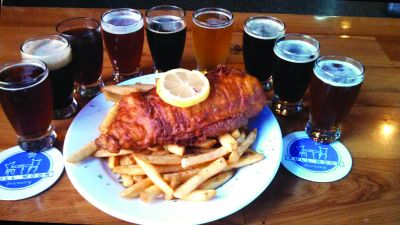 Since you had a productive start to your day with a run, treat yourself by unwinding in the afternoon with your favorite Irish stout and pub music. Several local eateries host parties and events that will send the Irish spirit surging through your veins. Check out the St. Patrick's Day Entertainment at the Lost Colony Brewery this Saturday, March 16. The all-day fun begins at 11 a.m. with their Irish-themed menu, and the O'Brothers will be there, entertaining and delighting audiences with their quirky songs, humor and tales. Call the brewery at (252) 473-6666 to make reservations.
If you're on the northern end of the Outer Banks, head to the second annual St. Patrick's Day Party at Sweet T's in Duck this Saturday, March 16. Irish reels on the stereo and the plentiful green attire make for a perfect setting to enjoy Irish brews and Irish snacks in the company of non-Irish friends (but visitors are welcome!). The party goes on from 2 to 5 p.m.
One of the best things about St. Patrick's Day falling during the weekend is that the celebration spans both Saturday and Sunday. After Saturday's cursory events, get ready for Sunday fun that takes you from dawn (practically) to dusk. The best-known holiday event is the Kelly's Annual St. Patrick's Day Parade and Celebration, one of the largest in the state. Entering its 30th year, this parade is a beloved Outer Banks tradition that attracts more than 8,000 attendees and 100 entrants each year. Everyone is invited to attend, whether they want to watch from the sidelines or dress up and join the procession, which is done by simply filling out an application. With representatives from different organizations, restaurants, schools, teams, bands and more, this event has the local community at its core. A panel of judges will award entrants for Best Float, Best Unit, Best Band/Music Group and Best Overall. Because of construction in the Gallery Row area, the parade route will run from Bladen Street at milepost 11.5, north to Admiral Street – a half-mile short of its usual stopping point at Driftwood Street. The parade begins at 1 p.m. on Sunday, March 17.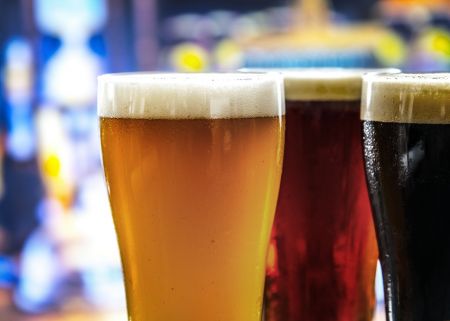 Hop over to New York Pizza Pub after the parade for a Post-St. Paddy's Day Parade Party. Jonny Waters Band will be performing for the afternoon. If you get hungry, check out their festive bar and dinner specials. Jack Brown's Beer and Burger Joint is hosting its first St. Patrick's Day Party from 2 to 6 p.m. Their special features include green drinks and live music from Mosquito Net, The Ramble and the Mumz.
There's also the Annual St. Patrick's Day Parade in Ocracoke, starting at 3 p.m. at Ocracoke Bar and Grill. No advanced registration is required for the event; simply show up at the start time and you're in! Entrants will be judged based on their costumes, with prizes going to the first, second and third place winners. Following the parade, Ocracoke Bar and Grill will be serving green beer, corned beef and hash to satisfy rumbling stomachs.
For more St. Paddy's Day shenanigans on the Outer Banks, be sure to check out our Daytime Events page and Nightlife Page. And if you're interested in festive dinners of Irish stew, corned beef, cabbage and stout, see which Outer Banks restaurants are serving festive specials for the occasion.
Photo: Jack Brown's Beer & Burger Joint