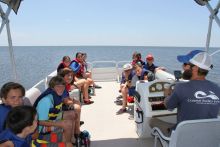 Temperatures in the 80s, the sighting of a lightning bug or two and later sunsets are all signs that summer is right around the corner. This means that it's also time to find ways to fill your little ones' days during the summer vacation from school. Sure, the TV and playdates are easy starting points. But arranging day-to-day activities can get exhausting and why watch TV all day when the brilliant, beautiful world is just outside the door? Summer camps are a stellar solution these woes. Fortunately businesses on the Outer Banks offer an array of summer camps for all ages and interests. This week's blog highlights a few of those happening this summer based on genre. Whether it's fostering young ecologists to helping even the smallest surfers catch waves, you'll find ways to fill your family members' summer weeks with camps that match their skills and help them develop new ones.   

For the Junior Darwins
Inspire fascination in your kids for their own backyards. Summer camps through the UNC Coastal Studies Institute (CSI) integrate a localized approach to CSI's own research of coastal science. Their programs introduce an update of STEM summer programs with the addition of art. These STEAM camps give youth ages 9 to 13 hands-on experiences working with collecting land and marine data, engineering ocean exploration equipment, SCUBA diving, investigating the area's shipwrecks or even observing the environment through a scientists' eyes then reinterpreting it as artists. The program offers 14 different week-long camps throughout June, July and August. Check out the link to learn more about the different ones.
This season the North Carolina Coastal Federation and Jennette's Pier team up to host Green Teens Summer Camp. This week-long day camp lets older kids explore the assorted aquatic and land environments by spending their week paddleboarding in the sound, fishing from the pier and learning about implementing sustainable practices within those environments, including working with oyster reefs and renewable energy.
For Young Adventurists
If your kids adore playing outside or are simply Vitamin D deficient, the North Carolina Aquarium on Roanoke Island's summer camps teach them about local culture, history and ecology by placing them in the center of it. These seven different day camps range from those for both elementary, middle and high school-aged children. Cultivate young paleontologists with programs about prehistoric and surviving reptilian dinosaurs in the area. Play in the waves, go crabbing and interact with the aquarium's own creatures. And youthful anglers love the opportunity to spend a week with rods, waders and cast nets where they catch fish and learn about the identifying different species and the local fishing industry.
For those who love being active as much as they love the outdoors, Outer Banks Surf School Surf Camps teach kids the techniques and skills that'll help them catch waves in a way that's fun and safe. These morning camps are three-days long in duration, making them great activities for vacationers or kids just looking for a way to fill a few of their mornings. It's based out of the Outer Banks Surf School in Nags Head. Each session starts with a beginner's lesson, and the campers advance further each day. The camp provides the surfboard and leash, so all your child needs is their bathing suit, sunscreen and unbridled enthusiasm.
Photos above: Coastal Studies Institute, Facebook

Photo: The Studio, Facebook
For Young Yogis
Camps help children learn about their environments, new skills and most importantly learn about understanding and loving themselves and others. The Studio in Nags Head hosts 11 weeks of summer camps this season. These week-long day camps vary in focus, ranging from leadership development to yoga to mindfulness to mentoring programs. From crafting jewelry to going into local schools and volunteering as mentors for younger students to learning how to develop business models while also practicing mindful movement with their bodies, the Studio's summer camps do a little bit of everything. The majority of the different camps target elementary and middle school-aged girls, but sessions toward the end of summer include co-ed opportunities as well. Learn more about the wide range of the Studio's summer camps, their dates and payment plan options by following this link.
---
Wow, reading about these camps has me more excited than ever for summertime but also endlessly longing to be young again – what amazing ways to enjoy a summer break! This is hardly all of the local camps available, and various day camps and programs for children also tend to pop up at random over the course of the summer. Be sure to check our Daytime Events listing and Activities and Programs page to keep an eye out for any opportunities that arise.