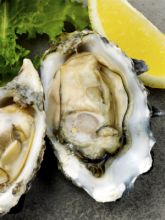 Unless you've been pulling a Rip Van Winkle the past several weeks, you're aware that we're deep in the Season of Love...and jewelry and chocolate...mostly chocolate...and schmaltzy cards and...oh, never mind. Anyway, now is also the season of oysters and oyster lovers, and that's a special kind of love indeed! As fate would have it, while you may experience unrequited passion in other arenas, for a mere $25 you can fully satiate your oyster passion at the 28th Annual Stumpy Point Oyster Feast!
Admission to the roast, held Saturday, Feb. 9 from 12 p.m. to 5 p.m. at Stumpy Point's Bayview Chapel, includes all-you-can-eat fried and steamed oysters, fried fish and all the trimmings. Get there early and stop by the bake sale if you want a chance at what are reportedly some of the best homemade desserts anywhere. Admission to this family event is $25/adult and $10/child aged 10 and younger. Proceeds assist Stumpy Point's families in need. For more information contact the Bayview Chapel at (252) 473-5869. For directions visit the event's Facebook page.
Now, I cannot state with scientific authority the normally expected half-life for the legendary aphrodisiacal potency of oysters. But if you eat enough of them on Saturday, then surely there'll still be a little extra skip in your step by Valentine's Thursday, right? Right? Slurp away, my friends! Slurp away!
For those with more traditionally romantic notions regarding Valentine's "season," consider Aqua Restaurant and Spa's "All You Need Is Love!" event running Thursday, Feb. 14 through Sunday, Feb. 17 at their location overlooking the Currituck Sound in Duck. Each day from 4 p.m. to 9 p.m. an impressive three-course prix fixe dinner menu is offered for $100/couple. Need flowers? Aqua has partnered with Blooms Design Studio to have fun, fresh and maybe even a little bit funky bouquets delivered right to your table. Couples spa packages are also available.
If winter's chill is making you feel stiff, tight and, well, uptight, schedule an appointment during February with Gina Booth at Grace Bodywork Therapy in the Waterfront Shops in downtown Manteo and renew your body and spirit with a Winter Warm-up! Experience an hour of deep relaxation with their warming Hot Stone Massage, or treat yourself or someone else to a rejuvenating half-hour mini-spa session. Ask about their luxury hand and foot treatments featuring an eco-friendly paraffin alternative composed of 100% natural plant-based emollients and pure essential oils. Or un-kink that tired, overworked back with a Back Facial featuring warm towels, a light exfoliating scrub and a moisturizing back massage. Call (252) 256-2717 for details or to make an appointment!
Wine Tasting Friday's have returned at Front Porch Café in Manteo and will continue from Friday, Feb. 8 through May. Round up some friends and drop in anytime between 5 p.m. and 9 p.m. for a casual evening of tastings, live entertainment and lite appetizers. Sample three different wines for only $5! To participate in the wine tastings you must be 21 or older.
Technological advances over the past 100 years have allowed us to take for granted a certain ease of travel on our highways, through the air and along our coastal waters. But travel used to be fraught with more danger, and travel on the waters surrounding the Outer Banks was no exception. For a glimpse into the lives of the brave coastal men who risked their own lives to save others make sure to see the documentary "Rescue Men" showing at the North Carolina Aquarium on Roanoke Island each Sunday at 1:30 p.m. throughout February. This tale of courage in the face of extreme odds highlights the Pea Island Life Savers, an all-black crew who patrolled the Outer Banks coast from the late 1800s to 1947. Led by local Richard Etheridge, the courageous crew was part of the Life-Saving Service, the precursor of today's U.S. Coast Guard. For more information, call (252) 473-349 or visit the Aquarium website. Admission to the film is free with a paid Aquarium admission.
Sometimes breakfast for dinner is exactly what you want. And sometimes what you want also corresponds with a good cause. The 2nd Annual Fundraising Pancake Supper sponsored by the Outer Banks Woman's Club is just such an event. Bring the whole family or gather up some friends and head for Stack'em High in Kitty Hawk on Tuesday, Feb. 12 from 5 p.m. to 7:30 p.m. to enjoy a menu of pancakes, sausage or bacon, hash browns or grits, coffee, tea (hot or cold), Coke products, water and milk. Tickets will be sold at the door, and all proceeds benefit Woman's Club scholarships and community needs. Prices are $8/adult and $5/child aged 6 and younger.
Transform those winter doldrums into something fun and creative. Register for the Mosaic Mirror Class at Glazin' Go-Nuts Paint Your Own Pottery studio in Kill Devil Hills and make a mosaic mirror using your own hand-painted tiles. This four-session class begins Wednesday, Feb. 13 from 5:30 p.m. until 7:30 p.m. and continues at the same time each Wednesday until March 6. Class is limited to 10 people! Call (252) 489-8182 to register. The $75 fee includes all supplies.
Independent film aficionados will want to check out "Eating Alabama," the latest installment in the 2012-13 Southern Circuit Film Tour sponsored by the Dare County Arts Council. The film will show Wednesday, Feb. 13 at 7 p.m. in the theater at Roanoke Island Festival Park in Manteo. Southern Circuit brings some of best independent filmmakers and their films from around the country and the world to communities in the South. Over the years, audiences from more than 50 communities have viewed more than 200 films and engaged filmmakers in post-screening discussions. So step away from your television, DVD player and computer and spend an evening connecting with independent filmmakers and their films. Ticket prices are $10 for adults, $8 for students and $5 for children. Tickets can be purchased at the door or at the DCAC Gallery in downtown Manteo.
Today through Sunday a number of classes are still available as part of the After Dark at All Saints' educational series at All Saints Episcopal Church. Most classes begin at 7 p.m. Registration is $20/class for adults; $10/class for participants younger than 18. Some classes require additional fees for supplies. Pre-registration is required and payment by cash or check secures registration. Visit the All Saints website for the class catalog, a registration form, payment instructions and a list of classes already full. Call the office at (252) 261-6674 to ensure your desired classes are available.
Finally, continuing this week is the 35th Annual Frank Stick Memorial Art Show at Glenn Eure's Ghost Fleet Gallery in Nags Head. Always characterized by an eclectic mix of mediums, skills and creative visions, the Stick show is one of the best opportunities all year to appreciate the sheer diversity of artistic talents who call the Outer Banks home. Gallery hours are Monday-Friday, 10 a.m. to 5 p.m. and Saturday-Sunday, 12 p.m. to 4 p.m. The show runs through February 22.

This week you have a chance to win a $50 gift certificate to Gray's Family Department Store and a $35 gift certificate to Tortugas' Lie!
For more information about Gray's Family Department Store, check out their website.
For more information about Tortugas' Lie, check out their website.
Last Week's Winner
Congratulations to Don Reed‎!!!

You won a $50 gift certificate to Blue Pelican Gallery and a $35 gift certificate to Ortega'z Southwestern Grill & Wine Bar!
For more information about Blue Pelican Gallery, check out their website.
For more information about Ortega'z Southwestern Grill & Wine Bar, check out their website.