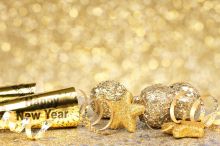 I love how many Christmas carols aren't specific to the day itself but the season in general.  Think about it: "The Twelve Days of Christmas," "Winter Wonderland," "Baby, It's Cold Outside." One that's been stuck in my head is "What are You Doing New Year's Eve?" Speaking of which, what are you doing New Year's Eve? You may be planning the bash of the year, or maybe you were so occupied with Christmas you completely forgot about ringing in the New Year. Not to worry, though, because the Outer Banks has you covered with a selection of New Year's Eve happenings that'll have you ready to welcome 2017 in style.
New Year's Eve Dinner at Fishbones Raw Bar & Restaurant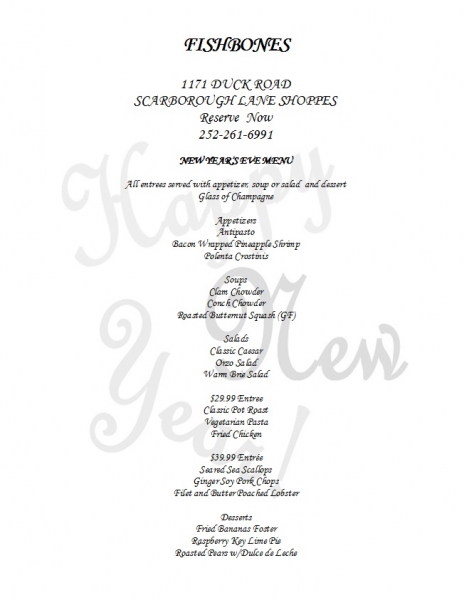 Fuel up for all of those New Year's Eve parties with a snazzy dinner at Fishbones Raw Bar and Restaurant in Duck. They begin serving at 5 p.m. so that you can dine as quickly or leisurely as you'd like. Their New Year's Eve feast includes appetizers, soups, salads and a glass of champagne with the entrees, and you can choose between a $29.99 meal and a $39.99 meal. The menu combines a selection of swanky fare with signature Outer Banks cuisine, so whatever your palate is in the mood for, Fishbones Raw Bar and Restaurant is ready to bring your 2016 to a tasty close.
New Year's Eve Dinner Party at Uncle Ike's Sandbar & Grill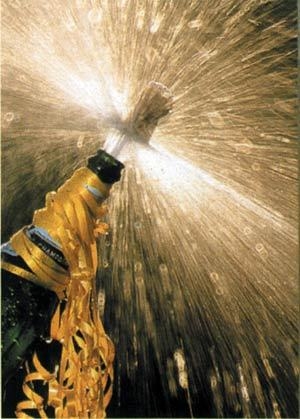 If you want the combination of both dinner and New Year's Eve party, Uncle Ike's in Corolla has you covered. Join them on Saturday for a dinner of parmesan-crusted Chilean sea bass, filet mignon with a lobster tail, seafood primavera or twin lobster tails, each served with twice baked potatoes, asparagus and your choice of a Caesar or house salad. Is your stomach rumbling yet? Dinner will be served from 5 to 8 p.m., but you'll want to stick around for the champagne toast at midnight. Uncle Ike's will also be providing all of the necessities for your New Year's get-up, including party hats, horns and more. Call (252) 597-1606 to make reservations for your seat and meal of choice.
New Year's Eve Party at Sundogs Raw Bar & Grill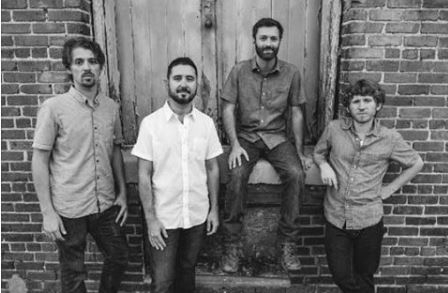 After getting your fill of delicious food, it'll be time to hit those New Year's Eve parties. Start north and work your way down – the first stop is Sundogs Raw Bar and Grill in Corolla. Starting at 9:30 p.m. Asheville band Fireside Collective will fill the venue with their bluegrass acoustics. In between listening to the music and mixing and mingling, you can enjoy snacks or dinner from the buffet with the traditional New Year's Eve nibbles. When the countdown goes from "Ten ... " to "Zero!" you'll be ready to toast the arrival of 2017 with a glass of champagne. There's no cover and the buffet is free, so what excuse is there not to join Sundogs this New Year's Eve?
Outer Banks Brewing Station's 2017 New Year's Eve Bash

On one of the biggest celebration nights of the year, you can count on Outer Banks Brewing Station's participation. Start your journey south to join their 2017 New Year's Eve Bash starting at 10:30 p.m. This event is for those ages 21 and older, and it offers drinks and specials throughout the night. Zack Mexico keeps the party's atmosphere upbeat with his music. Be sure you're there at midnight because you won't want to miss the biggest balloon drop on the beach.
New Year's Eve Party with the Just Enough Fund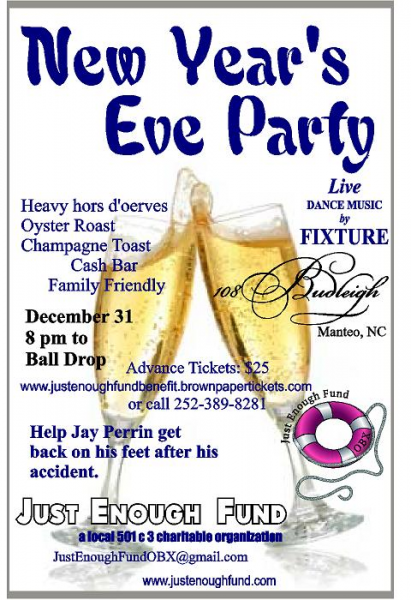 Looking for a lively time in Manteo? Check out the New Year's Eve Party hosted by the Just Enough Fund this Saturday at 8 p.m. This swinging soirée will keep you full with an oyster roast and heavy hors d'oeuvres, and live music provided by Alex Jolly, Bobby Soto and Stevie Forlano will help you break out your favorite dance moves. No New Year's Eve party would be complete without those festive party hats, noisemakers and other accessories, and you'll find plenty of them here. As is custom, 2017's arrival at midnight will be greeted with a champagne toast. Proceeds from this New Year's Eve Party will benefit local Jay Perrin, who's getting back on his feet after an accident. Tickets for the party are $25, and it will be held at 108 Budleigh Street in Manteo.
Annual New Year's Eve Beach Road 5K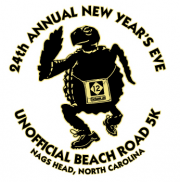 Fully known as the 27th Annual New Year's Eve Unofficial Beach Road 5K, this New Year's Eve event is a favorite local tradition. With little pomp or circumstance people make their way to Tortugas' Lie Shellfish Bar and Grille around 10:45 and start running at 11 p.m. There's no need to register or pay a fee – just show up ready to run. Or you can participate in the mile walk or bike ride. Come alone or bring your whole New Year's Eve crew. After finishing the run you're in the perfect spot to welcome the arrival of the New Year at Tortugas'.
---
These are just a few of several New Year's events. You can learn about more by checking out our Nightlife listing. And of course there's more to the week than just one day, so discover other happenings on our Daytime Events listing. Now that you can make plans for the 31st, get back to cooking those hoppin' johns and ham, and I'll see you in 2017.