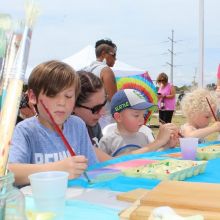 If you're itching to get out and about, this week there are several fun events going on this weekend. From Roanoke Island to Nags Head to Ocracoke Island, you'll find events to satisfy every age group and interest. Check out a few of them here, and be sure to check our Daytime and Nightlife listings for more fun things to do on the Outer Banks. 
For History Lovers: Fort Raleigh Archaeological Dig
Through September 24
History lovers should check out the latest archaeological dig going on at Fort Raleigh National Historic Site. Through September 24, First Colony Foundation is partnering with the National Park Service on an archaeological search for any new clues about Sir Walter Raleigh's "Lost Colony." The professional archaeologists will be exploring multiple sites, including the metallurgical and science workshop, where numerous artifacts have already been uncovered, as well as new areas that were surveyed in 2016 using ground-penetrating radar. The team will also explore the earthen ramparts that were built during the 1585 expedition. Previous digs on the site have uncovered Elizabethan and Native American artifacts including pottery, tools and trade items. National Park Service rangers will provide educational information at the dig site from 1:45 to 2:45 p.m. daily through September 24 (weather permitting). At other times, the public is welcome to observe the archaeologists at work from a distance.
For K
ids and Families: Artrageous Kids' Art Festival
Saturday, September 18
Now in its 32nd year, Artrageous is an Outer Banks locals' tradition – and all are welcome! Come to Dowdy Park in Nags Head from 10 a.m. to 3 p.m. for tons of hands-on fun for kids of all ages. Children can hop around to different art stations creating suncatchers, sensory bottles, paper kites, cards, refrigerator magnets, chalk art and other masterpieces. The theme of the year's event is Be You! You're An Original. Local artists, including young artists, will be selling their works, and there will be live music and performances and treats for sale.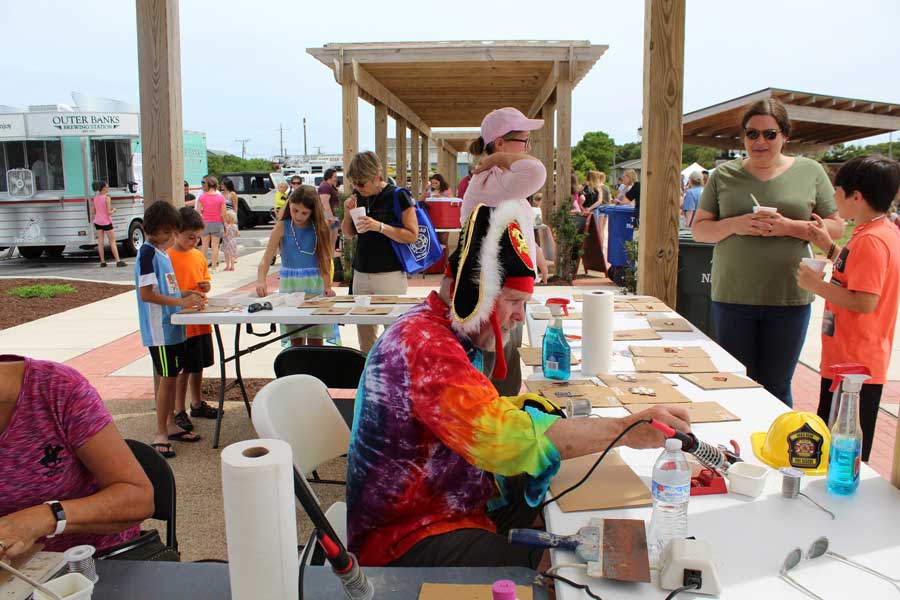 Photo above: Artist Jack Horst creates glass art with kids at Artrageous. Top photo: Kids making art at Artrageous. Photos courtesy Dare County Arts Council.
For a Taste of Outer Banks Culture: Day at the Docks
Saturday, September 18
Day at the Docks is Hatteras village's beloved annual festival, but it's been canceled for the last two years due to Hurricane Dorian in 2019 and the pandemic in 2020. So it was exciting to have the festival back again for 2021. However, due to COVID concerns, the festival has been pared down. The festival begins on Friday night with a dinner event called Seafood Under the Stars at Hatteras Civic Center. Most of the main festival events have had to be cancelled, but the Fishy 5K Run and the Blessing of the Fleet are still on schedule for Saturday. 
For Auto Afficionados: Sumo Speed Beach Bash
Saturday, September 18
Soundside Event Site in Nags Head will be home base for a day full of car shows, live music, raffles, local vendors and food trucks. The event will be held from 1 to 6 p.m.
For Bargain Hunters: Ocracoke Island-Wide Yard Sale
Saturday, September 18
If you need another excuse to go to Ocracoke, here's one. The whole island is having a community yard sale, which makes for a fun way to walk through the island and meet the locals while shopping for crafts, tools, home goods, artwork, clothing and more. It's held from 8 a.m. to 5 p.m. on Saturday; if it rains, they'll have it on Sunday.
For Bargain Hunters 2: Ocean Atlantic Rentals Yard Sale
Saturday, September 18 and Sunday, September 19
Come to OAR's Kill Devil Hills location for the annual used gear sale, where you can find so much cool stuff! Beach chairs, carts, cabanas and umbrellas, kayak, canoes, SUPS and surfboards, grills, bikes, e-bikes, wetsuits and more are all for sale. It's held from 9 a.m. to 5 p.m. both days. The Avon location also has a yard sale on this day, but the KDH one is definitely bigger. I speak from experience when I say get there as early as possible on Saturday.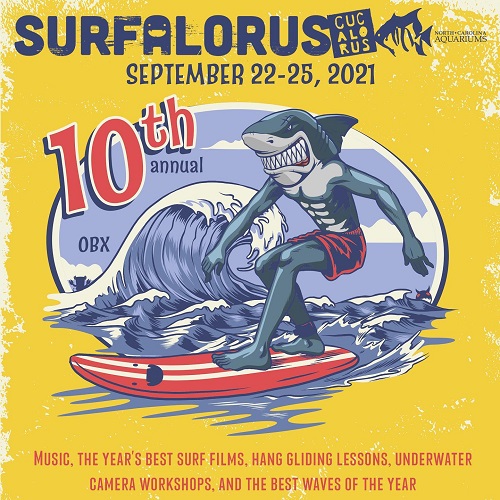 For Surfers and Ocean Lovers: Surfalorus Film Festival
Wednesday, September 22 through Saturday, September 25
The 10th Annual Surfalorus Film Festival features live music, the year's best surf films, hang gliding lessons, underwater camera workshops and surfing. Brought to you by North Carolina Aquariums, Cucalorus Film Foundation and Dare County Arts Council, the festival features films at Jennette's Pier on Wednesday and Thursday nights, at N.C. Aquarium on Roanoke Island on Friday and at Dare County Arts Council on Saturday night. Check here for the whole schedule.