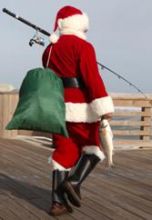 Quantity versus quality is one of the ongoing challenges of modern life. Never is this more true than at Christmas as we strive to find the perfect gifts for friends and loved ones. Whether taunted by the frenzy surrounding the latest "must-have" mass-produced techno-bauble or making a desperate purchase of something distressingly extravagant in the hope that the sheer expense will be appreciated even if the gift itself is not, we are often left to wonder, "Isn't there a better way?" Yes, there is. Shop local. Shop small...as in local small businesses and artisans.
We on the Outer Banks are blessed with an impressive supply of talented and innovative individuals, people who see potential where others don't, directing their talent, vision, creativity and work ethic toward novel ends. Whether this vision expresses itself in the form of art or music, a product or a service, there are a host of Outer Banks solutions to your gift-giving needs. Here are a few (with more to come next week).
Got a foodie on your list? Fill their stocking with a supply of Outer Banks SeaSalt from Amy Huggins Gaw's Outer Banks Epicurean. Great for cooking or as a finishing sprinkle before plating, Outer Banks SeaSalt is 100% natural salt, hand-harvested from the Atlantic Ocean in small batches and containing no preservatives, anti-caking agents, colorants or iodine. Visit the website to order or to find local outlets. Outer Banks Epicurean also offers food-oriented retreats, pre-prepared meals, personal chef services and catering for intimate weddings and other special events. Good things come from Amy!
What's better than the gift of music? How about a gift of music that supports the work of local musicians while helping fund musical education opportunities for disadvantaged children? Outer Banks Sounds, a musical collaboration between the Dare County Arts Council (DCAC) and local radio station WVOD 99.1 The Sound, is a year-long program of live performances culminating in a CD compilation featuring songs from some of the Outer Banks most talented musicians.
All proceeds from CD sales benefit the Community Music School, a DCAC initiative to bring quality, affordable music instruction to financially disadvantaged children in Dare County. The Outer Banks Sounds CD is available in Manteo at the Dare County Arts Council and Silver Bonsai and in Nags Head at Radio Shack, Birthday Suits and Cloud Nine. It's a great gift for yourself or someone else!
Two venues featuring a multitude of local artists and artisans are the Dare County Arts Council Gallery in Manteo and the KDH Cooperative Gallery and Studio in Kill Devil Hills. Currently exhibited in the DCAC gallery is the Annual Holiday Small Works Show featuring original paintings, pottery, glass, photography and jewelry as well as fiber, metal, wood and mixed media works. But that's only what you'll find in one room! Browsing the full gallery is to be awed that our small community boasts so many talented artists and that so much of their work is actually quite affordable. Join the arts council and receive 10% off all gallery purchases throughout the year.
KDH Cooperative Gallery features the works of more than 40 local artists working in a variety of medias including oils, acrylics, watercolors, pastels, photography, ceramics, jewelry, fibers, collage, wood, pottery, glass, mosaic and metal. You'll find Wanchese artist Rosanna Gusler's amazing and beautiful kiln-formed fused glass creations, many made using recycled glass, metals and other locally found materials. There are blacksmith Randy Hodges' hand-forged utilitarian items and small sculptures made with scrap iron, found materials and a healthy dose of humor. Megan Rubino's vibrant impressionistic watercolors would brighten a corner of any room. And that's only three of the KDH Coops' artists. Trust me, there's a great gift waiting here for someone on your list.
When you find your favorite feline four feet up the Christmas tree and sticky with pine sap, perhaps the behavior is not about the novelty of the outside suddenly being inside. Maybe your furry companion is trying to give you a hint that Christmas is for kitties, too. Hatteras Cat Fresh Fish for Felines is an all-natural, nutritional concentrate treat made from meat left on the bone after fillets are removed from commercially caught fish. Hatteras Cat's unique process results in a perfect paté made from tasty meat and thick, nutrient dense, golden bone broth. As you would expect, product variety is seasonally based, but typically available blends include Kinnakeet Treat (mahi), Frisco Fish Feast (wahoo), Harbor Chowder (tuna) and Fish House Medley (king mackeral). Hatteras Cat products can be ordered online or purchased at Kinnakeet Clay Works in Avon, Albatross Fleet in Hatteras and at Salty Paws Biscuits in Nags Head and Duck.
The Violet Sparrow is a great source for handmade earth-friendly products such as 100% natural goat milk soaps, beeswax candles, upcycled felted wool slippers and more.
And make sure you include Endless Possibilities in Manteo on your shopping list. Hand-woven rugs, handbags and totes, wall hangings and teacup and saucer birdfeeders represent just of few of the one-of-a-kind items to be found in this unique weaving studio and shop.
Desperately Seeking Santa
If you had any doubts about the magic of Santa, one look at ol' St. Nick's Outer Banks schedule should permanently retire them. First, on Wednesday, Dec. 12 from 3:30 p.m. to 7 p.m. the Jolly Ol' Elf appears at the Outer Banks Brewing Station for the 4th Annual Santa and The Train event. Tickets are $1. Proceeds benefit the Outer Banks Children at Play Museum, which was flooded during Hurricane Sandy. This fun-for-all-ages event includes pictures with Santa, opportunities to play in the snow and ride the train, sock ice skating, arts and crafts, a silent auction of toys, a bake sale and more.
Next, there's Dinner With Santa at The Elizabethan Gardens on Friday, Dec. 14 from 6 p.m. until 9 p.m. Bask in the spirit of the season, witness the magnificence of WinterLights, enjoy a wonderful dinner and some one-on-one time with the Big Guy! A professional photographer will offer candid photos for purchase. Dinner seatings will be at 6 p.m., 7 p.m., and 8 p.m. Ticket prices for Friends/Members are: $25 for adults; $12 for youth (ages 6-17); $6 for children (5 and younger). Prices for Non-members are: $27 for adults; $14 for youth (ages 6-17); $8 for children (5 and younger). Pre-registration is required.
Now we get into serious "How DOES he do it?" territory. At 9 a.m. Saturday, Dec. 15 go Fishing with Santa at Jennette's Pier in Nags Head! Join Santa and the pier staff for an enjoyable and educational morning of fishing and holiday crafts. Pre-registration is required, and the price is $15 per person.
Then Santa appears at Gray's Department Store from 11 a.m. until 2 p.m. in Kitty Hawk! Bring the kids and a camera. Simultaneously, Santa rows into the Toy Gallery in Kill Devil Hills from 11 a.m. until 5 p.m. where he will listen to your child's wish list and be available for photos.
Santa in three places at one time? I'm tellin' ya...maaagic!
On Sunday, Dec. 16 Santa flies into Dare County Regional Airport on Roanoke Island onboard the circa 1948 Douglas C-54 Skymaster transport Spirit of Freedom. Also known as the Candy Bomber, the Spirit of Freedom took part in the Berlin Airlift after World War II. Candy drops will be at 1 p.m. and 1:15 p.m. Santa will land at 1:30 p.m. for free photos with the children.
Primed to warble a holiday song or two? Make sure you attend Sunday's Outer Banks Family Carols, a community Christmas sing-a-long presented in conjunction with the Eastern Carolina Concert Society. Held at Holy Redeemer by the Sea church in Kitty Hawk at 7 p.m., the event will include a brass quintet from the Virginia Beach Symphony, local choir members and singers, members of the First Flight High School chorus and more. An open rehearsal for anyone wishing to participate will be held at 3 p.m. No previous choir experience is necessary.
Monday night grab the remote control, a favorite beverage and some nosh and settle in on the couch at 10 p.m. to watch The Brine and Bottle segment of The Food Network's popular series Diners, Drive-ins and Dives hosted by the always-entertaining Guy Fieri. Episodes featuring other well-known local dining establishments are scheduled for each remaining Monday in December continuing into January 2013. We'll keep you posted.

This week you have a chance to win a two night stay at Days Inn Oceanfront and a $25 gift certificate to Island Gallery and Christmas Shop!
For more information about Days Inn Oceanfront, check out their website.
For more information about Island Gallery and Christmas Shop, check out their website.
Last Week's Winner
Congratulations to Cheryl Simpson‎!!!

You won a $50 gift certificate to ARTspace Gallery and a $35 gift certificate to Basnight's Lone Cedar Cafe!
For more information about ARTspace OBX, check out their website.
For more information about Basnight's Lone Cedar Cafe, check out their website.