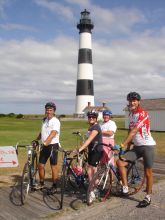 Schwoo. What a narrow escape we had with Earl. * Now you may be one of those people who say it was no big deal and they're mad at The Weather Channel for all the hype, but I say having a category 4 hurricane headed within 100 miles of us was too close for comfort. * Thank god it dropped to a category 2 and only sideswiped us. * But even so, the storm put us all on an emotional rollercoaster and I learned something new about the effects of barometric pressure on the human body...
Last Thursday was a day of the typical pre-hurricane highs and lows, ups and downs: The storm is veering offshore/ the storm is inching westward; The Weather Channel says this/Weather Underground says that; Billy So and So heard this/ Sarah So and So heard that; we're leaving/we're staying; what if this/ what if that; should I move my car to higher ground?; what if that tree falls on our boat?; did you board up the windows?; do we have any batteries?; did you fill the tub?; phone ringing off the hook ("I don't know if we're leaving, Mom, (Dad, brother, cousin), but we'll keep you posted"); we're leaving/we're staying... all day long...
My family didn't officially make the final decision not to leave until about 7 p.m. on Thursday night. The whole day had been a blur of indecision. Finally, about 7:30 p.m., we all took a bike ride to the beach, my six year old pedaling with all his might into the wind. With the stiff wind in my face and dipping my toes in the wild ocean, I felt very alive. A TV news crew from Raleigh interviewed my husband on the beach, asking him what it was that drew us outdoors on a night like this. Well, isn't that obvious? The ocean. The power of nature. What is it that draws people outside in Raleigh, I wondered...
That night we slept off and on while the rain pelted our one uncovered window for 7 hours, sounding like boxes of BBs hitting a steel drum at rapid fire. Our house shook. The kids, the ones we were worried about, slept through the whole thing and two hours later than normal because their windows were boarded up. * The meteorologists say the Outer Banks got gusts from 59 to 83 mph and the worst storm surge was 4.7 feet in Hatteras Village. The Frisco Pier was lost, but otherwise, pretty lucky, I'd say, but I didn't feel like I passed through unscathed...
I was exhausted for two days. Maybe it was the frantic storm preparation, but more likely it was the effects of barometric pressure. Thursday night in bed my joints hurt, even my ankle joints and elbow joints. All day Friday I was on the verge of narcolepsy, saved only by an overdose of caffeine, which shot my nerves. My kids had bags under their eyes, even though they had slept so well. My husband was so tired he actually let me drive with him in the car. Even Saturday I was droopy, lethargic and indecisive. I thought I was sick until I learned that many of my friends felt the same way... So I googled "the effects of low barometric pressure on the body"...
"Any part of the body (like joints) that are flexible and filled with fluid will respond to pressure changes. Just like a balloon that expands (and eventually pops) as it rises in altitude. This is due to the pressure decreasing as you get higher. As centers of lower pressure approach you...your barometric pressure drops without you having to increase your altitude. The balloons in your body expand, and if you are sensitive enough...you will notice. It doesn't take a huge drop in pressure for you to feel it..." * Call me sensitive.
The Corolla Wild Horses are also sensitive. They sensed the drop in barometric pressure and instinctively headed for the protection of the maritime forest and put their rears to the wind.... Next time I'll know better what to do...
And let me just have one gripe: How about those black flies, damn them, that haunted the beach for two days after the storm?...
I'll balance that gripe with some cool news: The Island Free Press reports that a manatee has been hanging around at the Hatteras Village ferry dock. * According to U.S. Coast Guard, the manatee was spotted on September 5 at 10:05 a.m. at the ferry docks in Hatteras. The manatee frequents warmer waters, but it's not unusual to see one in Hatteras. Local resident Lou Browning told the Island Free Press that manatees seem to like the southern end of Hatteras - in particular, they seem to like the sound between the Coast Guard station and Lee Robinson General Store - perhaps because of the warmer water, the topography of the bottom, or the presence of a certain kind of grass that the herbivorous creatures enjoy. Anyway, sounds like something I'd like to see...
Now, on to the hurricane-free week ahead...
It's actually a rather "slow" week as Outer Banks weeks go. You'll find a lot to do, but the "Special Events" are just at a lower level than normal...
Anyone who admires old motorcycles has got to see the start of the Pre-1916 Motorcycle Cannonball Endurance Run. The race starts at the Wright Brothers National Memorial on Friday, September 10. Get there by 8 in the morning to see the motorcycles as they prepare for a 16-day cross-country ride to California. * You've got to love these people's optimism - these antique motorcycles look like bicycles with motors and they're going to ride them to Cali...
A couple of athletic events to get you moving this week:
The 9th annual Lighthouse to Lighthouse Bike Ride is on Saturday. Choose your length: 25, 50 or 66 miles. All routes go between Currituck Beach Lighthouse and Bodie Island Lighthouse. Cost is $20 for adults and $10 for youth and proceeds benefit the Beach Food Pantry. See www.stillwatersbaptist.org for info...
Walk for the Mind is at Roanoke Island Festival Park on Saturday. This awareness walk for Alzheimer's begins at 9 a.m. Pick up forms from the Dare Center or call 475-5638...
On Friday evening from 5:30 to 7 there's a Pilates/Yoga Fundraiser to benefit Isabela Rainey, a 14-year-old Nags Head girl who has been hospitalized at Children's Hospital of the King's Daughters in Norfolk since July 31 after suffering from a brain aneurysm. The event will be at Outer Banks Sports Club in Nags Head, and is by donation. Call Karen Smith at 305-2652 to register...
Speaking of yoga and Pilates, the Outer Banks has so many choices these days! * The Town of Duck is still offering its free classes through the month of September: Yoga on Monday, Tai Chi on Tuesday and Pilates on Thursday - all at 7:30 a.m. in Duck Town Park. * Four facilities on the central Outer Banks offer classes: Outer Banks Yoga, Ashtanga Yoga Center of the Outer Banks, The Outer Banks Family YMCA and The Outer Banks Sports Club. * Spa Koru has a great yoga and Pilates program in Avon on Hatteras Island. * The Unitarian Universalist Church of the Outer Banks in Kitty Hawk is starting a Community Yoga program with $5 classes once a month and a different teacher each month. The first class will be this Thursday, Sept. 9, at 6:30 p.m. with instructor Anne Howard...
Oh yeah -- you are training for the Outer Banks Triathlon on September 18-19 and the Outer Banks Marathon on November 13-14, right? If you haven't registered, go ahead and do it...
The Currituck Wildlife Festival is being held on Saturday and Sunday at Currituck High School in Barco. The event features local and national decoy carvers, wildlife painters and craftspeople, antique decoy collections and a variety of foods and concessions. Admission is $5...
OK, I've gone on long enough. Click on By Night and By Day to see quick listings of what's going on all week. There are some good bands playing this week and they're listed in our By Night section. * And new to the site are all the high school sports games - now that you know when and where they're held, go out and support the local kids...
And add your comments below, if you'd like. We'd love to hear from you!...