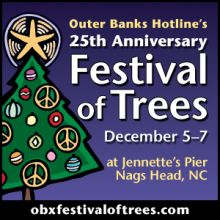 Our sense of time changes as we age. When you're 6 years old the period of time between Halloween and Christmas seems an eternity. At the age of 12 it seems you'll never reach 16 and the nearly mystical freedom promised by a driver's license. By the time we enter our second quarter-century, time begins to take on a significantly quicker and accelerating pace. That Wilco song was a hit just a couple years ago, right? Eh, probably more like a decade or so. Time flies.... Still, it is the rare relationship, business or organization that successfully navigates a full quarter-century. Rarer still is an event that traverses that span of time while retaining its vibrancy and relevance. But here in 2013 we do, indeed, have a silver anniversary on the holiday event calendar - Outer Banks Hotline's Festival of Trees is celebrating its 25th year from Dec. 5-7 at Jennette's Pier in Nags Head!
Throughout the years, the Outer Banks community has come together at Festival of Trees to help support Outer Banks Hotline, a local non-profit providing absolutely unglamorous but desperately needed crisis intervention and prevention programs. The annual fundraiser directly supports a 24-hour crisis phone line, shelter, advocacy and support services for victims of domestic abuse as well as emergency response to survivors of sexual assault. Hotline also provides prevention and education programs on topics such as bullying, safe dating skills, personal safety training and more.
For many Outer Bankers, Festival of Trees is as much a harbinger of the holiday season as Christmas parades. Highlights this year include a Holiday Bazaar with unbeatable shopping deals, a multitude of musical performances, punch and homemade cookies, a silent auction, a screening of the movie The Polar Express, pictures with Santa, a ticketed Silver Anniversary Toast with the chance to win stunning Diamonds 'n Dunes jewelry, a raffle, champagne, hors d'oeuvres created by Outer Banks Brewing Station's award-winning Chef Pok and a ticketed Gala Social & Benefit Auction featuring extravagantly decorated trees so gorgeous they will take your breath away! The Kelly's Automotive tree even includes a gently used 1998 two-door Ford Explorer! And there's much, much more! Visit the continuously updated and very detailed event website for the most complete and up-to-date Festival of Trees information.
One-of-a-kind Gifts
The Dare County Arts Council's Annual Holiday Small Works Show presents one of the best opportunities all season to select one-of-a-kind gifts for friends and family while supporting Outer Banks artists and contributing to our local economy! The show begins with an opening reception Friday, Dec. 6 from 6 to 8 p.m. featuring music, light fare, libations and lots of holiday spirit, and continues through Dec. 31. You'll find fine art and handcrafts including paintings, pottery, glass, photography, jewelry, fiber arts and mixed media creations - more than 500 works of art for every budget and every need, from major gifts to stocking stuffers! Even better, Arts Council members receive 10% off their gallery purchases. So, if you're not already a member, join the Arts Council and save! The Arts Council is open Monday-Friday, 10 a.m. to 5 p.m. and on Saturdays from noon-4 p.m. (closed holidays). For more information call (252) 473-5558 or visit the DCAC website.
Christmas Comes to Roanoke Island
There's no denying it - Manteo knows how to put on a holiday show! The holiday season starts in earnest on Roanoke Island on Friday, Dec. 6 at 6 p.m. with Manteo's Grand Illumination celebration along Queen Elizabeth Avenue. Manteo's beautiful downtown waterfront will be transformed by a free holiday production illustrating magical moments of Christmas and concluding with the arrival of Santa. The evening's program includes the lighting of the town Christmas tree, a Yule Log and bonfire, choirs from Manteo and First Flight high schools and Manteo Elementary School, performances by the Echoes of Heritage and Elizabethan-era songs and dances by St. Andrews Guild from Raleigh. Hot cider and hot chocolate will help ward off the seasonal chill.
Manteo's Christmas parade festivities begin in downtown Manteo at 10 a.m. Saturday when the Jazzmen Band performs holiday classics in front of the historic Dare County Courthouse on Queen Elizabeth Avenue. At 10:30 a.m. the 41st Annual Big Little Town Christmas Parade gets rolling at Manteo High School (Note: You'll want to arrive early to park and stake out a good spot along the parade route!). The parade will then wind its way down Wingina Avenue and John Borden Street toward the Manteo Waterfront, complete with marching bands from First Flight, Manteo, Columbia and Cape Hatteras High Schools, dancers, fire trucks and more than 50 floats from local businesses, clubs and charitable organizations. Even the Island Farm's Charlie the Ox gets into the holiday spirit, pulling a wagon full of beaming children past cheering onlookers. Santa's fire truck completes the parade and drops Santa off to visit and take photos with children at the Roanoke Island Maritime Museum (Creef Boathouse).
Christmas Duck
Not to be outdone, on Saturday, Dec. 7, the Town of Duck will hold its free Yuletide Celebration on the Duck Town Green at 3 p.m. as Santa trades in his sleigh for an arrival on a Duck fire truck. Emme St. James & Her Jazz Gentlemen will perform a holiday songbook, and you can sing along with your favorites right up to the lighting of the Crab Pot Tree. Duck merchants will keep their doors open late for shoppers seeking the perfect gift, and from 5 to 8 p.m. several Duck eateries will join together to host one of their famous Duck Tapas Crawls, serving up a plate of tapas and a cup of holiday cheer for a budget-friendly price. Check the Town of Duck website for more information on specials, entertainment and Tapas Crawl menus!
Songs for the Holidays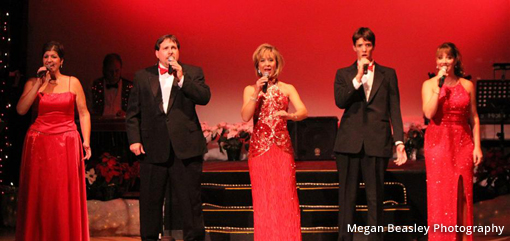 Christmas is the most musical of holidays, and if you're craving holiday tunes you'll want to join Natalie Drummond and other Outer Banks Music Showcase cast members Saturday, Dec. 7 as they perform Let's Celebrate Christmas! at the First Flight High School Auditorium in Kill Devil Hills. An afternoon show begins at 2 p.m., and an evening show starts at 7 p.m. Both shows will feature special guests Limelight Kids Show Choir and the First Flight High School Glee Choir! Repeat performances will be held next Saturday, Dec. 14 at the same times. All four shows are expected to sell out quickly. Tickets are $19.99/adults, $9,50 for children 12 and younger and can be purchased through the Outer Banks Showcase website.
Breakfast With Santa!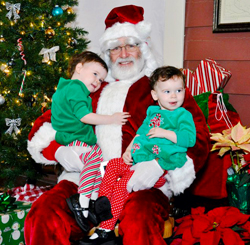 Imagine being the kid who goes to school Monday morning able to honestly claim that he enjoyed breakfast with Santa Claus over the weekend. Santa and a gaggle of elves will appear at Pamlico Jack's Restaurant in Nags Head this Sunday, Dec. 8 from 9 a.m. to 1 p.m. to have breakfast with children and their parents, take photos with the kids and listen to Christmas wishes as part of this fundraiser for the Outer Banks Angel Tree Project. Sponsored by Village Realty, the Angel Tree Project helps ensure a happy Christmas to local children in less fortunate circumstances. Tickets are $9/person (cash or checks only) for the breakfast buffet, which includes scrambled eggs, bacon, sausage, hash browns, grits, French toast casserole, fruit and coffee/juice. Only a limited number of tickets are available, so get yours soon. For tickets, call (252) 449-9235 Mon.-Fri., or visit the Village Realty office in Nags Head, near the Outer Banks Hospital, Mon.-Fri. from 9 a.m. to 4:30 pm.
The Holiday Table
Holiday decorating is a highly individualized phenomenon. Personally, I prefer a minimalist strategy in which the teddy bear angel stays out on top of the bookshelf all year and on Christmas Eve I hang the kitties' stockings below the angel bear (which, I must admit, seems rather lame now that I see it here in black and white). Oh, well. From this lowly example holiday decorating blossoms to run the gamut from a simply decorated tree in the living room to those glowing and pulsing, cacophonous extravaganzas of holiday spirit that quite possibly might be visible from outer space and that sometimes test the seasonal good will of neighbor toward neighbor. But amidst all this decorating we sometimes forget to account for the humble holiday table. This Saturday, Dec. 7 from 10 a.m. to 12 p.m. attend The Art of Centerpieces workshop at The Elizabethan Gardens and craft an elegant centerpiece that will be uniquely yours and last for years. The Gardens will provide the base, greening pins and cuttings and participants are encouraged bring ribbon, ornaments or other decorative elements from home. Class size is limited to 25 and the workshop is appropriate for ages 16 and older. Pre-registration is required. The price is $20/Members, $25/non-Members and light refreshments will be served. The event will be repeated Saturday, Dec. 14 at the same time and place. For additional details call (252) 473-3234 or visit The Gardens' website.

This week you have a chance to win a one night stay at the Sea Ranch Resort & a $35 gift certificate to Beachside Bistro!
For more information about Sea Ranch Resort & Beachside Bistro, check out their website.
Last Week's Winner
Congratulations to Chrissy Digon!!!
You won a $35 gift certificate to Alice's Craft Gallery & a $35 gift certificate to Corolla Cantina Bar & Grill!
For more information about Alice's Craft Gallery, check them out on corollaguide.com.
For more information about Corolla Cantina Bar & Grill check them out on website.