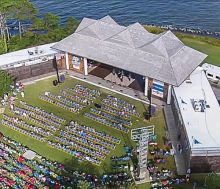 There's no denying it — we're finally in the midst of summer and events are in full swing. Outer Banks events usually focus on a myriad of interests, ranging from outdoors to sports, music to local culture and then a few others sprinkled in between. Right now the spotlight shines on the arts and entertainment. You can find music, performances, crafting and more happening all over the beach. Whether you're looking for entertainment or a way to channel your raw creative energy, this week's happenings on the Outer Banks keep you active through the day and into the night.
Dawes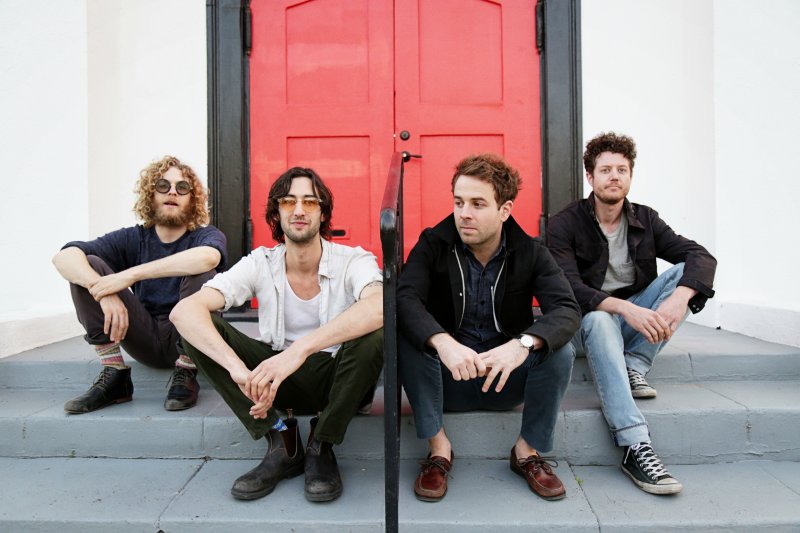 On the eve of Independence Day, the nationally acclaimed band Dawes will bring their roots/folk influenced rock music to the Outer Banks. They'll perform at the Lost Colony's Waterside Theatre from 8-10 p.m. This is the second performance in the PNC Waterside Concert Series (for anyone who missed it, the Fleetwood Mac tribute band, World Turning Band, was the first). As I'm getting ready for the Fourth of July, I just need a few things to get into the spirit: grilled food, fireworks and some Americana roots-rock music. With their four-part harmonies and their combination of electric and acoustic instruments, Dawes embraces the Laurel Canyon sound found in the music of artists such as Crosby, Stills and Nash. And when it's performed live? Well, let's just say you really won't want to miss this concert. Tickets are $25 in advance and $30 the day of, and they can be purchased on the event's website. If you want an unforgettable experience, an extra splurge gets you VIP passes for $45.
Island Opry: Emily West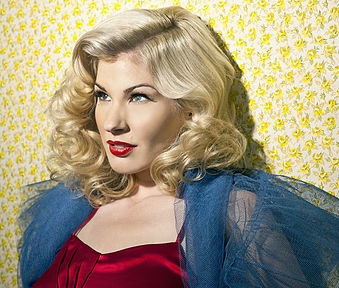 Enjoy a taste of a Nashville-inspired music scene with the Island Opry's concert series at Roanoke Island Festival Park. On Thursday, July 7, at 6 p.m., watch Billboard chart-topper Emily West belt out her country hits against the backdrop of the Roanoke Sound. Each show in the concert series features about four or more artists, and their varying styles and presence keep the event super exciting. If you haven't been there yet, Roanoke Island Festival Park is a lovely place for hanging out. Grab your blanket or low-back chair and kick back in the lush grass as the gentle breeze meets your face, and enjoy the sounds of country and bluegrass. Vendors will be selling beer, wine and nonalcoholic drinks to keep you feeling happy throughout the concert. You can purchase tickets in advance on the event's website for $35-$45 and VIP tickets for $55-$65.
Open Water Swim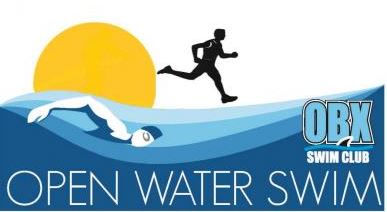 Athletes, families and all-around fun-seekers, head to the fourth annual Open Water Swim at the Ol' Swimming Hole this Sunday, June 26 for a day of swimming races and 5Ks. There are a ton of new events this time around with swims for 150 meters, 500 meters, 1K and 2K as well as swimming events for kids. There will also be a 5K run for any landlubbers in attendance. The event's sponsors, OBX Swim Club, will be giving an award to the swimmer with the fastest combined times for events, and there will be prizes for different age group winners. The first race starts at 7:30 a.m., and pre-registration is required. Even if you aren't swimming or running, come out and cheer on the athletes!
Kelly's Swimsuit Competition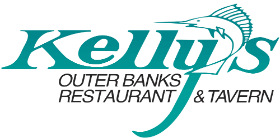 Come show off in a swimsuit! Come see others show off in swimsuits! Personally? I'd be going for the Shag Club happening before the catwalk begins, because nothing complements the North Carolina coast like Shag dancing and beach music. On Monday nights in the summer months, head to Kelly's Outer Banks Restaurant and Tavern in Nags Head for Carolina Shag dancing from 6-9 p.m., poker and open pool tables with music provided by a live DJ from 7-11 p.m. and finally the Bikini Contest from 10 p.m.-2 a.m. DJs Marshall B and Ohjay! will keep the mood upbeat and lively throughout the competition, and all entrants receive a $20 gift certificate and Brew Thru t-shirts. The winner walks away with a $100 grand prize.
Seussical Jr. Children's Show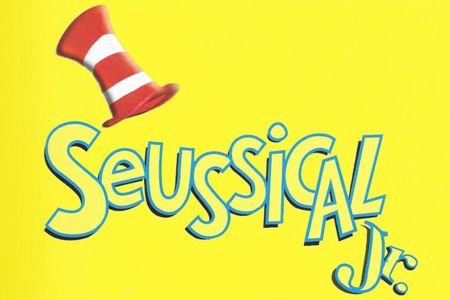 Every week, Roanoke Island Festival Park holds an interactive children's show with performers from across the state and beyond. This week's fun performance is Seussical Jr. presented by UNC Greensboro – a fantastical, magical, musical extravaganza that brings all of our favorite Dr. Suess characters to life including Horton the Elephant, The Cat in the Hat, Gertrude McFuzz, Iazy Mayzie, and a small child named Jojo with a big imagination. The show is held in the Indoor Theatre at the park for three consecutive days, with the final showing taking place tomorrow, Friday, June 24 at 10:30 a.m. Tickets may be purchased in advance at Ticket Sales or on the day of the event. They are $5 per person, and children 2 and younger are free.
Knitting Circle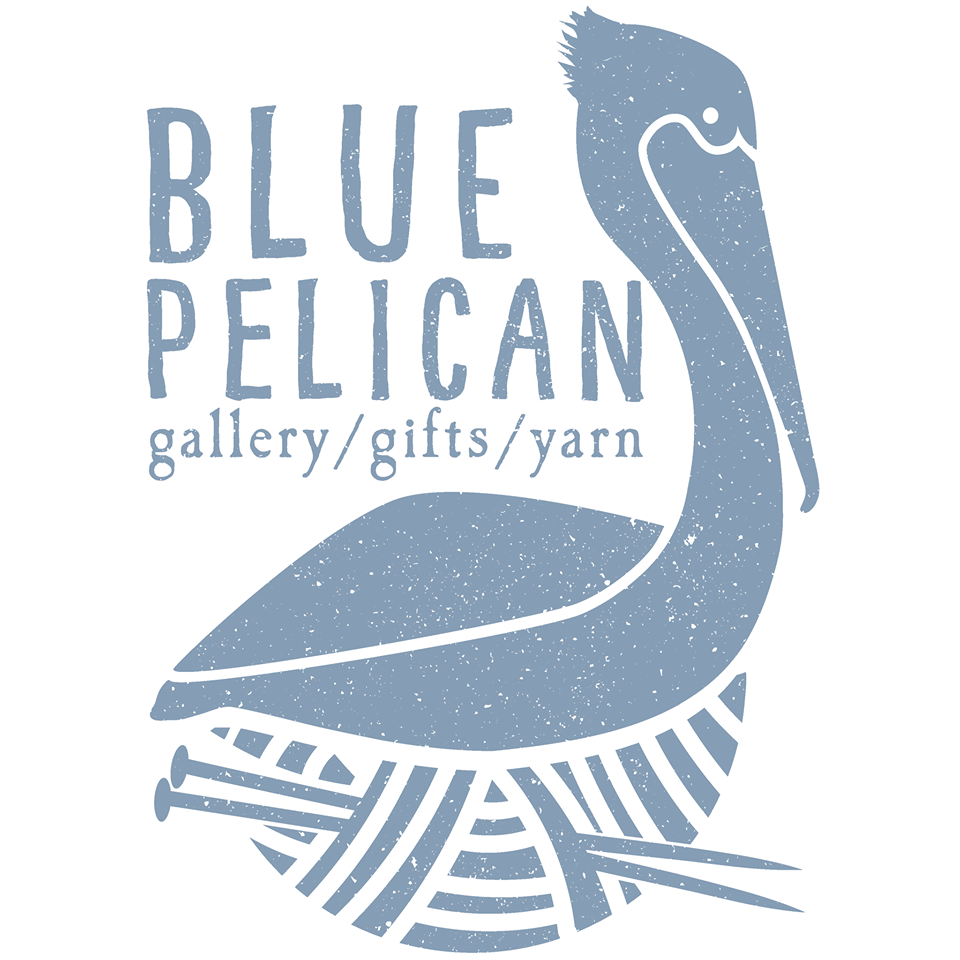 Of course, art and entertainment come in forms beyond music and that which others provide. Be your own artist and your own entertainer at the Knitting Circle in Blue Pelican Gallery on Hatteras Island. On Mondays from 2-5 p.m., you and residents can become knitted together with the gallery's fine yarns and stories of local lore. As you knit, or attempt to knit as the case will be with yours truly, chat with the local folks about life on Hatteras Island. All skill levels are welcome at the Knitting Circle, but it's requested that participants be older than 14. If you're interested in entering the Knitting Circle, be sure to reserve your place ahead of time by calling (252) 986-2244. It costs $35 for an afternoon of knitting with yarn provided by the gallery and words of wisdom offered by fiber artist Michelle Spaulding.
Kids Day at Kitty Hawk Kites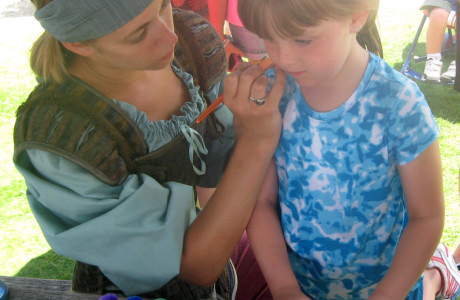 I remember going to Kitty Hawk Kites when I was little and feeling bummed that they had this awesome gear that I was too young to use (think ocean kayaks, wind surfing equipment, hang gliders). Thanks to the weekly Kids Days held at Kitty Hawk Kites during the summer, your children won't share my bummed out-ness. Happening on Tuesdays at the Avon, Waves Village and Corolla locations and on Wednesday at Nags Head and Hatteras, Kids Day lets your small adventurers make kites, tie-dye, climb rock walls and more. There are even demos for the stores' coolest toys. Times for Kids Days vary depending on location, but you can visit the event's website to learn about the activities and schedule.
Porch Talk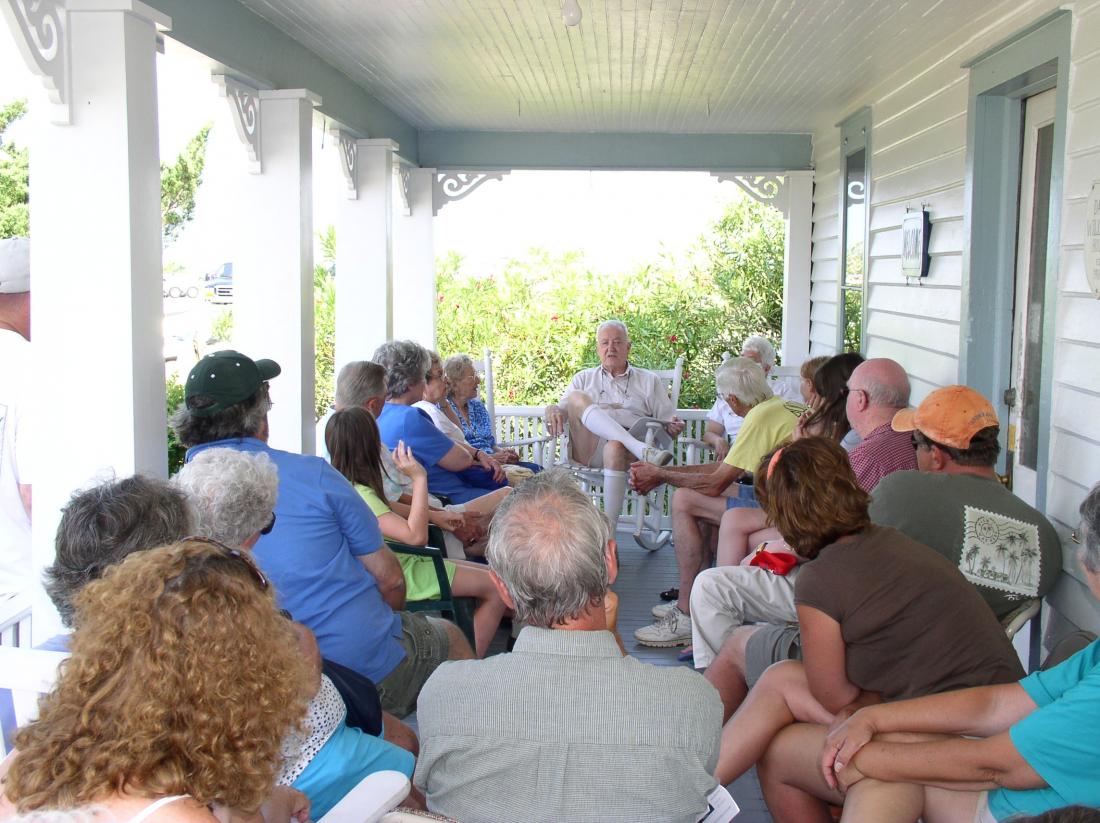 I have yet to meet someone on Ocracoke Island who isn't a storyteller. Every local has something worth sharing, and it's a culture that makes visitors comfortable with opening up too. Whether you're a storyteller or lover of stories, Porch Talks at the Ocracoke Preservation Museum welcome personal accounts and the spinning of tall tales on Thursdays in the summer. Seasoned storyteller and local Donald Davis leads this workshop and inspires an atmosphere that welcomes new and old raconteurs. You can encourage others and receive feedback on your technique. Porch Talks happen between 10:30 a.m. and noon, making it the perfect post-breakfast or pre-lunch activity.
There's not enough room here to cover every happening, both at night and during the day, on the Outer Banks. But don't fret. Our Nightlife and Daytime Events pages give you a comprehensive list to all the fun between Corolla and Ocracoke, night and day, rain and shine.