There's a time and a place for every type of accommodation, from hotel rooms to campgrounds to mega vacation homes to short-term rentals. But in this cold world of Internet bookings, keyless entry and self-service, sometimes it's nice to stay in a place where you are warmly welcomed by a host and maybe receive a little pampering and a home-cooked meal. Or it can be nice to stay in a historic home or building full of local character, soaking up the history and charm and feeling a personal connection to the owners of past and present.
Photo: First Colony Inn in Nags Head is on the National Register of Historic Places
In this blog I'll be telling you about some of the small inns and bed and breakfast inns on the Outer Banks from Corolla to Ocracoke. Some of these are bed and breakfasts where you truly interact with the hosts and other guests. Others are inns in a more traditional sense where you're left to your own devices but there are welcoming touches like afternoon cookies and a host who will happily steer you toward the local things to do. Note that this is not an exhaustive list of all the small inns and bed and breakfasts on the Outer Banks. You can see a full list and get more information about those listed below here. 
Corolla Village Inn
Corolla
In the heart of Corolla Village under the shade of live oaks, this inn is in a new building with classic architectural design that fits well in the vibe of the historic village. It's next to Corolla Chapel, within walking distance of the adorable shops and sights in the village. It's a modern, comfortable inn with 12 guest rooms and lots of amenities and is not a bed and breakfast.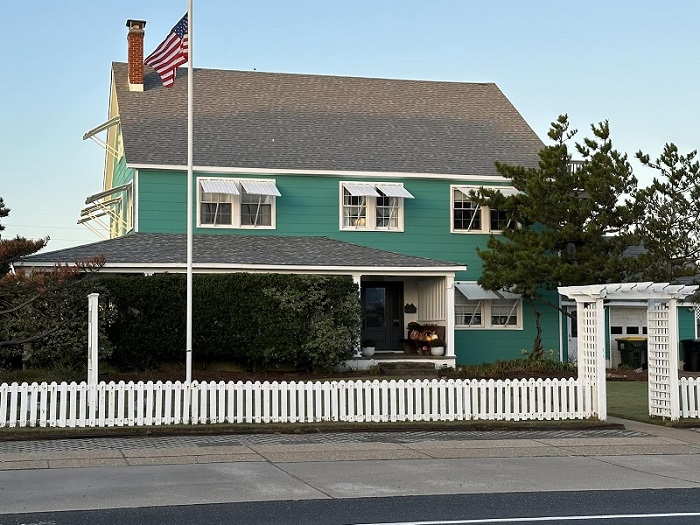 Photo: Cypress House Inn in Kill Devil Hills gives its visitors historic beach house vibes and some nice pampering touches.
Cypress House Inn
Kill Devil Hills
This beach road inn in Kill Devil Hills is housed in a 1946 hunting lodge, now painted a cheerful aqua. It's a vintage-style bed and breakfast with a charming beach-house interior that includes five guest rooms and a suite. In season, they serve full breakfast to their guests, starting with coffee outside your door in the morning.
Colington Creek Inn Bed and Breakfast
Kill Devil Hills
This five-room bed and breakfast is located down Colington Road in Kill Devil Hills and is surrounded by beautiful water views. It was built in 2005 and has a variety of amenities. They serve breakfast.
First Colony Inn
Nags Head
Originally known as LeRoy's Seaside Inn, this traditional old Nags Head-style inn was built in 1932 and renamed First Colony Inn in 1937. For 24 years the inn had the reputation of being where all the big shots and visiting dignitaries stayed on the Nags Head oceanfront. The inn was moved south to a 4-acre site just across the street from the ocean and fully renovated in 1988. Today the inn has 27 rooms and a pool and serves a hot continental breakfast in the mornings. They also offer an afternoon social.
Island House of Wanchese B&B
In a pale pink, fully restored, early 1900s island home in the fishing village of Wanchese, this four-room inn is run by a local couple who like to pamper their guests. They serve a full, hot buffet-style breakfast and offer a guest pantry. The yard has swings for relaxing in the garden.
Wanchese Inn Bed and Breakfast
In a c. 1900 home, this bed and breakfast is in the heart of Wanchese, where life is simple and quiet. Guests enjoy welcoming hosts, a full hot breakfast and relaxing in rocking chairs on the porches.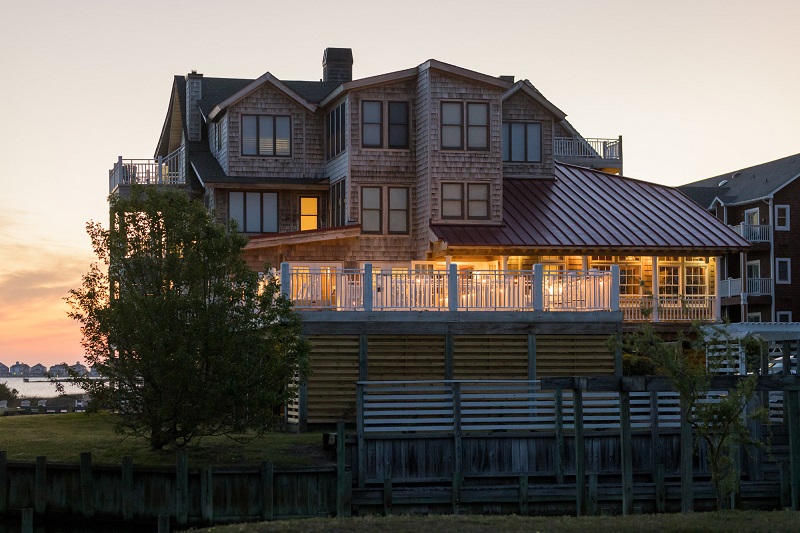 Photo: Burrus House Inn in Manteo welcomes guests with many luxury amenties.
Burrus House Inn Waterfront Suites
Burrus House Inn houses 12 luxury suites right along the Roanoke Sound. It started with a family cottage and is now a well-appointed luxury accommodation with bikes, watersports equipment and access to the water. They serve continental breakfast, and the staff is helpful with concierge services.
Roanoke Island Inn
Manteo
Roanoke Island Inn is a boutique inn in downtown Manteo. What was originally a c. 1860s family home and early 1900s boarding home grew into the Roanoke Island Inn. Though it was greatly expanded and born as an inn in 1990, its meticulous design and details make the inn look like a historic fixture in Manteo. Situated on 1.5 acres along the Downtown Manteo Waterfront, the eight-room inn offers an innkeepers pantry and a continental breakfast for guests. There are also two historic cottages on site for rent.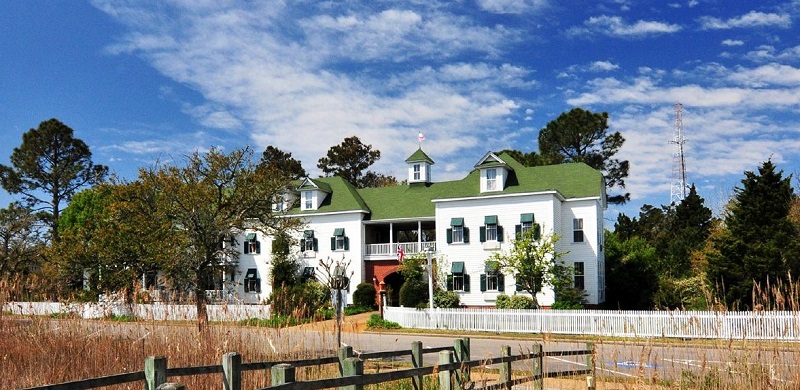 Photo: Roanoke Island Inn is right in the heart of downtown Manteo.
White Doe Inn
Manteo
The nine-room White Doe Inn is an elegant bed and breakfast in a beautiful historic home. The 1910, three-story home has been updated with luxurious accommodations. A four-course breakfast is served each morning, as are afternoon snacks. The staff is highly attentive.
Scarborough Inn
Manteo
On the main highway in Manteo, Scarborough Inn is a quaint inn with comfortable, antiques-filled rooms and a local couple as your host. They serve a continental breakfast.
Inn on Pamlico Sound
Buxton
This 13-room soundfront inn in Buxton is more like boutique hotel, but it's small and welcoming with friendly hosts who make sure you are comfortable for your entire stay. The on-site restaurant has serves excellent breakfasts, Sunday brunches and dinners of contemporary cuisine.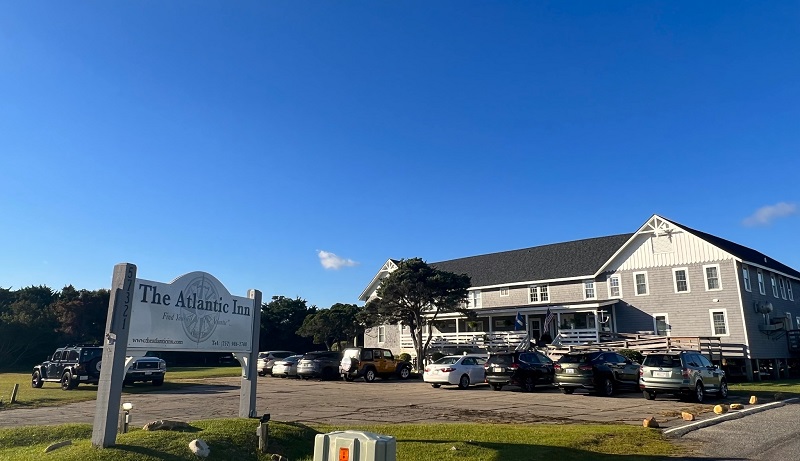 Photo: The Atlantic Inn in Hatteras is one of the oldest operating inns on the Outer Banks.
The Atlantic Inn
Hatteras
Built in 1928 as the Atlantic View Hotel, this was the first inn on Hatteras Island. It has provided lodgings for generations of anglers, hunters and visitors. It was devasted by Hurricane Isabel in 2003, but has been lovingly brought back to life and fully upgraded by new owners. It now has nine rooms and is updated with modern amenities but it still has its wonderful historic look and feel. The hands-on innkeepers are very helpful and provide a breakfast bar or fully cooked breakfast depending on the day of the week and season..
The Castle Bed & Breakfast
Ocracoke
An eyecatcher in the heart of Ocracoke, The Castle was built by Ocracoke Island businessman Sam Jones in the mid-1950s. Jones used the Berkeley Castle, as it was known back then, to entertain his island guests. Today it's a bed and breakfast and serves a full, family-style breakfast every morning. There are common areas, a sundeck overlooking the harbor and a pool.
The Crews Inn B&B
Ocracoke
Housed in a beautiful older island home with a friendly native islander as host, Crews Inn has been an Ocracoke tradition for 36 years. Full of character and early 1900s charm, the home has five rooms, a cottage and a quiet location. Breakfast is served each morning.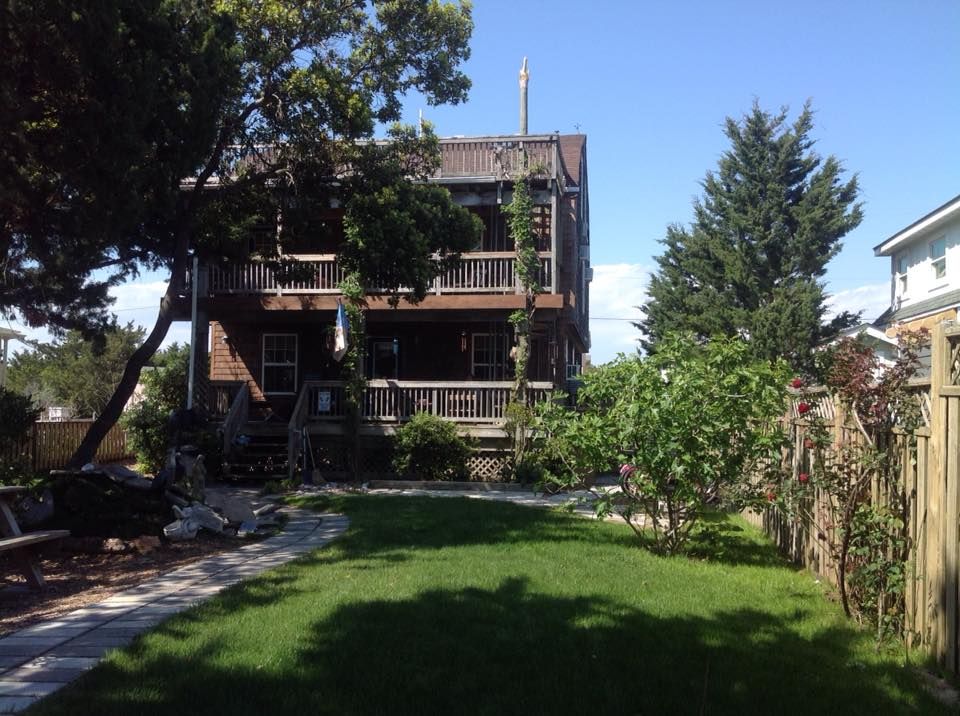 Photo: Pam's Pelican Bed & Breakfast in Ocracoke is a beach house bed and breakfast.
Pam's Pelican Bed & Breakfast
Ocracoke
Pam's Pelican is a four-room bed and breakfast in a pet-friendly island home with a friendly host and plentiful amenities. The rooms are comfortable and private, and the host serves a full, home-cooked breakfast every day.
Oscar's House
Ocracoke
Oscar's House is housed in a 1940 captain's home and has been a small bed and breakfast since 1984. It has four bedrooms and is close to island attractions. The hosts cook breakfast for the guests each morning.
Thurston House Inn
Ocracoke
Thurston House Inn is owned and operated by second- and third-generation island natives and housed in a 1920s historic home. The inn has nine rooms, and the hosts serve a homemade Southern-style breakfast every morning.