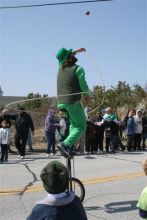 I love living in a small town. Not to get all Mellencamp on you, but, really, I love that everywhere I go I see someone I know and like. * I love running into friends or acquaintances at the park, at the library, at the grocery store, the bank, at yoga class, running in the woods, wherever I go. * I love how word gets around that so and so is looking for a job or a place to live or a lost pet and that it is word of mouth that is pretty much always the solution. * I love that my teenage nieces can't get away with anything without their parents hearing about it (sorry, girls!) * I love meeting someone new in town and always discovering that we have a mutual friend. * I loved seeing practically the whole town come out of their winter hibernation on the first day of spring for the St. Patrick's Parade, and I love that Mike Kelly cares enough about this community to do something big like that just for fun...
One more thing I love, and then I'll give it a rest - the turnout for Taste of the Beach! Congratulations to the Outer Banks Restaurant Association and all the local restaurants and beverage purveyors and chefs who participated in Outer Banks Taste of the Beach - and to all the foodies who are discovering what a great place this is to eat! This was the biggest event yet, and the beach really did seem crowded this weekend. What a success story! Did anybody out there go? Tell us what you did and ate on the comments section below...
There's a lot to do this first week of spring, so I hope you have more free time than me!...
On Tuesday, the Outer Banks Peace and Justice Interfaith Coalition Film Series is screening the film Afghan Star at Kelly's. * It's about the American Idol-style TV show in Afghanistan, in which the contestants are actually risking their lives to participate because singing is considered sacrilegious by many in the nation. Millions of people watch the show and vote for the winners - the first time many of them have encountered democracy in action. If that doesn't make you appreciate your freedoms in America, nothing will. The film starts at 7 p.m.; get there early for appetizers for a $7 donation...
On Wednesday, Weeping Radish in Currituck is celebrating its 25th anniversary with an open house and the launch of their new IPA 25. From 4:30 to 7 p.m., they'll serve beer samples and pate from the butchery. Call (252) 491-5205...
On Thursday, St. Andrews Preschool in Nags Head is holding its annual Spaghetti Dinner fund-raiser from 4:30 to 7:30 p.m. Dinners ($8 adults, $4 kids) are available to take out or eat in, and there's a bake sale and a local artisans market, too. Call (252) 441-2552...
On Friday, good luck deciding what to do. It's a busy day: The Manteo Rotary is holding a BBQ Chicken Fundraiser from 4 to 7 p.m. in the Dare County Alternative School parking lot. Cost is $8. * The Kinnakeet History Potluck Dinner is at 6 p.m. at the Avon Fire Station. Bring a side dish and enjoy a history program by Joe Schwarzer, director of the N.C. Maritime Museum's Graveyard of the Atlantic Museum. Call (252) 995-4768. * Roanoke Island Festival Park is hosting the Freedmen's Colony 7th Annual Blues Jam with Ron Hunter and The Crowd. The show starts at 7:30 p.m. and advance $15 tix are available at Manteo Booksellers, The Music Store in KDH and HHR Music in Nags Head. Call (252) 475-1500. * At 7 p.m. there's a free Wine and Cheese Social with Senator Stan White and Representative Tim Spear at Spring Arbor in KDH. * Dare County Parks and Recreation is holding its Candyland Fashion Show from 6 to 9 p.m. at the Dare County Youth Center. Tickets are $15 for adults and $10 for kids. Dinner, music and a great fashion show with Miss Lizzie's, Foxy Flamingo, Gray's, Life's A Beach, Amity, Whalebone Surf Shop, Gap Outlet and Barree Station. Tickets are available at Parks and Rec or the Baum Center. Call (252) 475-5921 or (252) 475-5638. * Theatre of Dare is presenting "Diamond Studs - The Life of Jesse James" on Friday and Saturday at 7:30 p.m. and on Sunday at 2 p.m. It's a "rip-roaring" country-western musical. Shows are at COA Roanoke Island Campus. See www.theatreofdare.org for ticket locations or buy tickets at the door...
On Saturday, there's a Coastal Antiques Appraisal Fair at the Currituck Cooperative Extension Building in Barco from 10 a.m. to 4 p.m. Appraisal fee is $10 per item or three items for $25. Call (252) 453-9040. * A Relay for Life Yard Sale and Bake Sale will be held at the Atlantic Realty parking lot in Kitty Hawk from 8 a.m. to 2 p.m. * The Virginia Dare Business & Professional Women's Expo will be held from 9 a.m. to 4 p.m. at the COA Roanoke Island Campus in Manteo. With a theme of Soaring for Success, the expo features programs and workshops that enrich women's skill sets and confidence levels, and there is no fee! Local women will participate in a vendor area as well. Call (252) 489-9202 or go to www.obxwomensexpo.org. * The Nature Conservancy needs held bagging oyster shells and building an oyster reef in the sound on Saturday from 8:30 a.m. to 12:30 p.m. at Alligator River National Wildlife Refuge (Milltail Road). Call (252) 441-2525. * Outer Banks Yoga is kicking off a 21-day Compassionate Cleanse on Saturday at 2 p.m. at the Kitty Hawk studio. Participants choose how they want to detox and cleanse then join fellow cleansers for yoga classes and coaching sessions for the next three weeks. Visit www.outerbanksyoga.com for info. * Saturday night, The Outer Banks Forum presents The London Quartet, an evening of humor and harmony, a capella style, by one of the world's top vocal groups. The show is at First Flight High School. Tickets are $25 for adults/$12 for student. Go to www.outerbanksforum.org. * Don't forget Theatre of Dare's performance of "Diamond Studs" on Saturday at 7:30 p.m. and Sunday at 2 p.m. (see Friday for details)...
If you're planning to go out to the bars this week, you've got some good options. Be sure to catch Fuzz & Mac at the Outer Banks Brewing Station on Thursday night. This two-person band mixes the hip hop of Fuzz Jaxx with the alt-rock jazz of McClain Sullivan for a hip hop, indie and soul mix. I listened online; they're good. Brewing Station also has Ladies Night on Wednesday, DJ Sho on Friday and the popular funky rock and roll William Walter & Co. on Saturday. * Kelly's has karaoke on Tuesday, open mic on Wednesday, Manicures, Martinis and Jazz on Thursday, and Lead 86 playing both Friday and Saturday. * Poor Richards has Sea Level on Friday and the Wilder Brothers on Saturday. * Lone Cedar has karaoke on Friday and Saturday. * Ocean Blvd. has Ask Fester on Friday. * Peppercorns at the Ramada has Alan Ross Karaoke Road Show on Saturday...
A couple of reminders: Make plans to attend The Vagina Monologues at Roanoke Island Festival Park next Wednesday, Thursday and Friday nights at 7:30 p.m. Tickets are $15 and you can get them in advance at www.brownpapertickets.com/event/163300. More info next week, but get it on your calendar. * The Land of Beginnings Festival is being held again this year, and tickets are available for The Lost Colony's Fire and Ice Gala that will be on April 9 at the Wright Brothers National Memorial Pavilion. Go to www.lostcolonygala.org. * Finally, Spa Koru is starting a two-week Guided Cleanse and Ayurveda Workshop on Monday, March 21. During the two weeks there are seminars and yoga classes for participants. Go to www.spakoru.com...
Wow, all that writing made me tired! A fisherman friend just called to announce that he's heading from the boat with a fresh tuna. So you know I am out of here. A Sapporo is calling my name...
What are you planning on doing this week? If I've missed anything good, leave us a comment below...
This just in: Have you heard about the orcas the bluefin tuna charters are seeing offshore? A few of the boats have seen them, and here's a link to a very cool local orca report, along with a little video. Very cool!! http://www.epicblitz.com/#tp