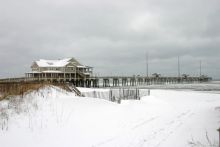 Good question! It's one that locals encounter each summer and fall. Then, when the weather is still nice, going to the beach seems like the only activity that matters. When temperatures dip below 60 degrees, however, and many of the shops, restaurants and activity businesses close for the off-season, things get pretty quiet. Personally, I love it. I think the Outer Banks is beautiful this time of year. There's no wait to get in at the restaurants that are open, and shopping without the frenzy once again becomes retail therapy. And I can actually travel (above) the speed limit on the Bypass once again.
But then we have the question of what we do on the Outer Banks during those cold, gray months, beyond work and school, that is. From the crew at Outer Banks This Week, here are a few ways that we get out and about when many of the traditional Outer Banks activities are no-gos.
We (still) go outside
Cold weather's got nothing on us! (This is easy to say when most days have temperatures in the 40s and 50s. We're wimps with anything colder.) We may not be sunning on the beach or bodysurfing in the waves, but we're still playing in our mesmerizing environment.
"Bonfires! Oyster roasts!"
Beth S., Publisher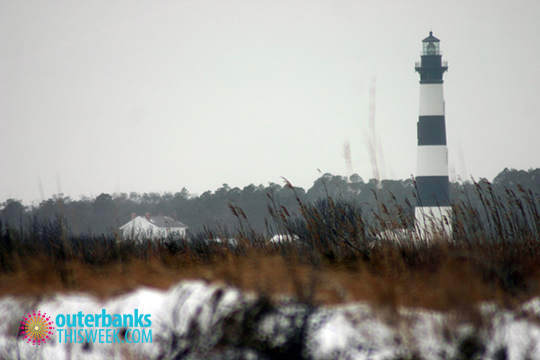 "Walking on the empty beach – mostly looking for whelks and sea glass – is my absolute favorite winter activity. I also love to run in Nags Head Woods because it's protected from the winter winds and there are no mosquitoes and ticks. We also like to go to refuges (Pea Island, Alligator River, Mattamuskeet, Pungo) and see what kinds of ducks and birds have flown in."
Molly H., Managing Editor 
(Guess what, Molly – you might like the Hatteras Village Waterfowl Festival coming up next weekend!)
"I enjoy longer runs in the cooler months – the air is crisper, the roads are more friendly, the morning sky seems more vibrant and, yes, there are no bugs! The paths are less crowded, you can venture in Nags Head Woods with few concerns, you can run a golf course loop without danger of getting hit by wayward balls or you can run the side streets in Southern Shores and see more wildlife as there is less traffic."
Gina T., Administration and Finance
"I've done a couple beach fires this winter. Love those! … I've gone to the Alligator River National Wildlife Refuge to enjoy the sun setting over the open fields from my truck bed (beer in hand). … I also fly power kites when it's windy and kayak when it's not. Less regularly I take the bold step of suiting up in a thick wetsuit to either surf or paddleboard. And I play a lot of traditional sports (we have a wealth of public fields and courts [on the Outer Banks])."
Paul M., Content Manager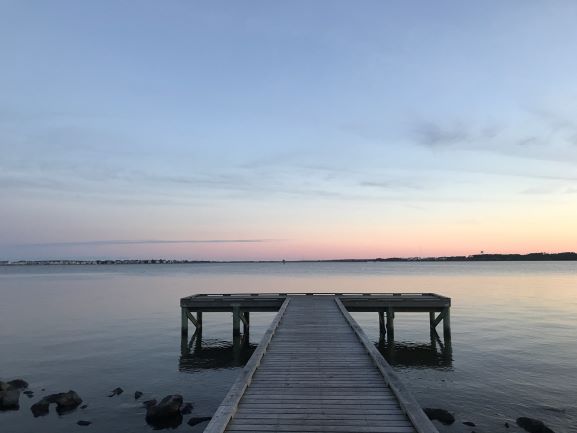 "During the cooler months it's a great time to take the dogs for long walks through the Manteo woods area or for walks on the beaches to let them run around. It's also nice to use the fire pit in the back yard or get the permit and have a fire on the beach."
Heather K.
We have our regular hangouts
When eateries we like stay open year round, you can bet that we become regulars there. Many places additionally offer nightlife and other events that help keep the familiar scene fresh. It's fun to see who else is in your hangout too.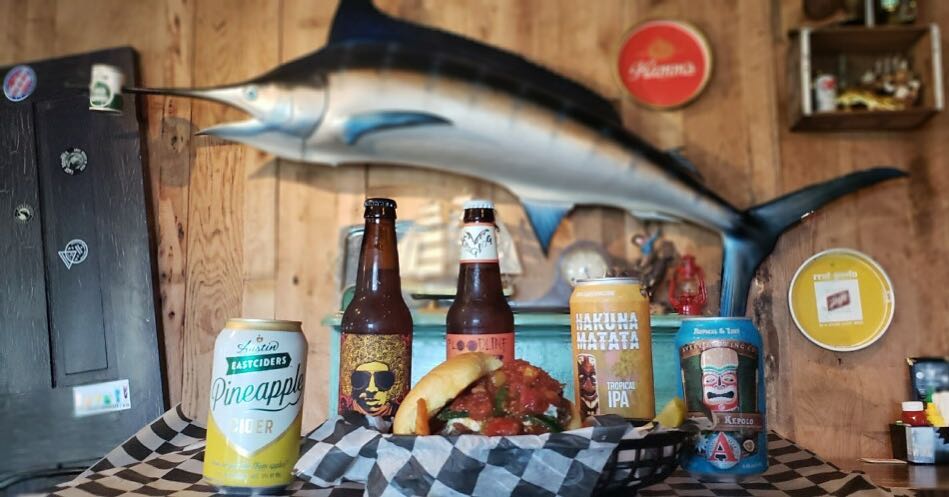 "We love to go to the early happenings during the week. Mondays we choose Jazz Night at Art's Place or Open Jam at Paparazzi OBX, Tuesday Strip Trivia at Jack Brown's Beer and Burger Joint, Wednesday sushi at Tortugas', Thursday tapas at Chilli Peppers or tapas and trivia at the Outer Banks Brewing Station. Friday we go anywhere with something going on!"
Celeste O., Sales Representative
We can be (a little) boring too
OK, let's be honest. The winter is a better time than most to take care of the chores and responsibilities we'd rather ignore for the rest of the year.
"It sounds weird, and maybe not fun for everyone, but I like to take advantage of time inside by doing chores around the house that I've wanted to get done all year … and that I wouldn't do when I'd rather be outside."
Beth S.
"The winter is the only time that I'll take to clean out closets if I must be inside. And I actually find myself washing my car more in the wintertime for some crazy reason …"
Gina T.
I myself am right up there with the crew spending time outside, especially now that the days are getting a little longer. I go for runs through Kitty Hawk Woods and take walks along the boardwalks around Manteo and Duck. I also spend an inordinate amount of time in coffee shops and bookstores. They're warm and cozy, and I couldn't imagine a better place to tuck myself away in on a blustery day. What do you like doing during the winter months on the Outer Banks? Share your favorite hobbies or go-to activities with us in the comments!