It seems like beer gardens, bar backyards and general outdoor hangouts are all the rage these days, and with obvious reason: When the weather is pleasant, it doesn't get much better than cracking open a cold one, feeling the ocean breeze tousle your hair and breathing in the aroma of salt water, sand and sea grass lingering in the air. And aren't we lucky that the Outer Banks brims with places to experience this? From the northern beaches to the southern islands, you'll find beer gardens and restaurant/bar backyards where you can enjoy Outer Banks afternoons and nightlife with Mother Nature by your side. Photo: Outer Banks Brewing Station, Facebook
It's 5 O'Clock Somewhere, Right?
On the Outer Banks, the answer is yes. Some places let you relax in their yard with a drink in hand as early as a 11 a.m. The Shack Coffee Bar and Beer Garden truly takes you from dawn 'til dusk. This funky Corolla spot functions as a coffee shop during the daytime, but when the clock strikes noon, its adjoining yard transforms into a hip beer garden with a rotating tap featuring 17 craft beers. With live musicians and bands performing three to four times a week, it's easy to see why adults, both young and old, and kids too love passing an evening under the canopy of trees.

Photo: The Shack Coffee Shop and Beer Garden, Corolla
In Kitty Hawk, Art's Place has long been a popular spot for breakfast, lunch, dinner and everything in between. On nice days its backyard, with beach views and brightly colored tables, is a great spot to cool down with a refreshing beverage from the full-service bar. The activity doesn't diminish with the day – events like jazz nights on Monday and open mic events on Wednesday nights keep it hopping well into the evening.
The newly opened Jack Brown's Beer and Burger Joint in Kill Devil Hills is quickly garnering a reputation as a popular place where locals gather on the weekends, and those familiar with the small franchise's signature burgers love pairing a craft brew with their favorite dish on the menu. Not hungry? Not an excuse! Their backyard is the perfect spot for tossing around a volleyball, a cold drink in hand of course, and letting the youngsters play. 
Savor the Sunset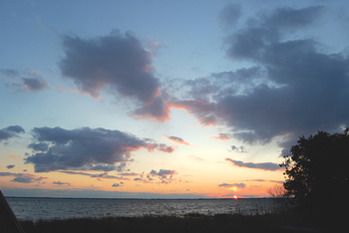 Check out the Outer Banks restaurants where the menu is almost as enticing as their mesmerizing views outside. Once you arrive, just soak it all in, drink in hand. At The Blue Point in Duck, you can sip fine wines while admiring the sun setting over the Currituck Sound. Their BackBar opens every day at 5 p.m., offering full bar service in addition to their extensive signature wine list. Choose your preferred libation and drink it – and the sunset views – from the Adirondack chairs or a stroll along the water's edge. When you can no longer resist the temptation of local cuisine, head inside for a gourmet meal.  
Photo: The sunset view from the BackBar at The Blue Point.
On the other end of the Outer Banks, Watermen's Bar and Grille wows its diners with panoramic views of the Pamlico Sound. The restaurant is part of REAL Watersports, so it's fitting that you watch the kiteboarders, windsurfers and other watersports enthusiasts spice up the sunset view. The restaurant opens into their massive yard at the water's edge, complete with a place to play corn hole, picnic tables and their famous waterfront stage. Mingle and play until you work up an appetite, then venture inside for fresh-from-the-dock tuna. Frequent live music is a plus here, and all ages are welcome.
Places for a Night Out(side!)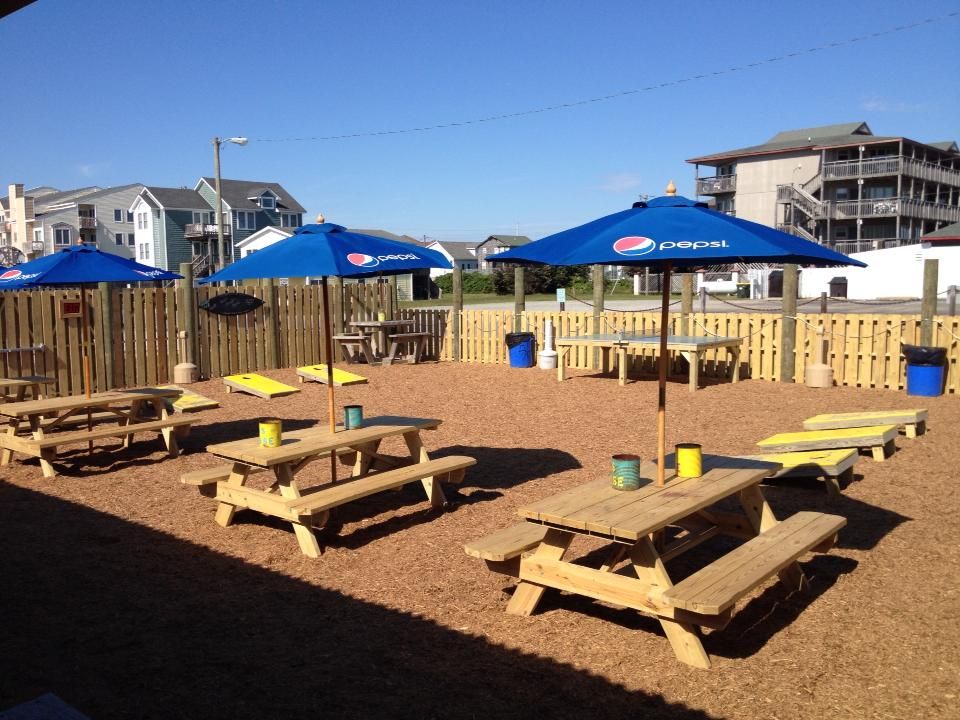 And, unsurprisingly, there are the tried and true backyard bars that come alive at night. These places are signature to beach scene nightlife spots. The backyard at the Bonzer Shack Bar and Grill, located in Kill Devil Hills, draws a crowd with its outdoor games and nightly musical acts. You can also come in the daytime if you want the ocean views across the street. Outer Banks Brewing Station is another hot spot for Outer Banks nightlife, but their backyard offers a more low-key setting for enjoying live music and a craft beer in the evenings. It's a gathering spot for events like art shows, beer yoga classes and acoustic performances, and the outdoor games and giant wooden pirate ship make it a fun time for the whole family.  
Photo: Bonzer Shack
---
Of course, you'll find no shortage of outdoor decks, balconies and places with general outdoor seating, but who doesn't love a feeling where it's almost like hanging out in your own backyard – but with better booze (unless you have a really impressive home bar) and even games and dancing! When it comes to combining drinking with beach-side venues on the Outer Banks, you're less likely to find the oceanfront ragers and EDM parties that last until sunrise that you might expect from beaches farther south and spring break destinations. Here the vibe is more laid-back and personal, the type of places for relaxation and good times. Discover the fun events coming up at these venues by visiting our Nightlife listings.