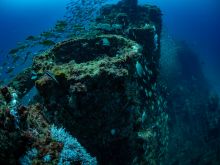 Summertime and the living is busy – the beaches, restaurants, grocery stores, coffee shops, roads, bike paths, surf breaks and waterways (the sound in Nags Head and Duck is positively buzzing with Jet Skis) are crowded. It's never easy to escape the humanity of a beach-town summer, but at this point in life, when we're supposed to be socially distant, wouldn't it be nice to find a place away from the masses and not worry about spit droplets and alcohol percentages (for hand sanitizer I mean) for a little while?
For the next few weeks I'm going to tell you about some of the most socially distant places on the Outer Banks, places where there are fewer people and you might just forget there's a pandemic afoot.
This week, we're going underwater.
On the ocean floor off the Outer Banks, there are more than 3,000 shipwrecks, everything from 16th-century Spanish galleons to Civil War ships to World War II U-boats. It's a part of the Outer Banks that most people never see, but those who make the effort are rewarded with world-class diving adventures. Numerous shipwrecks are accessible for scuba divers with the help of a dive charter and guide, and some are even accessible for free divers (with snorkels).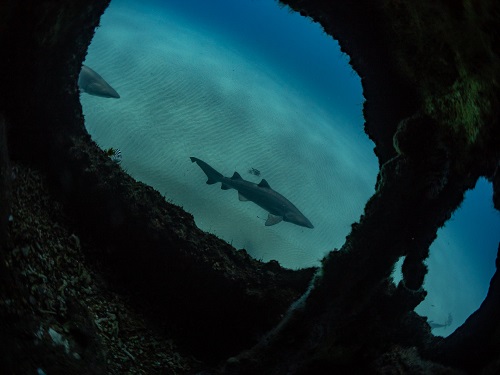 Photos: Diver Marc Corbett captured this image of a sand tiger shark at SS  Hesperides . Above is a shot at Dixie Arrow. A prolific diver, Corbett is constantly diving the Outer Banks wrecks and looking new for beach wrecks while working on a book on the subject. He documents his adventures on his Facebook page. 
There are several wrecks that divers can access directly from the beach with no boat. Roanoke Island Outfitters offers beach dives to these wrecks with scuba gear, plus boat dives to many other wrecks. One of owners Pam Malec's favorite beach dive sites is the Triangle Wrecks in Kill Devil Hills. "There's a lot of sea life, and it changes almost every day. It's a good dive," she says.
Dave Sybert of Vicarious Charters offers free-diving and spearfishing boat charters to several wrecks off the northern beaches and Hatteras Island. Ideally, he says, the divers have had a class on basic free-diving safety and technique (Roanoke Island Outfitters and Dive Shop offers a class), but it's not mandatory. Sybert can offer basic instruction as part of the charter if needed. Some of the species Sybert can help you target are sheepshead, triggerfish and spadefish. Recently his charters have speared cobai, mahi, African pompano, snappers and grouper.
One of Sybert's favorite wrecks is the Dixie Arrow. It's in 90 feet, but some parts of the wreck are up to 20 to 30 feet (Sybert is certified to free dive to 99 feet). "Dixie Arrow has a lot of relief and has a lot of sharks and usually has clear water," he says.
Dave Sommers of Dive Hatteras loves the diversity of Outer Banks diving.
"When you step off that boat, you never know what you're going to see," Sommers says. "I've dived all around the world, and this equals or exceeds diving conditions anywhere."
For one thing, Sommers says, the sea life is amazing. "We always see big animals. Sharks, the four species of sea turtles, four species of rays." They see a variety of fish on the wrecks, "from gobies to great white sharks," he says, and counts schools of sharks, Goliath groupers, Manta rays and off-course tropical fish as sights as well.
Sommers offers custom dive trips based on the skill level and interest of his customers. He admits the waters off Hatteras are best for experienced divers due to currents and depth but says there are some shallower wrecks he can take beginners to on benign days.
Picking a favorite is nearly impossible for Sommers, but one of most popular wreck trips he offers is to Proteus, a 1918 397-foot passenger freighter in about 125 feet of water 25 miles south of Hatteras Inlet. "It's typically in very blue, clear water and is loaded with sea life," Sommers says. "Plus, it has some history to it."
Delving into Wreck History
That's the other thing about Outer Banks shipwrecks. They are the portal into the depths of maritime history. Each wreck lying there on the ocean floor has many levels of stories. There's the story of the ship, the story of the people who were on the boat, the story of where they were headed and why, the story of the ship's demise and the story of the rescue efforts. Sometimes there are additional stories about the preservation of the wreck itself, as is the case with the USS Monitor, a Civil War-era ironclad ship that sunk in a storm off Hatteras in 1862 and was designated as the nation's first national marine sanctuary in 1975. "The history of the shipwreck is always part of the attraction," Sommers says.
These wrecks are the stuff of legend, and numerous books have been written about them. If you're going to dive, you should definitely read up on the history of the site you're visiting. But even if you can't make it to the sites yourself, reading the stories of Outer Banks shipwrecks is time well spent.
James D. Charlet has written a new book on the subject, and it's worth checking out. Charlet covers not only the stories of the ship and its demise but also of the rescue efforts. His book, Shipwrecks of the Outer Banks: Dramatic Rescues and Fantastic Wrecks in the Graveyard of the Atlantic (Globe Pequot 2020), details the wreck and rescue of 24 ships off the coast of the Outer Banks and one extremely famous mid-Atlantic shipwreck that has little known Outer Banks ties. 
"It blows my mind how many wrecks there are," Charlet says. He says he's compelled to tell these stories because they are nationally significant stories that most Americans have never heard. His interest in the wrecks and the U.S. Life-Saving Service began when he started volunteering for Chicamacomico Life-Saving Station Historic Site and began to learn about the history of the U.S. Life-Saving Service. "In their 44-year history, the men of the Life-Saving Service responded to 178,000 lives in peril and saved 177,000 of them,"  he says. "They put their lives on the line every single time and did more than just save lives; they gave food and clothing to the victims, helped salvage the goods and buried the dead."
One of the wreck stories that Charlet details is that of the USS Huron, a federal gunboat that ran hard aground off Nags Head on November 24, 1877. Because the nearby Nags Head Life-Saving Station was closed at the time, 103 lives were lost. He also tells the story of steamer Metropolis, which wrecked two months later about 20 miles away and saw another 85 lives lost. These two wrecks led to dramatic changes in the U.S. Life-Saving Service.
Charlet's book is meticulously researched, and his writing reflects his passion for the wrecks and rescues of the Outer Banks. It's a must-read for anyone interested in Outer Banks maritime history, whether or not you ever intend to dive on any of the wrecks. 
Charlet finds it fascinating that the wrecks are living out a new purpose in modern times. 
"It's the modern legacy of the Graveyard of the Atlantic – shipwrecks that have become reefs for sea life and fishing and scuba spots for tourism. There's a whole business for shipwreck diving. Ironically, these wrecks have benefited us in the modern era."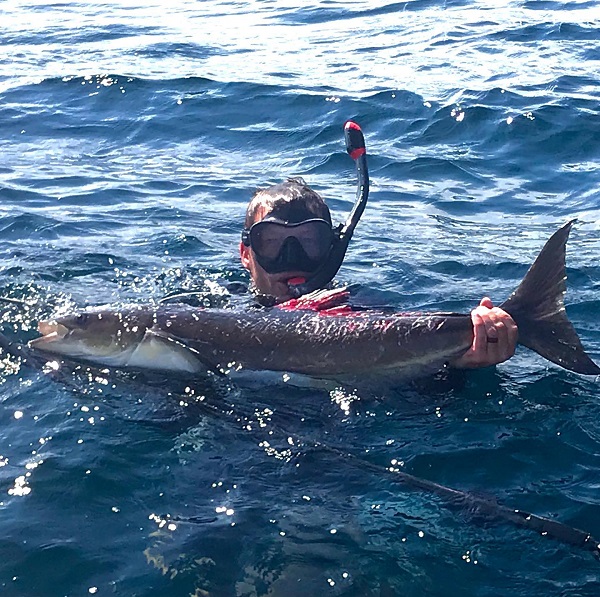 Photo: A diver with Vicarious Charters recently landed a nice cobia. See what else they've been spearing on their Facebook page.
Take a Dive
If you have your scuba diving certifications, you owe it to yourself to book a trip to an Outer Banks shipwreck or two.
Roanoke Island Outfitters and Dive Shop
(252) 473-1356
roanokeislandoutfittersanddivecenter.com
Beach dive and boat dive charters on the northern Outer Banks. Dive classes and dive shop.
Vicarious Charters
(443) 694-3152
vicariouscharters.com
Spearfishing and freediving charters, fishing charters and custom charters.
Dive Hatteras 
(703) 517-3724
divehatteras.com
Dive charters.
Ghost Fleet Dive Charters
 (252) 423-0451 or (252) 473-3667
http://rickandersonenterprises.com/ghostfleet.htm
Boat dive charters.
Beach Wrecks
These wrecks are in less than 25 feet of water, making them easy to reach for beginner free-divers. They are close to shore and can be accessed by swimming, SUPing or kayaking to the site. However, be sure to account for currents, dive with a buddy and mark your location while you're diving. The National Park Service requires a diver down flag for the sites off Hatteras Island. Beginners should hire a guide.
Winks Wreck – Luke Street, Kitty Hawk
Triangle Wrecks – 2nd Street, Kill Devil Hills, 15 to 20 feet deep
Huron – Bladen Street, Nags Head, about 20 feet deep.
Oriental – across from Pea Island Visitors Center, 15 to 20 feet deep
Straitherly – off Hatteras Island Fishing Pier in Rodanthe, 20 to 25 feet deep
Pocahontas – Sand Street, Salvo, 10 to 15 feet deep
Dive into the Wreck Stories
Shipwrecks of the Outer Banks: Dramatic Rescues and Fantastic Wrecks in the Graveyard of the Atlantic by James D. Charlet is available at local bookstores and online. Downtown Books in Manteo is holding a socially distant book signing with Charlet on Friday, July 24 from 12 to 2 p.m. For information or to preorder a book, call (252) 473-1056.