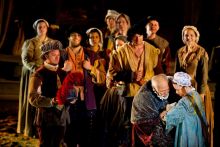 School is starting soon, but let's everyone please remember that we still have a month of summer left. * About this time every summer I start feeling a sense of urgency about doing some of the undone things on my to-do list. I'm not talking about organizing my photographs or painting my dining room. Those can wait 'til winter (if they ever get done)...
I'm talking about summery things - taking the kids tubing, sailing the Hobie Cat, biking to Outer Banks Pier for dinner and live music, fishing at night on Jennette's Pier, listening to jazz at the Brine and Bottle's waterfront deck, doing yoga on the SUP, hauling the grill to the beach for a cookout, getting together with all those "we should get together" friends, swimming in the ocean after my morning runs, boating to the Manteo Farmers Market and eating one of Susannah's oatmeal pies without sharing it with one of my kids, reading a book on the beach by myself, going to the beach on Hatteras Island, seeing the new sea turtle exhibit at the aquarium, hitting up the local shops for their end of summer sales, making fig preserves from the figs on my neighbors tree (his are better than mine), making pesto from my bumper crop of basil, seeing the purple martins in Manns Harbor, hitting up the Manteo Art & Wine Festival with some girlfriends, going to Alligator River NWR at dusk to see the bears ... you know, fun stuff like that! My list is long. What's on your fun list for the rest of the summer?...
Here are some fun things to do around here this week:
The New World Festival of the Arts is happening on Wednesday and Thursday on the Manteo waterfront. It's hard to believe this art show has been going on for 30 years! Eddie Green and co. of The Christmas Shop started it way back in 1981. I always love this show. Eighty selected artists from Vermont to Florida, including several locals, set up in tents along the waterfront, selling their fine art and fine crafts. Many of the artists are the same year after year, and there's comfort in that. And it's fun to see who's new every year too. Hours are Wednesday 10 a.m. to 6 p.m. and Thursday 10 a.m. to 5:30 p.m. Call for info: (252) 473-2838. * Bring the kids - they can play on the playground and on the deck at the Roanoke Marshes Lighthouse, and be sure to plan a meal in downtown Manteo. There are so many good restaurants in Manteo, and there's even a new brewpub at Full Moon Café. And don't forget to browse through the local art galleries while you're in town. Manteo has several galleries that are worth exploring...
Thursday, August 18, is the 424th anniversary of Virginia Dare's Birthday, which is cause for big celebration at Fort Raleigh, The Lost Colony and The Elizabethan Gardens. There are activities within Fort Raleigh National Historic Site all day long. * The National Park Service is holding family activity programs and history discussions at 10:30 a.m., 11:30 a.m., 2 p.m. and 3 p.m. Kids can also participate in the Fort Raleigh Jr. Ranger program. * From 9 a.m. to 1 p.m., The Elizabethan Gardens is holding Virginia Dare's Birthday Celebration, offering discounted rates to the gardens ($4.24 for adults and free for anyone younger than 17) and a variety of activities, including children's games and activities, storytelling, arts and crafts, balloons, face-painting, plus cake and a visit The Queen from The Lost Colony in front of the gardens at 1 p.m. The gardens will also be holding a plant sale, including the popular Virginia Dare Rose. For info, call (252) 473-3234...
The Lost Colony is going all out on its annual Virginia Dare Faire on Thursday from 9 a.m. to 1 p.m. They're saying this year it will be an "over the top" celebration, beyond anything they've done in the past, with a bounce house, an Indian invasion, jugglers, stilt walkers, lots of games, a dunk tank, giant puppets, the red soldier patrol, face-painting, a rock climbing wall, plus free treats like popcorn, candy and snow cones. The festivities are taking place on the lawn next to the The Lost Colony administrative offices, which is next to The Elizabethan Gardens entrance. The festivities will end at 1 p.m. with a visit from the Queen and cake in front of the gardens' gate. Local sponsors are making this day of fun a reality, so let's thank them here: Atlantic Realty, CenturyLink, E.R. Midgett Insurance, Kitty Hawk Kites, RBC Bank, Pizza Hut, Sun Realty and Village Realty. Thanks, y'all!...
The Lost Colony is hosting its special Virginia Dare Anniversary Performance on Thursday night at 8:30 p.m. The performance includes the tradition of using live infant "actors" in the role of baby Virginia Dare. It's a popular night, so be sure to get your tickets early. The Lost Colony offers picnic specials now, so ask about that when you call for tickets. Call (252) 473-3414...
Another famous birthday is on Friday - Orville Wright's birthday. The National Park Service is celebrating by hosting the National Aviation Day Celebration at the Wright Brothers National Memorial. They'll have special events throughout the day at the memorial. Call (252) 441-7430...
Another special event this week is the 28th Annual Pirate's Cove Big Game Fishing Tournament in Manteo. The tournament is going on from Tuesday through Friday. Stop by the docks in the late afternoon to see the boats coming in, to see the catches unloaded and to walk around at the various booths along the docks. It's quite the scene over there at tournament time...
Some summery things need to get on your to-do list because they're about to come to an end. The Summer Sunset Art Show is on my list. There are only two more weeks of this one. These art shows are held on Wednesdays from 4 to 8 p.m. at the Marketplace in Southern Shores. It's all local artists, set up on the sidewalks of the shopping center with live music included. Go to www.kdhcooperative.com for info...
Scarborough Faire Days at Scarborough Faire Shopping Center in Duck is on Wednesdays from 2 to 7 p.m. These are chock full of family-oriented activities and sound like fun. * Kitty Hawk Kites Kids' Day is on Wednesday from 10 a.m. until 2 p.m. at the Nags Head store. Lots of kid things to do there...
Speaking of kids, were you aware that Jennette's Pier does a Parents Night Out on Thursdays from 6 to 9 p.m.? You can drop off the kids and go out to dinner. The kids have pizza, crafts and an educational program. Cost is $30 per child, with $15 for additional children in the same family. Of course, you must pre-register: call (252) 255-1501...
A couple more good things: Dare County Arts Council is offering a free Fiction Craft Workshop with Marjorie Hudson on Wednesday from 9:30 a.m. to noon. Hudson is the author of the book "Accidental Birds of the Carolinas" and was recently awarded a $10,000 Arts Council Writers Fellowship. Call (252) 473-5558 to register...
For parents of preteens and teens, Outer Banks Hospital is hosting a free workshop called Drugs Exposed on August 18. The workshop looks into the teenage drug culture and trends and presents parents with the information they need to be vigilant about teen drug use. It also offers resources for parents. This class is on Thursday from 6:30 to 8 p.m. at Outer Banks Hospital. Call (252) 449-4516 to register...
I don't have room to tell you about all the nightlife options, live music on decks, bands, acoustic gigs, open mic nights and all that. Look around our By Night section for a very long list of very fun things to do...
So I'm gonna go get started on my marking off some things on my to do list. I just thought of another one: Have lunch at O'Neals Seafood Market in Wanchese. I hear Lara cooks up a great fried shrimp basket. * Have fun out there. Stay safe...