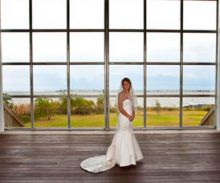 While running in Manteo one recent Sunday morning, I crossed the quaint Cora Mae Basnight Bridge to Roanoke Island Festival Park and happened upon a stunning sight. In the stillness of the park before it opened for the day, angled sunlight was reflecting in the dew on all the lush greenery. The whole place was illuminated and sparkling, and I spent the rest of my run around that tiny island in sap-happy appreciation for a place like Festival Park. How fortunate we are as locals to have this place for performances and art and recreation, and how fortunate we are as a state and nation to have this place that keeps the story of the 16th-century Roanoke voyages alive.
One of the things I've always admired about Roanoke Island Festival Park is how beautiful it is. The buildings and landscaping are well-designed and meticulously maintained. From the coastal-style cedar-shake buildings to the freshly trimmed lawn of the Outdoor Pavilion to the marshy edges of the boardwalk to the eye-popping artistry of the flowers, shrubs and trees around the site, I have always been inspired by the setting at Roanoke Island Festival Park.
Who remembers when this island was still known as Ice Plant Island? When I first moved here that was the island's name, so called because it was the home of a former ice plant. Some of the locals still call it that. After the ice plant was gone, the land was pretty much an overgrown no-man's land on a piece of prime real estate across from the Manteo waterfront. But thanks to some creative thinking and state funding, the island became Roanoke Island Festival Park, a major attraction celebrating the history of Roanoke Island in fun and interesting ways.
I've spent quite a bit of time at Festival Park, touring the Elizabeth II representative sailing ship, Settlement Site and the Adventure Museum with kids; exploring art exhibits in the Art Gallery; attending hundreds of performances in the Outdoor Pavilion and Indoor Theater; researching articles in the Outer Banks History Center; enjoying festivals on the lawn; buying gifts in the Museum Shop; and running on the Boardwalk. When an acquaintance got married on the Elizabeth II at Roanoke Island Festival Park this summer, I thought that it was a fabulously creative idea to use the beautiful park setting for something other than fun.
Turns out, that bride was part of a bigger picture. Roanoke Island Festival Park has officially opened its facilities for rent for events. And when someone rents these facilities, not only are they renting a stunning event location, but they also are supporting the park. Funds from renting Roanoke Island Festival Park help make up the gaps in the state budget cuts. Rental funds are used to interpret, foster and promote historic and cultural programs at the park.
Last year the park got some disheartening news when the N.C. General Assembly decided it was cutting Roanoke Island Festival Park's funding, as they have had to do at so many other state facilities. In last year's session they decided to cut the park's funding by 25 percent every fiscal year, so that by 2015-16, the park will no longer receive a state appropriation. This year the General Assembly cut the park's funding by another $300,000.
Now people can rent the meeting room for up to 200 people standing or 150 people seated. They can rent the 50-seat Auditorium or the 250-seat Indoor Theatre. They can rent the Grand Mall with its high ceilings, two glass window walls and observation deck for up to 175 people. They can rent the Pavilion grounds for a tented reception or concert for up to 3,000 people, or the Pavilion stage for weddings, receptions or meetings for up to 300 people. Even the Elizabeth II ship is for rent, allowing room for up to 75 standing guests or 30 seated on the deck.
Renting an attraction as an event location is nothing new on the Outer Banks. The North Carolina Aquarium on Roanoke Island, The Elizabethan Gardens, The Whalehead Club and the Currituck Beach Lighthouse have been offering their facilities for rent to help make ends meet for years. But it's a practice that makes sense. These facilities are lovely, and people on the Outer Banks need lovely locations for weddings, parties, events, meetings and retreats. It's a win-win for everyone. And renting the facilities doesn't take away from the attractions' missions.
"One issue I feel very strongly about is that whatever additional we have to do to generate revenue to make up for the appropriation that has been cut, that we remain first and foremost a historic site whose core function is to educate locals and visitors about the first English-speaking colony, not only a local but national story," says Kim Sawyer, executive director at Roanoke Island Festival Park. "All the other 'stuff' supports our ability to continue to maintain our programming and, dare I say, increase it! And we are hopeful we can sway legislators in the long session in the upcoming year to restore our appropriation."
While many of us miss the days when the park was bursting with performances all year long, the park has still been able to maintain a good number of performances. In a partnership with the University of North Carolina system, universities from around the state offer occasional performance programming at the park, including the very popular Summer Children's Performance Series (now over for 2012). Sawyer says that the University Series will continue in the upcoming year and next summer.
By the way, Roanoke Island Festival Park is a particularly attractive site for live music shows. The Outer Banks Bluegrass Festival has rented the facility the weekend of October 5 to 7, 2012. Anybody else out there got a good idea for a festival? Come on, somebody put on some more live music shows at Festival Park's Outdoor Pavilion. I, for one, will come...
So maybe you don't need to rent an event site this week. Maybe you just want to know what's going on this week. I'll give you a little preview, but to get the full picture you'll need to take a look at our By Day and Nightlife sections.
Speaking of live music, the Summer Concert Series at Currituck Heritage Park is going on every Thursday night through August. Catch the live shows at 6:30 p.m. at the Whalehead Club. This is the last week for the Town of Duck's Summer Music Series in Duck Town Park. On Thursday at 6 p.m., catch The Little Kings. The final night of Summer Nights in Southern Shores is this Thursday from 6 to 8 p.m. Kirsten Thein Band is playing, and local artists are setting up their booths at the Marketplace.
These events are early and family-friendly, but let's say your teen is too cool for that and wants to get away from you for a night. Here are a few options: The Pit Teen Night on Monday, Wednesday and Friday. It's a safe, supervised environment that the local parents trust. The Beach Klub in Avon has Teen Nights on Wednesdays from 8 to 10 p.m. And the Dare County Youth Center in Kill Devil Hills has a teen dance on Saturday night from 8 to 11 p.m.
A couple of art shows are going on this week. The 39th annual Senior Craft Show sponsored by the Outer Banks Woman's Club is on Wednesday and Thursday from 9 a.m. to 5 p.m . at the Baum Center in Kill Devil Hills. The Avon Art Show is on Thursday from 10 a.m. to 7 p.m. and Friday from 10 a.m. to 4 p.m. next to Hatteras Realty in Avon. It features a variety of Outer Banks artists and it's the last one of the season.
A fund-raiser you should know about is the Food For Thought Fund-Raiser, which raises awareness about the need to help provide meals for many Dare County schoolchildren. Their Sixth Annual Summertime Shindig will be held Saturday from 4 to 7 p.m. in Manteo and will include a fish fry, crafts for kids, educational materials about healthy eating and info for volunteers. Meals are $8 for adults and $5 for kids.
Kitty Hawk Kites is holding its annual Watermelon Festival to raise funds for Wright Flight, an educational program in Dare County Schools in which students who pass the program get to take a flight in an airplane. The Watermelon Festival features crafts, games and lots of fun at the Kitty Hawk Kites location across from Jockeys Ridge in Nags Head.
To wrap up your week, head to The Elizabethan Gardens Summer Campfire on Sunday night. Held on The Great Lawn of the gardens, this is their last campfire of the summer. Enjoy hot dogs, marshmallows, songs, stories and more. Time is 7:30 to 9:30, and cost is admission plus an extra $5. The gardens are simply stunning at night, by the way. Don't miss it!
Hope you have a great week on the Outer Banks. Maybe the rain will stop! But if not, I know you'll find plenty to do.

This week you have a chance to win a $25 gift certificate to Mike Dianna's Grillroom and a 50$ gift certificate to Gray's Family Department Store!
For more information about Mike Dianna's Grillroom, check out their website.
For more information about Gray's Family Department Store, check out their website.
Last Week's Winner
Congratulations to Misty Denen!!!

You won a $25 gift certificate to The Blue Point and a 25$ gift certificate to Birthday Suits!
For more information about The Blue Point, check out their website.
For more information about Birthday Suits, check out their website.