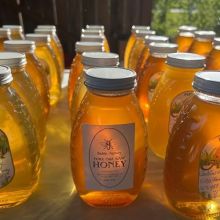 I love an open-air shopping experience. Wandering from booth to booth with the sun on my skin and the fresh air to breathe, choosing bread, cheese and vegetables for dinner, sniffing bars of delightful-smelling soap and choosing a few for the outdoor shower, selecting just the right ceramic mug for a friend's birthday, chatting with the farmers and makers face-to-face – it all feels so pleasantly European and bucolic. It's always a feel-good moment when you buy something directly from the person who created or grew it, whether it's a watermelon, a pie, a pot of lip gloss, a necklace or a painting – or all of the above.
If you love an open-air market as much as I do, you're in luck. There are several markets on the Outer Banks every week in the summer and through the early fall. Right now is a great time to look for locally grown fruits and veggies like melons, tomatoes, okra, corn and so much more. And you'll be pleasantly surprised by the number of talented artists and crafters who bring their goods to the local shows. Bring your own reusable bags, bring cash if possible and be prepared to spend hours wandering around amongst all this goodness. Better yet, visit more than one market this week!
Photo: Honey from Babin Apiary at Secotan Market.
Brew & Arts
Mondays, 5:30 to 8 p.m. through September 5
Outer Banks Brewing Station, 600 S. Croatan Highway, Kill Devil Hills
Outer Banks Brewing Station's backyard is a fun place to visit any evening. There's live music every night, excellent beer, yard games, a pirate ship for the kids, great food and nice places to sit. And when they add an arts market on Monday evenings, it's even better. Grab a beer and browse among the vendor booths selling locally made artworks and crafts. Be sure to stick around for dinner afterward as the Brewing Station has a well-rounded menu that goes way beyond pub fare. For more information, click here.
First Flight Market
Tuesdays, 10 a.m. to 2 p.m. through August 9
Aviation Park, 103 Veterans Drive, Kill Devil Hills
The Town of Kill Devil Hills hosts a large market with more than 65 vendors every week. You'll find lots of food items, like fresh-grown vegetables and fruits, eggs, meats, microgreens, baked goods and more. You'll also find dozens and dozens of artists selling artwork, candles, bath and body items, jewelry, woodworks and more. Overflow parking is available at First Flight High School. A skate park, walking trail and playground are available for the kids to play on while you shop. For more information, click here.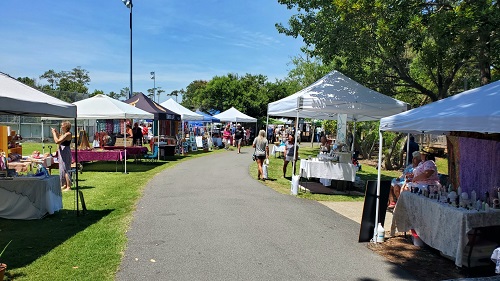 Photo: Vendors set up and selling their wares at First Flight Market.
Avon Farmers Market
Tuesdays, 9 a.m. to 1 p.m. through September 6
Avon Pier/Beach Klub, 41001 N.C. Highway 12, Avon
Avon Farmers Market features locally grown produce and local crafts, including jewelry, fiber art, ceramics, paintings, metalwork and more. A playground for the kids means you'll be able to shop a little longer. After your shopping, take a walk or fish on Avon Pier. More info is available here.
Markets at Island Farm
Wednesdays 9 a.m. to 12 p.m. through August 31
Island Farm, 1140 U.S. Highway 64, Manteo
Secotan Market offers a smaller market on Wednesdays at Island Farm on Roanoke Island. You'll always find a vegetable vendor, and you can rest assured that it will be the farmer who grew the produce. There's always another maker or artist on hand as well. Be sure to stay and visit Island Farm afterward. This site re-creates life on an 1850s Roanoke Island farmstead.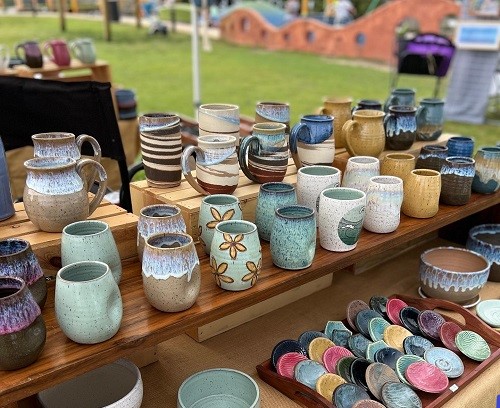 Photo: Swell Ceramics' booth at Dowdy Park Farmers Market.
Dowdy Park Farmers Market
Thursdays, 9 a.m. to 1 p.m. through August 18
Dowdy Park, 3005 S. Croatan Highway, Nags Head
You could spend all morning at this market with more than 50 vendors. Shop for locally grown produce, all-natural meats, baked goods, kombucha, microgreens, spices, art and crafts and much more. While this market has great number of well-rounded food options, the arts and crafts vendors far outweigh the food vendors. All the food vendors are lined up in one area, so I like to browse the artwork then pick up my food goods on the way out. While you shop you can let the kids play on the playground equipment, exercise trail, sports courts and big open grassy field. There are several restaurants nearby for enjoying lunch after your day in the park. Parking is available at Nags Head Elementary School next to the park, but walk or bike up if you can. Find more details here.
Old Trent Market
Thursdays, 9 a.m. to 2 p.m.
Frisco Woods Campground, 53124 N.C. Highway 12, Frisco
This market focuses on artisans and craftspeople of the Outer Banks. It's held every Thursday and offers baked goods, books, arts, crafts and more. It's on the site of Frisco Woods Campground, which is a lovely site with trees and shade. For more information on the weekly Old Trent Market, click here. 
Downtown Market on the Manteo Waterfront
Saturdays, 9 a.m. to 1 p.m. through September 17
George Washington Creef Park, Fernando Street, Manteo
The area's longest-running farmers and crafts market, Downtown Market has a fabulous setting overlooking Shallowbag Bay. Among the numerous vendors you'll find fresh produce, baked goods, eggs, coffee, prepared foods, pottery, artwork, paintings, skin-care products and so much more. Downtown Manteo offers plentiful parking for cars or bikes, and you can even arrive by boat. Plus the downtown area has restaurants for breakfast or lunch and lots of other shops to explore after you've made your rounds at the market. This market is very friendly and welcoming with loads of small-town charm.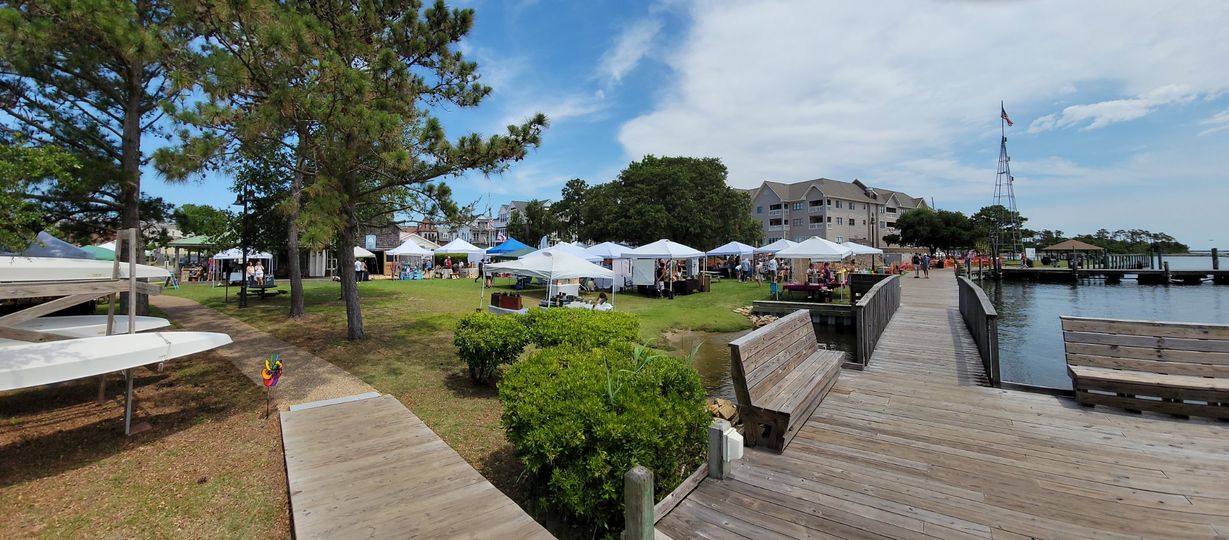 Photo: Manteo's Downtown Market is set right along the town's beautiful waterfront.
Secotan Market
Saturdays, 8 a.m. to 12 p.m. through September (9 a.m. to 12 p.m. in October)
2868 N.C. Highway 345, Wanchese
This is a small, covered market, but its vendors pack a huge punch. It's a producer-only, all-local market with locally and regionally grown produce, all-natural meats and eggs, bread and baked goods, kombucha and ferments, mushrooms, honey, salsa, jams and more. Food is the focus, but every market also features one or two artists in fiber, ceramics or jewelry. The ride down to Wanchese takes about 15 minutes from Nags Head and is a beautiful drive with not too much traffic. I suggest driving around Wanchese after, maybe scope out the seafood markets or grab lunch in one of the local restaurants. Find more info here.
Are you looking for other things to do on the Outer Banks this week? Check our Daytime and Nightlife pages for a rundown of a few other events that are still going on around town.