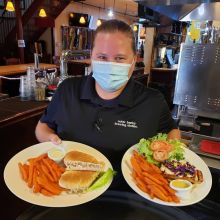 A year from now, we'll all be looking back on the summer of 2020 as the Summer of the Mask, and probably not fondly. For now, though, wearing a mask/face covering is what we must do to keep coronavirus from spreading. Many people do this out of care and concern for their fellow humans, but for those who just can't seem to do that, the Dare County Control Group, and now the Governor of North Carolina, have had to issue a mandate:
As of June 21 and for the foreseeable future, cloth face coverings must be worn in indoor and outdoor spaces where social distancing cannot be maintained. 
Photo: Server Tiffany wearing a mask while working at Outer Banks Brewing Station.
The Dare County Control Group made this decision last week and enacted it on June 21. This applies to Duck, Southern Shores, Kitty Hawk, Kill Devil Hills, Nags Head, Manteo, Hatteras Island, Roanoke Island, Colington and the mainland.
The Governor of North Carolina followed with a new statewide mandate, which will take effect on Friday, June 26. Governor Cooper also decided to keep the state in Phase 2 of reopening until at least July 17.  
As Dare County Commissioners Chairman Bob Woodard says, "Voluntary compliance was not effective in Dare County," and the numbers of cases on the Outer Banks are going up every day, not down.
"Each week brings 150,000 to 200,000 new vacationers," Woodard says. "We need to protect them and the people who live and work here. We need to set a good example."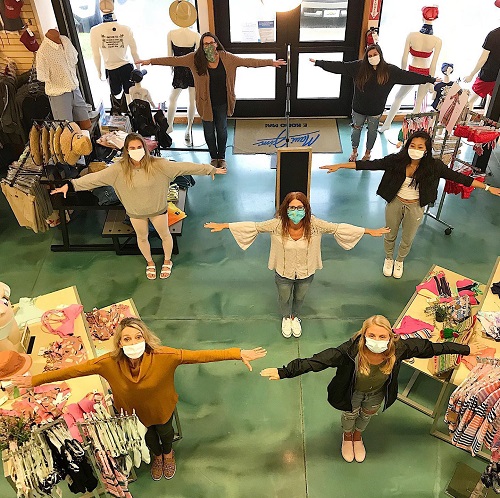 Before you fire off a nastygram to Chairman Woodard, consider that the Dare County Control Group made the decision about the Dare County mask requirement. The Control Group – which, incidentally, has met 43 times since March! – unanimously agreed on the requirement. The Control Group is made up of all six town mayors, two county commissioners, the Dare County Sheriff and the head of the Cape Hatteras National Seashore. Their decision being backed up by the governor statewide is telling. Health officials and coronavirus experts widely agree that mask-wearing reduces the spread of COVID-19. The steps to slow the spread are: Wear a mask if you're going to be around anyone who is not a part of your household. Limit time in indoor spaces with multiple people. Do as many activities outside as possible. Wash your hands frequently. Stay home if you feel sick.
Photo: Masking up and social distancing at Birthday Suits in KDH.
So, if you're in a retail store or grocery store, wear a mask. While you're waiting for your table at a restaurant, wear a mask and take it off when you get to your table. While you're shopping at a produce market or standing in line at a coffee shop, wear a mask. When you're waiting to pay for your Jet Ski rental, wear a mask. You think it's too hot? Try wearing a mask for eight hours while cooking in a restaurant. You think a mask is uncomfortable? It's a lot more comfortable than a ventilator and an ICU bed. You know that you don't have the coronavirus and don't think you need to wear a mask? Wearing it anyway sets a good example for everyone. You don't have to wear a mask on the beach (but do try to maintain distance) or while playing putt-putt with your family or while riding bikes or walking on a multiuse path.
"We've got to do our part as individuals," Woodard says. "Use common sense. If you don't believe that masks help, I can't change your mind. But everything we've seen from states that have implemented this requirement is that mask-wearing seems to keep the virus at bay."
Note that the Dare County and North Carolina requirements do have some exceptions, which can be found here and here.
So we're all in agreement on the mask thing, right? (I'm not naive, but I can dream.)
Summer 2020 Mask Fashion
Now that we're wearing masks and face coverings in public, a whole new niche industry has popped up. Vogue, InStyle and fashion bloggers are posting about face-covering fashion. Retail stores and fashion designers are getting in on the act (here's a Susan Alexandra mask for $70. But, hey, it's one of a kind!), and Etsy is a maskapalooza. Sure you can wear those cheap, one-time-use masks (some stores even hand them out for free), but why when you can make a statement about your personality with something more original? Here's a sampling of some we've seen around town. I'm sure someone is making an OBX face mask as we speak, but I haven't seen them yet. Have you? Send us pics of your Summer 2020 Face Mask Fashion on Facebook or in the comments below.
Below: sports fan flair on Chef Tony Duman at Outer Banks Brewing Station; even the mannequins were masks at Miss Lizzie's in Kitty Hawk; sporty, dual-function gaiters at TW's Bait and Tackle (they also offer sun protection); designer Vera Bradley masks at The Cotton Gin; fashionista masks at Foxy Flamingo Boutique; purely functional face coverings worn by the crew at Slice Pizzeria in KDH.