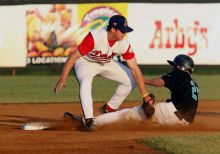 Don't you love to eat in the summer? * I'm all about the seasonal local foods and I always have been. My mother's family lived on a farm, and that's just what they ate, so my mom raised us that way too. I love being able to seek out the locally grown foods, even if it that means driving to a couple of different markets and produce stands to do it - and there are more of those than ever now. Plus more and more restaurants are growing their own veggies and herbs or seeking out sources to buy local. * We just ate the first tomato out of our garden - a delicious Cherokee purple heirloom with basil, olive oil and a sprinkling of Outer Banks sea salt (thanks Outer Banks Epicurean!). We also ate the first blackberries off the brambles in the neighboring marsh. And a pile of fried soft-shell crabs. And a sugar baby watermelon I bought at the Manteo Farmer's Market. And Rocky Point (N.C.!) blueberries that I found in Food Lion, and Currituck County new potatoes from Tarheel II. I can't wait for some Currituck peaches and Hyde County sweet corn. * We would've eaten a summer squash medley had I not tragically left a paper bag full of precious locally grown squashes somewhere in downtown Manteo last Saturday (hey, I had four kids with me at the Farmers Market; I was distracted). Hopefully some happy soul had them for dinner Saturday night. Was it you? Leave a comment and let me know if they were good...
The produce vendor at the Manteo Farmers Market is awesome this year - a co-op representing 12 regional farms, so it's all seasonal stuff that didn't travel too far. You've got to see the locally grown shiitake mushrooms! * And the lemonade/iced tea vendor is a welcome addition to the market too. * If you haven't been to the Manteo Farmers Market yet, check it out on Saturday from 8 a.m. to noon. Bring a wad of cash unless you're particularly resistant to temptation...
The big news this week is the Town of Nags Head's 50th Anniversary Carnival. The town kicks off the carnival Tuesday with a birthday party and the carnival opening at 5:30 p.m. They've got a Ferris wheel, a roller coaster thingy, what looks like a Tilt-A-Whirl, a human spin cycle, and several other rides that make my inner equilibrium nervous. Plus carnival food, games and a lot more. The carnival is being held on the soundfront Windmill Point site, Tuesday through Saturday nights from 5:30 to 11:30 p.m. Again, bring a wad of cash unless you're particularly resistant to temptation. * Go to www.townofnagshead.net for info...
Wednesday is the June Full Moon. The National Park Service holds a very cool Full Moon Tour of Cape Hatteras Lighthouse at 8:30 and 9:30 p.m. Tickets must be purchased in advance at the lighthouse ticket booth, so go grab some as soon as you read this if you want to go. You get to climb the lighthouse with a flashlight, see the light in action at night, hear tales about the light keepers and see the moonlight on the ocean. Call (252) 995-4474 for info...
Elizabethan Gardens is hosting a Scratch & Sniff Gardening Workshop for Children on Wednesday from 10 a.m. to noon. This camp will be held every Wednesday in June and July, and the little gardeners will take walks and discover plants and the greenhouse. Cost is $20 for nonmembers. Call (252) 473-3234...
Several shopping centers are hosting weekly mini-festivals this summer. * See local artwork and hear live music every Wednesday at the Sunset Art Walk at the Marketplace in Southern Shores. The artists will set up and sell their works from 6 to 8 p.m. This week Jah C is playing the live music. It's free. Go to www.kdhcoop.com for more information. * Scarborough Faire in Duck has the Faire Days Festival every Wednesday in the summer. They've got things like food, art, Magic Mike, wine tastings, book signings, fashion shows, story hour and more. Hours are 2 p.m. to 7 p.m. and it's free. * Kitty Hawk Kites Kids Day is at the stores Corolla (Monterey Plaza) on Tuesday from 2 to 4 p.m. and Nags Head (Jockeys Ridge Crossing) on Wednesday from 1 to 2 p.m.. They've got all kinds of free activities for kids. Call (252) 441-4124...
Roanoke Island Festival Park has two fun shows this week (did anyone see the N.C. Dance Theatre last week? OMG. So amazing...). In the daytime, in the Indoor Theater, it's the Cinderella Children's Show, performed by UNC A&T University. This one is showing Tuesday, Wednesday and Thursday at 10:30 a.m. and it's free. In the evening, the university is staging Broadway Unleashed, a music and dance revue of Broadway's Best, including gospel, jazz, blues and show tunes. That will be in the Outdoor Pavilion Tuesday, Wednesday and Thursday at 8 p.m. It's also free...
Have you seen an OBX Daredevils Baseball game yet? Let me just say, this is no rinky-dink league. These are top college players and the level of play is exciting. The games take place at First Flight High School's sports complex, and they have all the food concessions you'd expect at a baseball game. Gates open at 6 p.m. for pre-game festivities, and games start at 7:05 p.m. Admission is $6 for adults and $5 for seniors and kids; ages 5 and younger get in free. Games this week are on Wednesday and Thursday (June 15 and 16). Next week they're on Monday, Wednesday and Thursday (20, 22, 23) Go to www.obxdaredevils.com...
If you want to do something on the outdoorsy side, consider the Red Wolf Howling Safari or Bear Necessities programs in Alligator River National Wildlife Refuge. These programs are held on Wednesday evenings. The bear program starts at 5:30 p.m. A ranger will take you into the refuge to look for bears and tell you about them (my husband saw two bears in the refuge last week and he was just driving by, so you're likely to see them with a ranger's help). The wolf howling program, in which you learn about the resident red wolves and then hear them howl, starts at 7:30, and you'll have time to do both programs in one night. Bears is free but there's a $7 charge for the howling (kids 12 and younger go for free). Call (252) 216-9464 to register...
Here's something I want to see: A new program on Ocracoke called the "The Ocracoke Island you never knew about!" It's a weekly storytelling event with native islanders Philip Howard and his daughter Amy Howard. It's held at Deepwater Theatre on Monday nights at 8 p.m. and it costs $12 for adults and $6 for kids. * On Wednesdays at Deepwater it's the popular Ocrafolk Opry and on Thursdays it's the local band Molasses Creek. Go to www.deepwatertheater.com...
Let me just wrap this up by saying that there is a LOT more going on around town than I can possibly touch on here. Every day there are family-oriented programs at Pea Island and Alligator River NWRs, the N.C. Aquarium on Roanoke Island, Outer Banks Center for Wildlife Education in Corolla, Jockeys Ridge State Park, Fort Raleigh, Wright Brothers National Memorial, Cape Hatteras National Seashore and more! * There is live music playing in bars and restaurants and restaurant decks every single night. The local talent is top-notch, and they're all out there playing gigs all summer. Plus there are bands and comedians from all over the country coming into town to entertain you. * There are exercise classes to take, watersports adventures to create, restaurants to eat in, shops to shop in. * Keep looking around our site. You'll find so much more to do...
And do yourself a favor and eat something local today. What's YOUR favorite local summer food?...