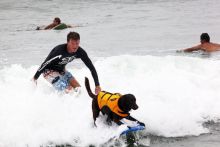 Wondering why your construction site is eerily quiet? Why the restaurant staff is short handed? Why a client left you hanging? Why those kids aren't in school today? Look to the water. Hurricane season swell is here, and any self-respecting surfer is in the ocean.
I'm not calling all surfers slackers. I know they get their stuff done in due time. I'm just saying that if I was a surfer I'd be blowing off stuff to be out there too. The waves are really spectacular this week, and the lineup is long. The surf is definitely the topic of the week on the Outer Banks.
This week's waves are sponsored by Tropical Storm Leslie, a slow-moving storm that is making its way up the East Coast. This one is going to stay offshore and in the meantime emanate swell to the East Coast beaches. Leslie's swell will reach the Outer Banks through the work week and into the weekend. The storm is expected to increase to hurricane strength as it passes well offshore of the Outer Banks this weekend.
That's great news for surfers, but not great news for swimmers. The storm will create extremely powerful shorebreak and dangerous rip currents through the weekend. Expect the red flags to be flying later in the week - that means no swimming. Now that Labor Day is gone and the regularly stationed lifeguards have packed up their stands, it's even more important to follow the no swimming rules. Roving lifeguards are still patrolling the beaches on ATVs, but they are few and far between.
Right behind Leslie is another storm - Tropical Storm Michael. That one has a similar forecast track - up the middle of the Atlantic, so we could see some swell from that one too.
To get the latest surf updates, go to www.obxsurfinfo.com (assuming they're posting updates and not surfing. lol).
Outer Bankers had surfing fever even before Leslie showed up. The Bud Light Lime Surf Series OBX Cup was held at Jennette's Pier last weekend, and Outer Bankers came out in full force to enjoy it. For three days the beach was a full-on scene of surfers, babes, contest staff, vendor tents, media, teens, tweens, families, babies, locals, Labor Day weekenders and on and on. The waves were pretty small on Saturday, but the ocean was absolutely epic - clear, green and loaded with glass minnows and bait balls. Sunday and Monday brought better waves, and it was quite entertaining to watch the surfers having fun in the water. Jennette's is a stellar place for a surfing contest. It made me proud to be a Nags Header. By the way, did anybody see the surfing dog at the contest? I missed him but he's been the talk of the town. That's him in the photo, thanks to Daryl Law at Jennette's Pier. Rufus the surfing Labrador and his owner, Ryan Biggs, live in KDH.
For me, a non-surfer, it's kind of sad that one of the last weekends of the summer is going to be a non-beach weekend for the kids. We'll have to steer the family to the soundside of the island or find other ways to occupy ourselves. Here are a few things you can do this week if you can't hit the beach.
On Friday night catch an outdoor movie showing of the Wizard of Oz in Nags Head. It's happening on the Outer Banks Events Site at milepost 16 in Nags Head, next to Pamlico Jack's. The movie shows on a giant blow-up screen, and the acoustics are surprisingly good. Bring a lawn chair or blanket or sit in the back of your SUV to enjoy the movie. Admission is $5 per car. The bugs have not been bad at previous movies, but bring your bug spray just in case. The movie starts at 8 p.m.
Anybody with an interest in local sports will want to catch local rivals Manteo High School and First Flight High School match up for a varsity football game on Friday night in Manteo. Game time is 7:30 p.m. Come out and support the local teams.
Manteo has its monthly First Friday celebration on Friday afternoon and evening. All around downtown you'll find live music, author signings, art exhibit openings, great food, good people and activities galore. First Friday starts around 4 p.m. but the fun really kicks closer to 6 p.m.
On Saturday morning head back to Manteo for the Manteo Farmers Market from 8 a.m. to noon. You'll find produce, sweets and treats, arts and crafts and much more.
U.S. Fish and Wildlife Service is offering a free Tram Tour around Alligator River National Wildlife Refuge on Saturday from 9 a.m. to noon. The tram is a good way to cover the vast territory of the refuge, and the guide is helpful in pointing out things you might have missed. To sign up, call (252) 216-9464. If you miss this one, they're doing another on Saturday, October 13. You can always tour the refuge on your own, too. My husband and I took our kids to drive around the refuge in the evening recently, and we had some really good wildlife sightings: two bears, an owl, some bats and a deer. Not bad.
Keep looking around our site for things to do this week. Nightlife is brimming with options, and our By Day options, though dwindling after Labor Day, are still plentiful.
Have a great week!

This week you have a chance to win a $25 gift certificate to The Blue Point Restaurant and a $25 gift certificate to Birthday Suits clothing and gift shop!
For more information about The Blue Point, check out their website.
For more information about Indian Birthday Suits, check out their website.
Last Week's Winner
Congratulations to Dawn Pearson!!!

You won a One night stay at the Cameron House Inn and two tickets to the Roanoke Island Festival Park!
For more information about Cameron House Inn, check out their website.
For more information about Indian Roanoke Island Festival Park, check out their website.