The evidence is clear: Vacationers love donuts. OK, we all love donuts. But vacationers are willing to stand in long lines early in the morning for donuts, and that means they love them more. Maybe it's because vacationers have more free time. Or maybe it's because diet norms go out the window on vacation, and it's perfectly acceptable to start the day hopped up on sugar. Whatever the reason, I've been there too, standing on a sidewalk at 7 a.m. with strangers in a strange town, just to be the hero of the beach house breakfast.
The Outer Banks has some amazing donut shops and bakeries that will help you start your day on a sweet note. The ones I'm going to tell you about here are dedicated bakeries or pastry shops specializing in the art of pastry. Of course you can also find breakfast sweets at local coffee shops, grocery stores and Dunkin'.
Photo: The tall and fluffy, not-too-sweet donuts at Proof Bakery in Kill Devil Hills
Northern Lights Bakery
1159 Austin Street, Suite 109A, Corolla
This longtime bakery in Corolla Light Town Center is a tradition in Corolla. It's consistently delicious, and once you discover it you'll definitely want to go back. They fresh-bake donuts daily – raised, cake and filled – but it's their pastries that are the most impressive. Giant cinnamon buns, pecan sticky buns, chocolate and almond croissants, buttermilk scones, coffee cake, apple fritters (they call them Apple Smashley), turnovers – so good. If they have eclairs when you go, definitely get one or three.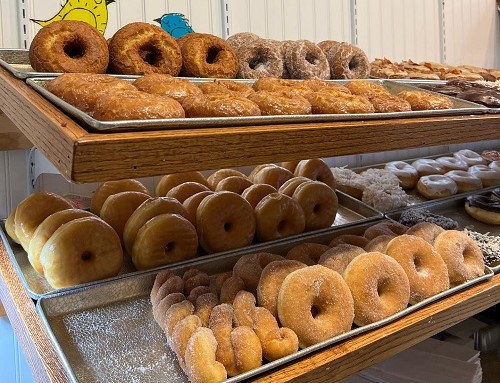 Photo: Donuts at Northern Lights Bakery in Corolla
Duck Donuts
603 Currituck Clubhouse Drive, Corolla; 1190 Duck Road, Duck; 5320 N. Virginia Dare Trail, Kitty Hawk; 1716 S. Croatan Highway, Kill Devil Hills; 5000 S. Croatan Highway, Nags Head; 41934 N.C. Highway 12, Avon
Duck Donuts is famous now. It started in Duck, spread to six locations on the Outer Banks and is now found in cities all along the East Coast and beyond. What people like about Duck Donuts is that the donuts are made to order. You watch as your donuts are dropped into the fryer, iced and topped. And they are served to you warm. They taste like sweet cake – which is why I prefer mine with the simplest topping of cinnamon sugar – but most people go all out with the topping choices.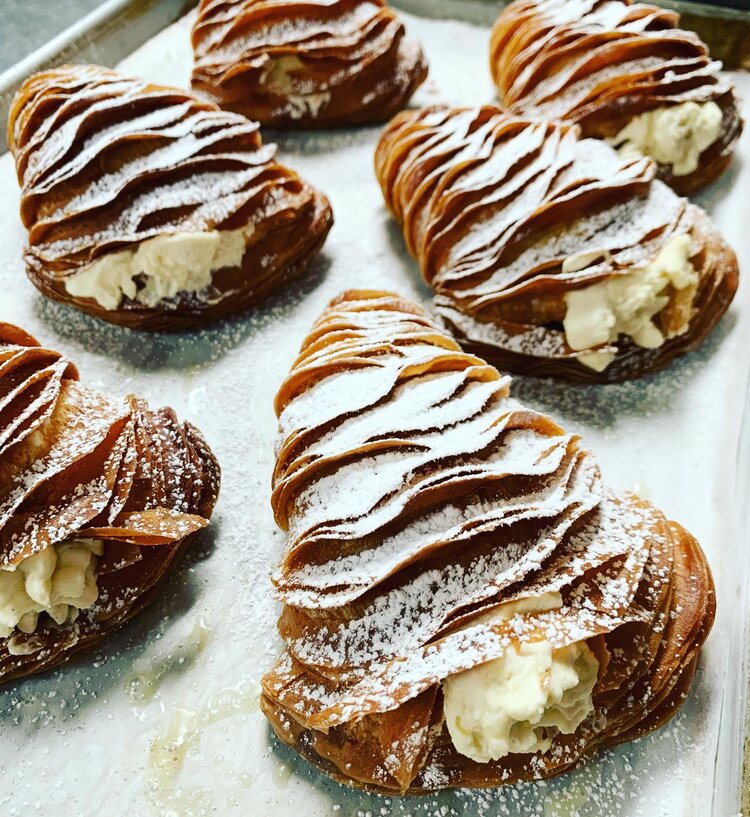 Photo: Tullio's signature Lobster Tail pastries
Tullio's Bakery
1187 Duck Road, Duck
In business for 26 years, Tullio's is the stuff of legend on the northern Outer Banks. The family-run business has an extremely loyal following among repeat visitors and locals. They fresh-bake everything daily, from yeast and filled donuts to three kinds of cinnamon buns and scones to muffins, croissants, filled Danish, turnovers and lobster tail pastries (if you know, you know) and more.
Donutz on a Stick
1216 Duck Road, Duck
Your donuts are made to order, topped with all sorts of toppings, then stabbed crossways with a stick and served warm.  You can eat them right off the stick, so there's less mess. The large stick stacks four donuts, and the small stick has two. They don't open until 10 a.m. (noon on Monday and Tuesday) so keep that in mind if you have early risers.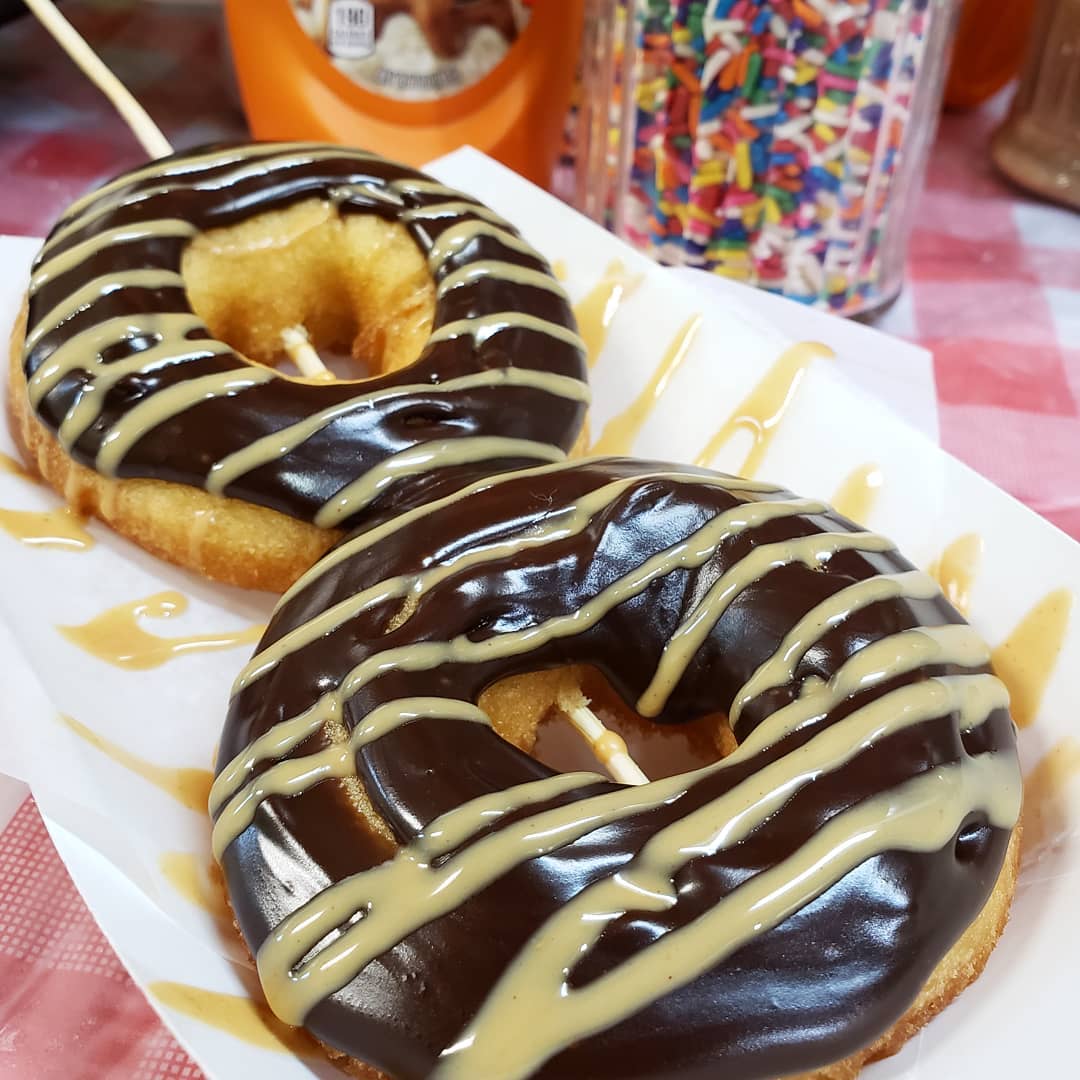 Photo: Donutz on a Stick in Duck
Donuts4You
3701 N. Croatan Highway, Kitty Hawk
Did someone say donut heroes? Donuts4You offers donut delivery to Southern Shores, Kitty Hawk, Kill Devil Hills and Nags Head. Just order online, and they'll show up at your door. You can also order online and pick it up yourself. What you can't do is order on the phone or in person. They make fresh donuts, donut holes and churros, and they have tons of flavor options for the donuts, from s'mores to maple bacon and beyond.
Proof Bakery
402 S. Croatan Highway, Kill Devil Hills
Proof is somewhat of a hidden gem in KDH. People who know about it love it, and I am one of those people. Their authentic chocolate croissants are heavenly, the best I've had outside of France I'd venture to say. The pastries are expertly made – cheese Danish, giant cinnamon buns, pecan sticky buns, bear claws and daily surprises. Their donuts are so good – not too sweet and simply glazed in several flavors each day.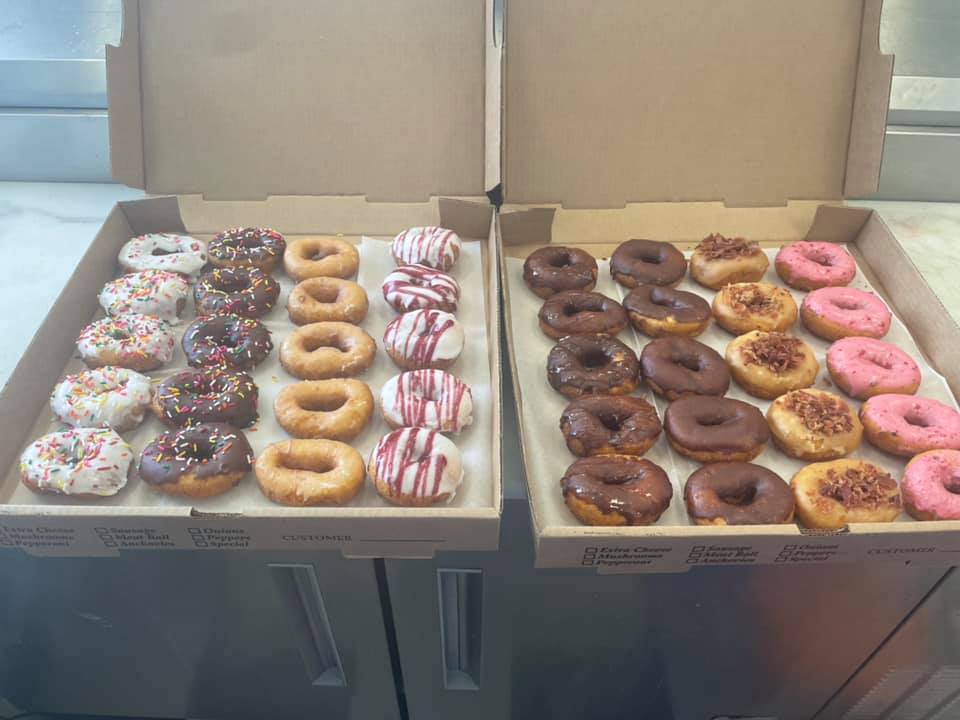 Photo: Dough Shack in Rodanthe sends you off with donuts in a pizza box.
Dough Shack
24782 N.C. Highway 12, Rodanthe
Donuts in the morning, pizza at night. That's the concept of dough shack, and they pack the donuts in takeout pizza boxes, which makes it easy to hide them if you don't want to share. The donuts are made fresh every morning, and they're fairly simply iced and topped, but really that's all you need and they're delicious.
Muffins and Scones
40126 N.C. Highway 12, Avon
This bakery/coffee shop has been an Avon favorite for five years now. Their morning sweet offerings include a wide variety of muffins and scones, as would be expected, but they also have cinnamon buns and a variety of other fresh-made pastries. They're open year-round, which is a bonus.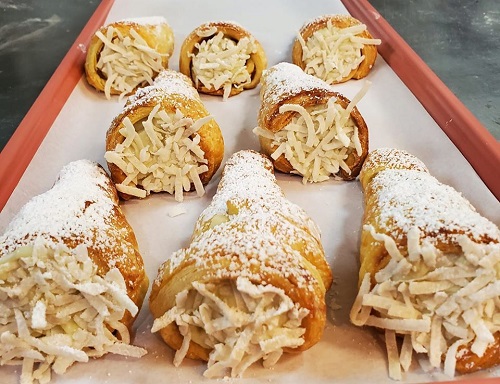 Photo: Coconut cream horns at Muffins and Scones in Avon.
Orange Blossom Bakery
47206 N.C. Highway 12, Buxton
In business for more than 40 years, Orange Blossom Bakery has become a Hatteras institution. The bakery's Apple Uglies, an apple fritter of sorts made from leftover donut dough and apples, are legendary. They really are ugly but they're super tasty, and the owners now offer a baked version as well as the fried original plus a Chocolate Covered Ugly. The line is out the door in the summer months for the Uglies, so get there early. They also make fresh-baked donuts, apple turnovers, sticky buns, cinnamon buns, cheese Danish, muffins and cinnamon twists. I love an Apply Ugly as much as anyone, but the Meyers Rum Raisin Cinnamon Roll is the winner in my book.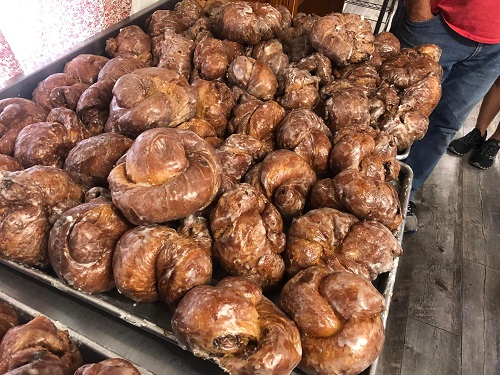 Photo: The legendary Apple Uglies at Orange Blossom Bakery in Buxton
Scratchmade Snackery
57544 N.C. Highway 12, Hatteras
Finding real French pastries in a remote island setting like Hatteras village is quite the boon. As the name implies, everything is made from scratch, and the pastries are worth getting up for. I say that because they often sell out so you need to get there early (and they open at 5 a.m.!). The croissants, pain au chocolat, cinnamon rolls, monkey bread, scones, muffins, cheese Danish, sticky buns and various other surprises are so good at this quirky little bakery. Don't miss it.
Fig Tree Bakery & Deli
1015 Irvin Garrish Highway, Ocracoke
If you're looking for a quick, sweet breakfast on Ocracoke, stop into Fig Tree. Their cinnamon rolls and pastries are freshly made every morning, and in my opinion their fig cake is the perfect breakfast treat. This is also a sweet shop known as Sweettooth with cookies, fudge, candies and more.
Photo: Gooey cinnamon buns at Fig Tree Bakery in Ocracoke
Enjoy the sweet side of life! What's your favorite Outer Banks bakery treat? Leave us a comment below.
To see all the breakfast options on the Outer Banks from Corolla to Ocracoke, all you have to do click here.