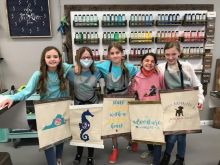 The end of the school year is fast approaching, and parents are feeling the pressure to fill the upcoming summer days with tons of fun. Whether you live on the Outer Banks or are visiting for a week or two this summer, there are plentiful ways to let other people simultaneously entertain and educate your kids. I've put together a list of some of the fun options for summer camps, but this is certainly not everything that's available. If you know of another camp that parents should be aware of, please mention it in the comments section below. Keep in mind that summer camps fill fast. All of these camp options had openings as of this writing on June 1, so if you're interested in one of them, make your decision quickly. 
Photo courtesy AR Workshop
AR Workshop Youth Summer Art Camps
AR Workshop is a craft studio that makes it easy to create all sorts of fun projects. In the summer they offer hands-on crafting experiences for kids of all ages. Their camps are either one or four days for three to four hours a day. Kids can make tie dyes, string art, paintings, frames, signs, pillows, wall hangings, tote bags and more. They also have DIY-To-Go Kits with projects for kids to take home and create. The website makes it easy to see the offerings and to sign up.
AR Workshop, 3105 N. Croatan Highway, Kill Devil Hills, (252) 655-6694, arworkshop.com/killdevilhills
Roanoke Island Artisans in Kitty Hawk
This studio and shop in Kitty Hawk offers all sorts of creative experiences, from in-studio projects to online classes to take-home art kits. Their Student Day Camps are for kids ages 8 to 12. There are three dates for the summer camps. Plus Roanoke Island Artisans has classes on the daily calendar that are appropriate for children who come in with their parents. 
Roanoke Island Artisans, 3701 N. Croatan Highway, Kitty Hawk, (252) 202-8702, riartobx.com
Karma Kids OBX Summer Camp
The Studio in Nags Head offers 11 weeks of summer camp adventures for children who are in kindergarten through middle school. Zen Warriors for boys and Karma Girlpower for girls build the skills of kindness, compassion, mindfulness, self-esteem, resiliency, confidence and emotional intelligence and make it all very fun along the way.
The Studio OBX, 3022 S. Croatan Highway, Nags Head, (252) 305-1414, theobxstudio.com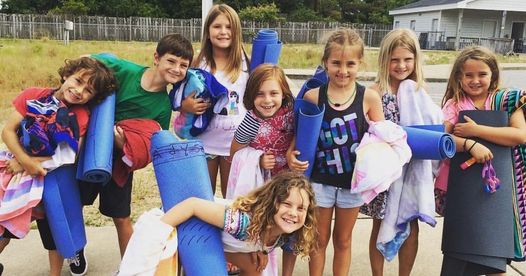 Photo courtesy The Studio OBX
Camp Seaside Outer Banks Family YMCA
Outer Banks Family YMCA in Nags Head offers week-long summer day camps with games, art, science and swimming and much more. When you're searching for info on the website, go to Child Care & Camps > School's Out Camps >School's Out Camp Dates. Then select Outer Banks Family YMCA from the list of locations on the left.
Outer Banks Family YMCA, 3000 S. Croatan Highway, Nags Head, (25) 449-8897, ymcashr.org
Dare County Parks and Recreation
With summer programs in three locations, Manteo, Kill Devil Hills and Buxton, Dare County Parks and Recreation entertains a lot of kids in the summer. They have day camps in sports, nature, dance, art and more. Most of the Kill Devil Hills camps are full, but Buxton and Manteo still have several open dates.
Go to dcpr.recdesk.com to see what's available.
Endless Summer Surf OBX
One of the most popular Outer Banks surf camps, this one is held on Hatteras Island. It's for kids between the ages of 6 and 17, beginners and experienced alike. Camps are held weekly May 30 through September 8 on Monday, Tuesday and Wednesday mornings from 9 a.m. to noon with makeup days of Thursday or Friday if needed. Camps are held either at Cape Hatteras Lighthouse or Avon Pier, depending on conditions. Kids can choose one day of camp or three.
To register go to endlesssummersurfobx.com.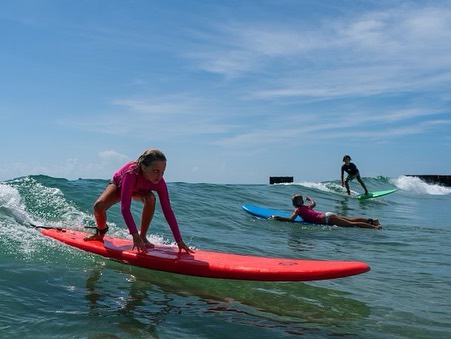 Photo by Daniel Pullen courtesy of Endless Summer Surf OBX
Kitty Hawk Kayak and Surf School
Kitty Hawk Kayak and Surf School offers two different summer camp experiences. Their Surf Camps are held in Duck at Sanderling Resort and Spa, which is convenient for kids in Corolla, Duck or Southern Shores. It's three days of surf, SUP and kayak experiences. Their Junior Lifeguard Camp in coordination with Kill Devil Hills Ocean Rescue Squad helps kids ages 9 to 14 find out what it's like to be a lifeguard. There are five week-long sessions, 10 a.m.to 4 p.m. daily. These are held at the KDH Bath House at 103 S. Virginia Dare Trail.
For information go to khkss.com/obx-summer-camps.
Corolla Lifesaving Association Junior Guards Camps
This Corolla camp also offers a lifeguarding experience with ocean safety, rescue techniques and physical fitness for kids ages 8 to 15. They have one session in June and one in July, five days a week from 10 a.m. to 3 p.m.
For information go to corollalifesaving.org/jrguard.
North Carolina Aquarium on Roanoke Island Summer Camps
The aquarium offers weeklong camps as well as half-day and day camps with themes for many ages of kids. Week-long camps have themes like Ocean Explorers, Animal Planet, Nature Play Wonders, Turtles, Fishy Adventures and more. Single-day camps for ages 6 to 8 focus on things like reptiles, fish, fishing, dinosaurs, sharks and more.
North Carolina Aquarium on Roanoke Island, 374 Airport Road, Manteo, (252) 475-2300, ncaquariums.com/roanoke-island
To stay on top of everything happening on the Outer Banks, including more kids camps as they become available, check our Daytime and Nightlife pages.