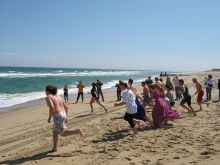 On Saturday, about 100 Outer Bankers will run into the 40-something-degree ocean waters in Nags Head. It sounds like a publicity stunt, but it's actually a fundraiser for a good cause.
The Outer Banks Penguin Plunge raises money for the Outer Banks Family YMCA's We Build People campaign. That's all good, except that most people on the Outer Banks don't know what that means.
The thing about the YMCA is that they have an Open Doors policy, which means that they don't turn anyone away. A lot of people on the Outer Banks can afford a YMCA membership, but a lot of people cannot. The YMCA's Open Doors policy means that they make generous accommodations for people who want to come but can't pay for a full membership or programs. The YMCA helps them with family memberships, summer camp, swim lessons, youth sports and senior memberships.
This means that any Outer Banks child can get swimming lessons when they need them. It means that a senior citizen can take fitness classes and make friends at the same time. It means that a stressed-out single mother can take a yoga class or spinning class when she needs to unwind. It means that a parent can go to work in the summertime knowing that their kids are having a great time with their friends on field trips and in the pool at the Y.
Of the 4,000 members of the Outer Banks Family YMCA, about 1,200 of them are there through the Open Doors policy. Last year, the Outer Banks Family YMCA raised $62,000 for its Open Doors programs. But, they actually gave out way more than that - $290,000 worth of YMCA services to Outer Banks residents. The Open Doors policy is funded by the We Build People campaign, and the Penguin Plunge is the kickoff event for the year-long campaign.
On Saturday, the Penguin Plungers will raise money through entry fees and sponsorships. Entry fee is $25 for adults and $10 for kids, and it includes a T-shirt and lunch from Outback Steakhouse. But you can also get sponsorships to raise more money. All ages do the plunge, from kids (who probably don't feel the cold anyway) to seniors, and there are contests and prizes in all sorts of categories.
This year, the mayors of Nags Head and Kill Devil Hills are challenging each other to see who can raise the most money. You can support your town's mayor through an online donation. The more money they raise, the farther in the ocean they have to dip.
"By the way, all money raised here on the Outer Banks stays on the Outer Banks," says Laura Kirby, membership director of the Outer Banks Family YMCA. "We want you to know that when you decide to support us, you are supporting your neighbor or friend here in the Outer Banks."
Even if you're not jumping in, it's still worth it to sponsor someone, or to just go out and give encouragement. The whole scene is fun, with live music and door prizes.
Unfortunately for the Plungers, the weather, which is going to climb up to the 60s this week, is going to drop back down to the low 50s by Saturday. Oh well. This is a fun event for a good cause, and that's how Outer Bankers roll: Always doing whatever it takes to support each other...
If you don't want to jump in the ocean, don't worry, there is other stuff to do this weekend...
The Currituck County Business Expo and Job Fair is Saturday at Currituck County High School. It's a chance for local businesses to show off what they do and for local residents to learn about local businesses and employment opportunities. It's from 10 a.m. to 5 p.m.
The Outer Banks Parenting Expo is on Saturday from 10 a.m. to 3 p.m. at the Outer Banks Family YMCA. Parents can get materials and resources regarding adult and child health and wellness, financial aid and estate planning, social and educational programs and more. Car seat checks will be offered by the Nags Head Police Department in the parking lot...
Elizabeth R and Company, creators of such plays as Elizabeth R and Bloody Mary and the Virgin Queen, are having their 20th Anniversary Fund-Raiser on Saturday night at Pamlico Jack's in Nags Head. It's a Razzle Dazzle Roaring Twenties Style Celebration with a seven-course dinner, live music, comedy and song provided by locals Chris Chappell, Barbara Hird, Marsha Warren, Roy Murray, Laura Martier, Bill Rea, Tshombe Selby and more. This crowd is known for throwing a good party; don't miss it...
If you like your live music raunchy and a little redneck, David Allen Coe is performing at Kelly's on Friday night. He'll perform early, at 9:30 p.m., with an opening act at 8 p.m. * On the other end of the nightlife spectrum, Dare County Center is having its 50 and Footloose Social for the 50 and up crowd on Friday. Live music and refreshments and dancing will make this a good time for a good price (just $8)...
Keep looking around our site for fun stuff to do. The By Night and By Day sections are full of fun events. Scroll ahead in the calendar and you can see what's coming up that you don't want to miss...
Speaking of upcoming events, it's time to register for a bunch of stuff. The Children at Play Mardi Gras Gala is set for Saturday, March 5. Outer Banks Taste of the Beach is coming up in three weeks and events are selling out! The Flying Pirate Half Marathon is two months away (we're giving away a free entry next week on our Facebook Giveaway page so be sure to enter to win!) The Kelly's Leprechaun 8K is set for Saturday, March 16, so go ahead and register for that...
Are you following our weekly Facebook Giveaway?

This week you have a chance to win tickets for two taste of the beach events.
More details below:
Friday, March 16 and Saturday, March 17
TWO SESSION TIMES: 5:00-7:00pm or 7:00-9:00pm
$55 per person
Back by popular demand! Come and explore the talents of Historic Downtown Manteo's best restaurants while they prepare all local NC Seafood. Enjoy a plate of tapas and a beverage (beer or wine) at each location. Ortega'z features Southwest cuisine and wine bar, The Full Moon Cafe & Brewery's menu is eclectic, delicious, incredibly fresh, and never boring. Their new on premise microbrewery features specialty beers by Brewmaster Paul. At 1587 at the Tranquil House Inn, you'll find world-class chefs who blend the freshest of ingredients, including herbs grown from the Inn's own gardens, today's Atlantic seafood, meats and fowl plus vegetables from the Outer Banks' finest growers.
They are all in walking distance of each other. Crawl in any order you like.
Ortega'z - 201 Sir Walter Raleigh St - Website
Full Moon Cafe & Brewery - 208 Queen Elizabeth St. - Website
1587 - 405 Queen Elizabeth St. - Website
Tickets are limited. To order tickets in advance.
To order tickets CLICK HERE.
Outer Banks Restaurant Tours - The Wine Tour
Sunday, March 18 TIME: 12:30pm-4:30pm $50 per person
Outer Banks Restaurant Tours does the driving; you relax and enjoy! On this tour, we will meet you in Kitty Hawk and transport you to two boutique wine shops, Sweet Ts and The Wine Specialist, and then to Snactuary Vineyards, home of luscious NC wines. At each stop you will enjoy wine tastings and finger foods, including NC artisan cheeses and fresh breads. There will be a brief guided tour of the winery at Sanctuary Vineyards. What better way to spend an afternoon? Tastings fees are included. 21+ over please.
Outer Banks Restaurant Tours - Website
This tour meets at the parking lot of
Gateway Bank in Kitty Hawk
2808 N. Croatan Hwy., Kitty Hawk, NC 27949
Call - 252-722-2229 for information. Limited to 18 people.
To order tickets CLICK HERE
Last Week's Winner
Congratulations to Danielle Keeton!!!
You won a free Dune Hang Gliding Lesson from Kitty Hawk Kites.
Thank you everyone who registered to Win a hang gliding lesson for one from Kitty Hawk Kites. Remember to check out out their Facebook Page & Website.