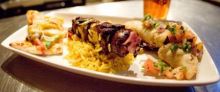 I'm home from college on spring break, and one of my priorities is my personal taste of the beach — getting my fill at the local eateries I miss most when I'm at school. But now you, too, can try the real deal – the annual Taste of the Beach begins this week and, man, just writing about it has my mouth watering. It's easy to have favorite restaurants that you never branch out from, but sometimes that means limiting your dining options. Taste of the Beach is your opportunity to check out all the restaurants that have always piqued your interest but you've never visited. At a larger scale, Taste of the Beach is your chance to discover the amazing food and drinks that enhance the Outer Banks and help shape the region's unbeatable character. This week's blog is broken down into the different ways you can experience a Taste of the Beach and a selection of the events they will include.
Tapas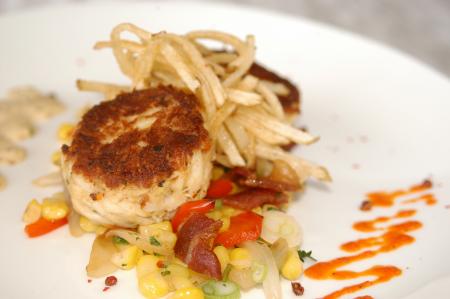 What better way to start a foodie event than with starters? This year's Taste of the Beach features tapas crawls in Outer Banks towns and also chefs' experimentations with starters and apps. This Friday you can join the Downtown Manteo Tapas Crawl to explore a few of the restaurants that pair delicious eats with beautiful views of the waterfront. Sample fresh seafood and locally sourced ingredients, like crab dip canapes and blackened sea scallops with a chimichurri glaze, as you work your way from the Lost Colony Brewery & Cafe to the Avenue Grille before finishing at Ortegaz Southwest Grille and Wine Bar. Starting times include 6 and 7:30 p.m. Or get a taste of the beach's Guy Fieri-approved restaurants on the Triple D ("Diners, Drive-ins, Dives") Happy Hour Tour. Climb aboard a bus at the Ramada Plaza Hotel and get whisked away to sample fish tacos at Ortegaz in Manteo, masterfully crafted cocktails at the Blue Water Grill at Pirate's Cove and finish it off with Wanchese Fisherman's Risotto at Kitty Hawk's Black Pelican. This event will be offered from 1 to 4 p.m. on Thursday, Friday and Saturday, so you can order tickets for whenever works best for you.
Wining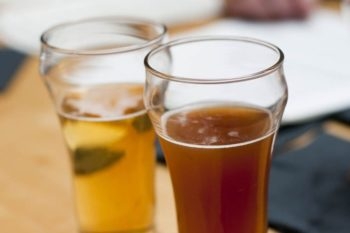 There's still a bit of time before you move on to the heavier courses, so you have ample opportunity to find the perfect beverage to accompany your meals. Why not try the Outer Banks' very own winery, Sanctuary Vineyards, in Currituck? One of their events for Taste of the Beach is an intimate barrel room wine tasting. This five-course dinner is prepared by chef Clint Betts, and Certified Sommelier John Wright will be pairing each dish with a selection of local and international wines. It's a sophisticated way to experience a world of flavors. Come early to the tasting lounge, where there will be drinks and appetizers and an all-access barrel tasting of future wines. This event is on Friday from 5 to 8 p.m. Or maybe a beer tasting is more your style, and thanks to the Outer Banks Brewing Station, you're in luck. Join them in their collaboration with Outer Banks Distilling's Rum Boys for the Brew Devil Rum Tapas Dinner. Each farm-to-fork dish in the six-course meal, from an IPA beer and cheese soup to a rum pecan tart, is paired with a beer or rum crafted right here on the Outer Banks. The bonus palette cleansers following every few courses just sweeten the deal. This event is on Thursday night from 6 to 8 p.m. Take note that all of Taste of the Beach's alcohol-oriented events are for attendees ages 21 and older.
Dining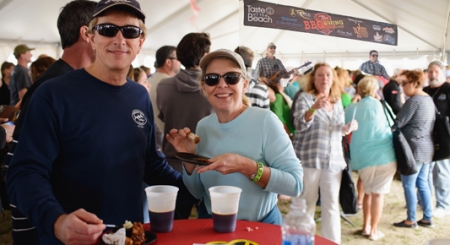 Or maybe you're here for the food, the whole food and nothing but the food, and you'll find countless events at Taste of the Beach to fit the bill. When you're tasting the beach, you may find yourself searching for the best something that the Outer Banks has to offer. Find events where that something is put to the test. You can observe and help judge as 15 local restaurants battle it out to claim the Best Barbecue on the Outer Banks at the Barbecue and Wings Showdown. As you balance juicy fall-off-the-bone ribs in one hand and lick your fingers clean on the other of tangy hot sauce from the wings, contemplate which eatery you'll vote for. This event has no seating, and you're encouraged to bring a picnic blanket or beach chair to sit on while you eat and enjoy the live music. This event will be held at the Soundside Event Site on Friday from 12 to 3 p.m. What about who dominates in the Outer Banks classic, Hatteras-Style clam chowder? The annual OBX Chowder Cookoff held at Coastal Provisions in Southern Shores invites the area's best restaurants to vie for the best Hatteras-style clam chowder bragging rights. If you need a break from chowder-tasting, additional tastings and oyster bar offerings will also be available. 
---
If these activities have you craving more, be sure to visit the Taste of the Beach website to learn about everything that's happening for this beach-wide event. Whether you want to eat, drink, cook or socialize (yes, that's definitely a key player too), Taste of the Beach has a treat for you. Their website is also where you can purchase your tickets for each event. And for other happenings this week on the Outer Banks, be sure to check out our Daytime Events listing and Nightlife listing for the rundown.