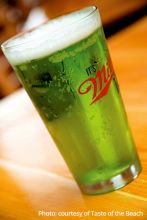 There's certainly no reason to be bored this week. As I reported here last Wednesday, Taste of the Beach, the Outer Banks' very own epicurean dream event, has all the pots boiling from the moment it kicks off on Thursday morning and doesn't clear the stove until Sunday evening. Admission to specific events may still be possible and you can find a complete list of events still available on the event website.
And then...
It's St. Patrick's Weekend, Too!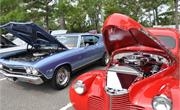 Auto enthusiasts of all kinds will want to take in the 7th Annual Shamrock Car Show & Poker Run beginning Thursday, March 13 and running through Sunday, March 14 from 11 a.m. to 4 p.m. each day at First Flight High School in Kill Devil Hills. The show of classic and restored cars features more than 200 vehicle of all makes, model and eras. In addition to the car show additional events include a poker run, assorted games and displays of bikes, trucks and motorcycles. See the First Flight Cruisers website for complete details.
The Kelly's 6th Annual Running of the Leprechauns 10K starts and finishes at Kelly's Restaurant on Saturday, March 15 from 8 to 11 a.m. Whether you run or just support those who run, make sure you join the after party for Irish stew, Irish soda bread, sweet potato biscuits, sugar cookies and beer. The after party is free for runners with a $10 fee for non-runners.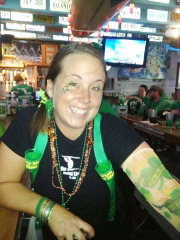 Who would have guessed that the largest St. Patrick's Day parade in North Carolina would take place along a one-mile stretch of our very own Beach Road. Rain or shine, on Sunday, March 16 as many as 1,500 participants and 10,000 spectators make this section of Hwy. 12 the greenest mile in the entire Tarheel state for the 17th Annual St. Patrick's Day Parade! Beginning at 1 p.m. at Bladen St. at MP 11.5 and continuing to MP 10.5 (meaning, it travels north) at Driftwood Street, spectators have a full mile in which to enjoy floats, live music, marching bands and more! After the parade join the post-parade party at Kelly's before continuing the day's Irish theme with a dinner of corned beef and cabbage complete with Irish trimmings and beverages. Come get your Irish on!
Animal lovers can celebrate St. Patrick's Day by combining participation in the parade with the Coastal Humane Society's 17th Annual Walk-A-Thon. Since 1997, the Coastal Humane Society has helped more than 6000 animals, owners and caregivers. Visit the Society website or their Facebook page to register for the walk.
Outer Banks Nature Programs, A Booksigning and Science For Kids
The Outer Banks Center for Wildlife Education in Corolla has a couple of interesting free events scheduled for the week. The first, Talking Turkey, takes place Wednesday, March 12 from 3 to 4 p.m. and focuses on the American wild turkey, famous for its contributions to generations of Thanksgiving dinners. But did you know that Benjamin Franklin suggested the ubiquitous wild bird as our national symbol? Learn more turkey facts and make a tube-style turkey call to take home. The second activity, Family Fishing, held Saturday, March 15 from 10 to 11:30 p.m., introduces families to the basics of fishing, including how to cast, catch fish and identify and safely release the fish right from the center's docks. Bait and fishing poles will be provided. To make reservations for either event, book online or call (252) 453-0221 ext. 1.
Science Thursdays resume at Children at Play Museum in Kitty Hawk beginning this Thursday, March 13 from 4 to 5 p.m. With paid general admission the museum provides hands-on science lessons that allow children aged 18 months and older to explore the wonders of science by experimenting using their five senses.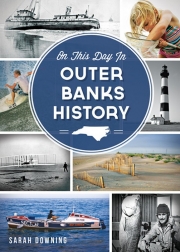 Author Sarah Downing has lived on the Outer Banks for 30 years and currently serves as assistant curator with the Outer Banks History Center. She will appear at Ducks Cottage Downtown Books in Manteo on Saturday, March 15 from 1 to 3 p.m. for a booksigning of her new title, On This Day in Outer Banks History. This is Downing's fourth book and in it she has paired each day of the calendar with a noteworthy Outer Banks' event. For instance, what happened on April 14, 1912? The Titanic's SOS call was heard at the Hatteras weather station. May 18, 1894? President Grover Cleveland caught a bluefish on the beach at Cape Hatteras when he came ashore for lunch during a 12-day fishing and hunting excursion. Check it out - Downing's books always make great, affordable gifts for Outer Banks lovers and history fans alike.
Down at Jockey's Ridge in Nags Head the friends of Jockey's Ridge offer a series of short and free educational programs this week. First is Seashell Show 'n' Tell on Saturday, March 15 from 2 to 2:30 p.m. Learn all about the shells of our local coasts and the animals that live in them. Participants are welcome to bring in their own shells for identification or just to display. The Owls of the Park program, held Monday, March 17 from 2 to 2:30 p.m., is an opportunity to discover the three owl species that call the park home while learning to identify their unique characteristics and calls. On Thursday, March 20 from 2 to 2:30 p.m. All About the Ridge is a ranger-led discussion on the history of Jockey's Ridge and the interesting characteristics of the great dune. Each program will be held in the auditorium, runs approximately 30 minutes and is appropriate for all ages.
Piano Concert at Whalehead
On Sunday, March 16 pianist Dr. Rachel Gragson will give two performances on the beautiful Steinway in the Library of the Whalehead mansion, the first at 1:30 p.m. and the second at 5 p.m. Gragson holds a number of music degrees and was a professor of music at Elizabeth City State University and where she was a member of Honors Faculty. She was also a recipient of the University of North Carolina Board of Governors Excellence in Teaching Award and now holds the rank of Professor of Music Emeritus. Each performance will be approximately 1½ hours with an intermission. Seating is very limited in the Library so purchase your tickets soon. Tickets are $20 for the 1:30 p.m. show, $25 for the 5 p.m. show. Refreshments will be available on the front porch during each intermission.
Wedding Showcase
The Sanderling Inn Resort & Spa in Duck is hosting the 2014 Wedding Showcase Saturday, March 15 from 11 a.m. to 4 p.m. You'll get to sample great foods from a variety of caterers, including The Good Life Gourmet, The Red Sky Cafe, Ocean Boulevard and The Black Pelican.
Wedding cake samples will be provided by Just Desserts and Great Cakes! of the Outer Banks and others. You'll also find other Outer Banks wedding professionals exhibiting their wares and services, including photographers and videographers, hair salons and spas, ceremony and reception venues, florists, wedding planners, officiants and DJs - everything you'll need to put together a complete destination wedding package for the Outer Banks!
Other Happenings
Enjoy wine and cheese as you create a one-of-a-kind take home summer container garden with Carl Curnutte and friends at Cheese It Up this Saturday from 12 to 2 p.m. Create a uniquely perfect planter - sure to be the conversation of any party -- and also discover the art of matching cheese with wine. Admission is $45/Members/Friends of The Gardens and $55/non-Members. Pre-registration is required, and participants must be 21 or older. For more information call (252) 473-3234 or visit The Gardens' website.
If you're a foodie, you're always looking for opportunities to expand your culinary repertoire. And, I can tell you from personal experience, one of the best opportunities locally is provided by the North Carolina Aquarium on Roanoke Island's Seafood Series. On Thursday, March 20 from 12 p.m. to 2 p.m. a chef from the Black Pelican in Kitty Hawk will be on board at the Aquarium to lead a cooking workshop emphasizing local Outer Banks seafood. Participants will receive biological information about the ingredients used, a copy of each recipe and a savory sample of each dish prepared. The price for the two-hour class is $23/person; $18/NC Aquarium Members. Pre-registration is required, and the program is intended for participants aged 12 and older.

This week you have a chance to win a $35 gift certificate to Kinnakeet Clay Works & a $35 gift certificate to Gidget's Pizza & Pasta!
For more information about Kinnakeet Clay Works, check out their website.
For more information about Gidget's Pizza & Pasta check out their website.
Last Week's Winner
Congratulations to Katie Jenkins!!!
You won two tickets to Bob's Wild Horse Tours & a $35 gift certificate Salt Water Grill!
For more information about Bob's Wild Horse Tours, check out their website.
For more information about Salt Water Grill check out their website.