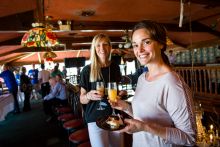 At one month out, the countdown to one of biggest Outer Banks annual events is officially on! Taste of the Beach events and tickets went live online as early as December 1, but if we're being honest, some of us have been salivating in anticipation since last year's event ended. For those of you who are new to the area or just live under a rock, Taste of the Beach, organized by the Outer Banks Restaurant Association, is a four-day event that happens every March. More than 20 Outer Banks eateries whip out their creme de la creme for a long weekend of food and fun. Join local and visiting foodies from March 22 to 25 to celebrate all facets of food and drink, including the sourcing, the preparation and, finally, the eating.
As you already know, Outer Banks restaurants range from upscale eateries to diners, sports bars to cocktail crafters and breakfast/lunch/dinner/dessert specialists. There's room for all of them and more to showcase their talents at Taste of the Beach. With so many participants in this Outer Banks annual event, it's the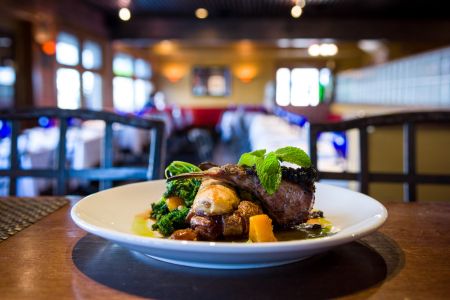 ideal way to sample those restaurants you've always wanted to try in addition to still supporting your favorites.
Maybe you're looking to gussy up for an intimate dinner prepared by one of the area's preeminent chefs or socialize with the larger community at an outdoor farm to table gathering. From tapas crawls to boozy brunches and wine and cheese samplings to four-course dinners, Taste of the Beach offers something to please every palate.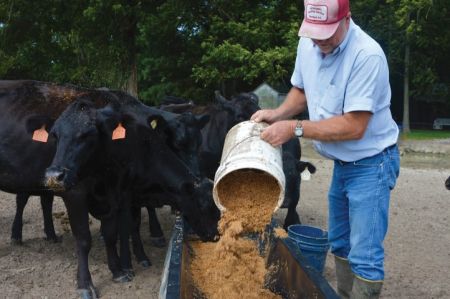 One of my favorite things about Outer Banks restaurants is how their menus and dishes embrace the area. For instance, chefs dazzle eyes and mouths with beautiful arrangements of farm to table meats and vegetables or they pull on protective gloves to shuck oysters straight from the steamer and onto your plate. This is what Taste of the Beach is all about – exploring the region's food and drink and the traditions associated with it.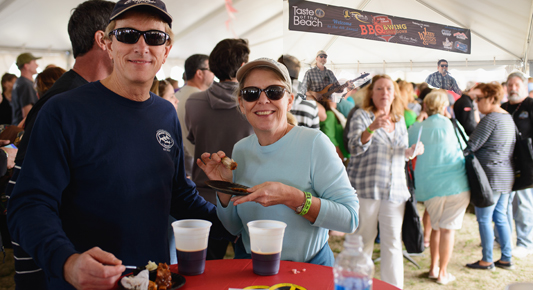 For example, it doesn't get much more northeastern North Carolina than some classic pulled pork barbecue. Check out the Outer Banks BBQ & Wings Showdown, which lets you try the products of about 15 Outer Banks restaurants, all competing for the title of the Best Outer Banks Barbecue. Just one ticket opens the doors to a carnivore's cornucopia, and you'll eat all the spicy wings, fall-off-the-bone ribs and sweet and tangy barbecue your heart desires. A beer garden of North Carolina craft brews will also be available to quench your thirst. This event will be held on Friday, March 23 at The Pointe Golf Club in Powells Point.
Taste of the Beach activities and programs take various shapes and forms. They celebrate not only food, but also the sorts of amazing experiences that can and should accompany enjoying good food. Let your mind and body unwind by sipping on craft cocktails and receiving a relaxing massage. Or see how the balance in yoga changes when you throw a glass of beer or glass of champagne into the equation. Take classes then impress your friends with your own handmade pupusas or expertise for pairing wine with chocolate.
The culminating event of the weekend is the Outer Banks Visitors Bureau Chefs Grand Tasting and Bartenders Bubbly Bash on Sunday afternoon from 12:30 to 3 p.m. Fifteen restaurants and beverage vendors present tasty offerings at the Hilton Garden Inn in Kitty Hawk, and ticket holders get to sample it all and vote for the best of the best. Tickets for this event are limited to 300 and definitely sell out quickly!
A month seems like ages away, but tickets for these events are going fast. In fact, some events have already sold out! If you want your own Taste of the Beach, check out the event's webpage for a listing of all the events and participating restaurants. You'll find the option to go ahead and purchase your tickets for any that catch your eye, and I recommend doing so.
Many Taste of the Beach participants are out-of-town visitors who come with friends and make a vacation out of attending several events over the course of the weekend. If that sounds fun to you, it's time to start thinking about accommodations too. Look for steals and deals at our Accommodation Offers and Rental Deals and Offers pages.
---
In the meantime you can learn more about the immediate happenings on the Outer Banks by checking out our Daytime Events listings for the events and programs occurring on a day to day basis. And if you want a little after-hours activity, our Nightlife listings offer a guide to restaurant events that foodies can go ahead and try in addition to live music, trivia nights and more.
Photos: Taste of the Beach