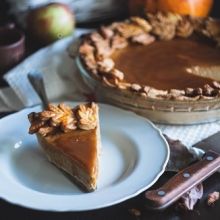 Thanksgiving 2020 may be different in terms of the number of people in your gathering, but no matter how many people you're with, eating well is still a priority. With smaller groups or maybe even facing the holiday alone, think of the bright side: bigger portions. Maybe this is the year you can finally fulfill your fantasy of eating a whole pie by yourself in one sitting. Or is that just me? I'll take the coconut, please.
If you're going to be on the Outer Banks this Thanksgiving, there's no doubt you'll eat well. Numerous restaurants are offering Thanksgiving feasts for dine-in or take-out. If you want to supplement your own cooking, some restaurants are offering take-out entrees, sides and desserts. With hundreds of restaurants from Corolla to Ocracoke, these are surely not the only ones that are offering Thanksgiving options. Check with your favorite restaurant to inquire about their plans. Here on the Outer Banks, we like to incorporate seafood into the Thanksgiving menu, so expect to find oysters, crab, shrimp and fish alongside the turkey and sweet potatoes.
Red Sky Café in Duck is hosting an in-house Thanksgiving Bounty dinner. Drinks, entrees (including Chef Wes's Famous Shrimp and Grits), sides and desserts will be served tableside. Hours are 11 a.m. to 3 p.m., cost is $35 for adults and $16 for children 12 and younger. Reservations are highly recommended; call (252) 619-2867.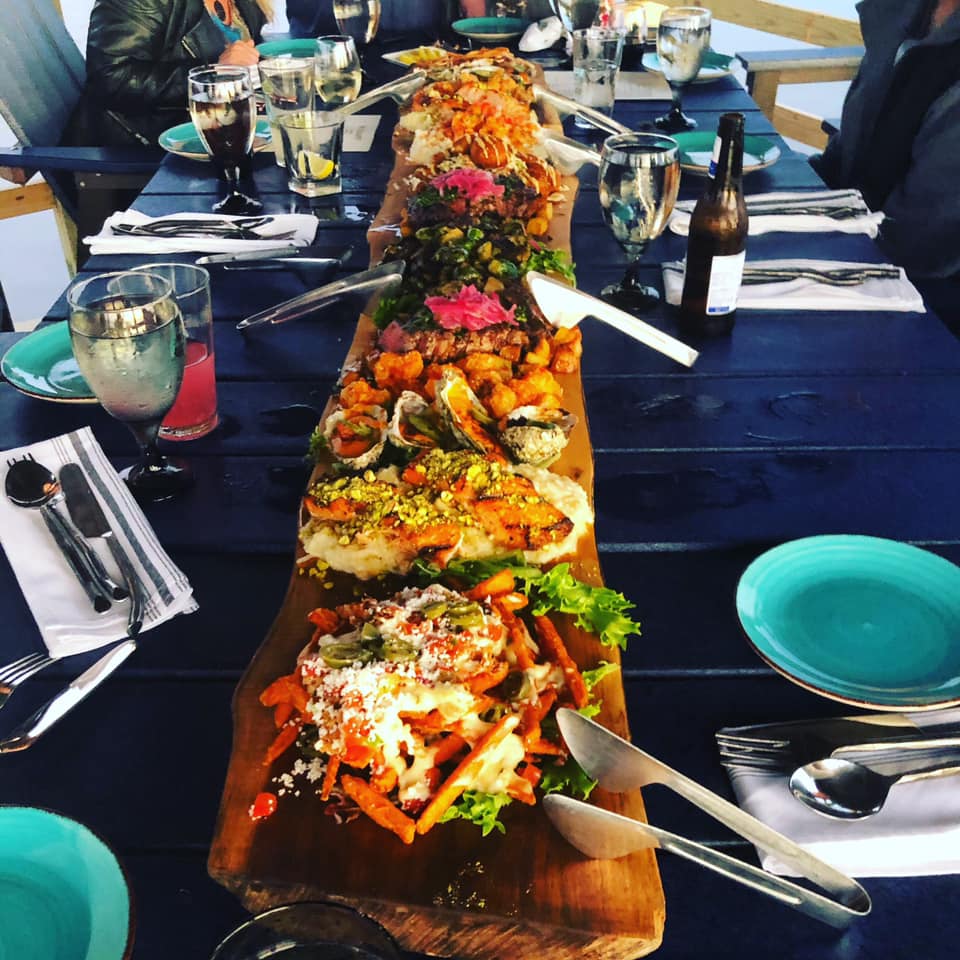 NC Coast Grill & Bar will be serving Thanksgiving dinner on their signature wooden chef's boards.
NC Coast Grill & Bar on the waterfront in Duck is serving a combination of traditional Thanksgiving cuisine and cutting-edge coastal cuisine on their signature rustic wooden chef's boards. After a soup or salad starter and main event board, dessert will be a tapas-style board with traditional favorites and NC Coast's handmade beignets. This unique meal will be available from 3:30 to 8 p.m. Cost is $50 for adults and $15 for children 12 and younger. Reservations are recommended; call (843) 291-1146. 
Ocean Boulevard in Kitty Hawk is once again offering its popular Thanksgiving Four-Course Meal. Choose a starter, salad or soup, an entrée and dessert from their selection of creative, chef-prepared dishes. To give you an idea: They'll have turkey, but it will be crispy and panko-encrusted with mashed sweet potatoes, roasted fall vegetables, sweet onions, rich herbed poultry reduction and cranberry relish. This meal will be served from 3 to 8 p.m., and the cost is $65 for adults and $20 (three courses) for children younger than 12. Call (252) 261-2546 to make a reservation. 
TRiO Restaurant & Market in Kitty Hawk is not serving a Thanksgiving meal, but they can help you out with yours. Their chef, Suzanne Loving, is baking Thanksgiving pies by pre-order only. Each pie is $30. Choose from Classic Pumpkin, Coffee Chess, Red Velvet Chess, Salted Maple Walnut, The Great Pumpkin, Coconut Custard, Cranberry Orange Pecan and Apple Cranberry. Loving ran her own pie-centric restaurant in Nashville for years, and her pies are kind of famous. Pre-order by Friday, November 20 by email: chef@obxtrio.com. 
Mulligan's Grille in Nags Head is offering its Thanksgiving Better Than a Buffet Dinner starting at 11 a.m. You can dine in or order family-style carry-out meals. A family-style to-go meal for $70 includes all the traditional favorites, and you can choose from options like baked rockfish, lump crab bisque and hushpuppies for an extra cost. Dine-in plates cost $21 for the traditional meal with an extra charge for other options. Make reservations up to 48 hours in advance by calling (252) 480-2000. 
Owens' Restaurant in Nags Head is hosting its annual Thanksgiving meal, but it won't be a buffet this year. Instead, they'll serve all their traditional and Southern coastal favorites a la carte. They also have a Curbside Family Take-Out Family Meal option for 4. Take-out orders are available from 12 to 8 p.m. and must be pre-ordered by Wednesday, November 25 at 12 p.m. Reservations are required for dining in. Call (252) 441-7309. 
Basnight's Lone Cedar Café in Nags Head welcomes large and small parties for its Thanksgiving Feast, and both reservations and walk-ins are accepted. They're offering a buffet menu with all the traditional favorites and their own popular additions. Cost is $38.95 for adults and $19.95 for children younger than 12. It's free for kids younger than 5. Hours are 10:30 a.m. to 7 p.m. Call (252) 441-5405 for reservations.
In Manteo, Avenue Waterfront Grille is hosting its second annual Thanksgiving Community Dinner. The meal of holiday classics is free, with donations of $30 suggested if you're able. All funds raised will go to the Roanoke Island Food Pantry. Hours of the meal are 12 to 3 p.m. Reservations are requested to help them plan but are not required. Call (252) 473-4800.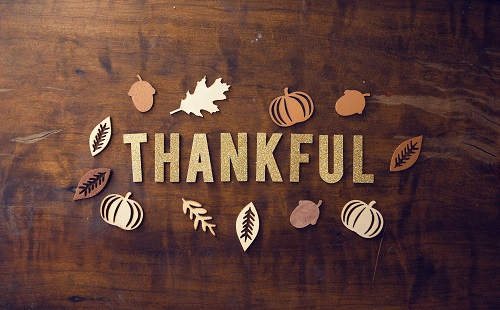 Muffins and Scones in Avon can help you with your Thanksgiving desserts. They're baking pies of all kinds (apple, blueberry, peach, pecan, pumpkin, coconut, chocolate, cherry, Key lime and more) plus cakes, cupcakes and macarons. Pre-order pies at (252) 986-5109, but if you forget to do that in advance, you might be able to grab one the day before or the day of. 
Froggy Dog in Avon is offering Thanksgiving dinner with all the trimmings for in-house dining and take-out. Reservations are not required but are requested to help accommodate socially distant seating. For take-out meals (order the entire meal or just a few sides or dishes), you need to pre-order by 9 p.m. on Wednesday, November 25.  The price for in-house dining (an entrée, three sides and dessert) is $28.99 for adults and $14.99 for kids ages 12 and younger. Dine-in hours are 11 a.m. to 7 p.m. Call (252) 995-5550. 
In Buxton Diamond Shoals Restaurants' Thanksgiving Day Dinner will have all the favorites and fixings. Their regular dinner menu will be available as well. To-go orders are welcome. They'll be open from 12 to 7 p.m. Large groups should make a reservation. Call (252) 995-5217 for to-go orders or reservations.
If you're blessed with a full refrigerator and pantry and money in your pockets for a meal out, please consider donating to a local food bank so that everyone can enjoy a delicious meal on Thanksgiving this year. Beach Food Pantry, Roanoke Island Food Pantry, Peace Garden Project, Food For Thought Outer Banks, Food Bank of the Albemarle and Cape Hatteras Food Pantry are a few of the local organizations that can use donations any time of year. Donated money is easier for the organizations to put to good use, but food donations are also welcome. Contact the organization or click on the website for donation information. Local Food Lion and Harris Teeter grocery stores are running food-donation campaigns currently, making it easy to donate while you're out shopping. Also, Jersey Mike's Subs locations in Nags Head, Southern Shores and Grandy are running a campaign on November 21 and 22 in which 20% of all sales go to Feeding America.
For all the things to do on the Outer Banks this upcoming holiday week, visit our Daytime and Nightlife pages.
Thanks to Unsplash for the top and bottom photos.