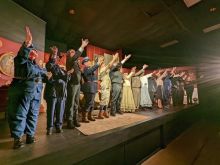 Now in its 32nd season, Theatre of Dare, the Outer Banks' community theater group, is enjoying a welcome bevy of volunteerism and burst of popularity. The group has been going strong since its founding in 1991, staging several productions every year, but now with its own home theater in Kitty Hawk, Theatre of Dare, which has always been an amazing showcase of local talent, is only getting better.
Theatre of Dare was founded in 1990 with the help of Outer Banks Forum and Dare County Arts Council. Their first production, California Suite, was held at the Port O' Call Restaurant in March 1992. With no permanent home, Theatre of Dare had to borrow performance venues, and they've had many over the years, from College of the Albemarle auditorium before it was torn down to The Lost Colony Sound Stage, Dare County Arts Council, Roanoke Island Festival Park and The Elizabethan Gardens. Despite the hardships of staging productions with no fixed location — "theater on the run" is what they called it — the all-volunteer Theatre of Dare has thrived, staging dozens of major plays, musicals and more.
In 2022, almost 30 years to the day after its first production, Theatre of Dare found a permanent home. It's now in Kitty Hawk (in what was formerly Paparazzi OBX) with a real stage, lighting and sound systems and theater seating. The fixed location has drawn new energy and talent, on stage and behind the scenes.
But Theatre of Dare would be nothing without its people – all of them volunteers. Each production can require from 12 to 40 people, says Board President Stuart Parks, depending on the number of actors in the play and the size of the production. Actors, directors, stage managers, art directors, set designers and builders, costumers, choreographers, sound and lighting technicians and more are needed to make a show happen. Meanwhile board members and volunteers handle fundraising, marketing, budgeting, financing and so much more just to keep the theater group running. They do not have any paid staff.
"Everyone is there for the love of the game," Parks says.
More volunteers are always welcome, and anyone is invited to audition for upcoming shows.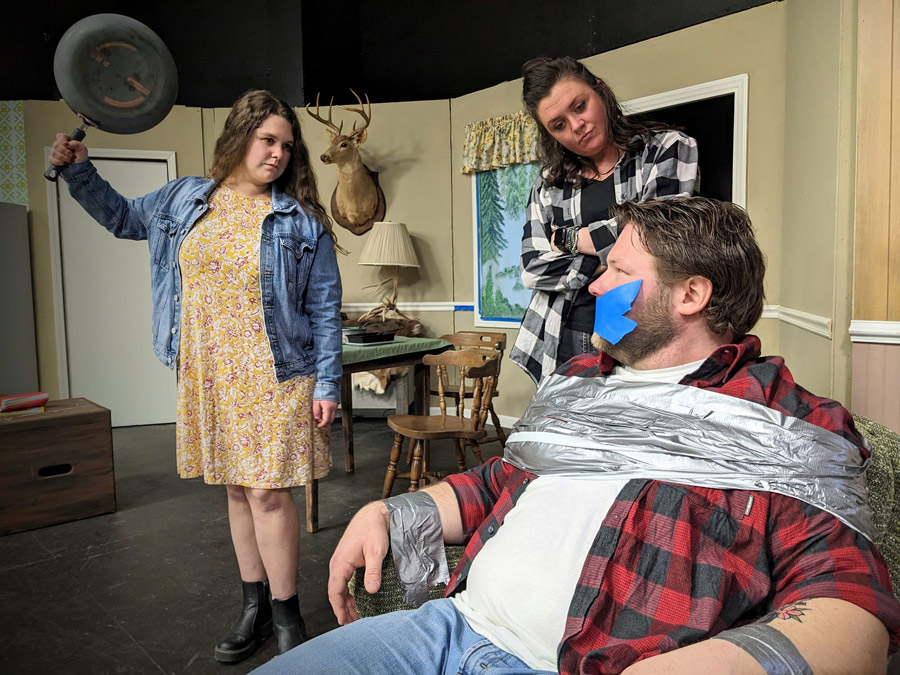 A scene from Theatre of Dare's current production, Exit, Pursued By A Bear starring Emily Gomez, Tyler Hudson, Brandy Hayes and Evan Tillett (not pictured).
Exit, Pursued By A Bear
January 26-29
Theatre of Dare is currently staging Exit, Pursued By A Bear, a play that explores domestic violence in way that is at once lighthearted, thought-provoking and respectful.
"It's about a woman getting away from her abuser, and the elaborate she has way of doing so," Parks says. "It gets into their history."
Described as a "smart, thoughtful revenge comedy," the play, written by Lauren Gunderson and directed by Tim Hass, focuses on Nan Carter (played by Emily Gomez) and her abusive husband Kyle (Tyler Hudson). Nan has decided to teach Kyle a lesson. With her friend Simon (Evan Tillett) acting as her emotional cheerleader and her friend Sweetheart (Brandy Hayes), she tapes Kyle to a chair and forces him to watch as they reenact scenes from their painful past. In the piece de resistance, they plan to cover the room in meat and honey so Kyle will be mauled by a bear. "Through this night of emotional trials and ridiculous theatrics, Nan and Kyle are both freed from their past," is how the Theatre of Dare describes it. The show opened on the weekend of January 20 to fantastic reviews.
The second weekend of the show runs Thursday through Saturday, January 26, 27 and 28 at 7:30 p.m. and on Sunday, January 29 at 2 p.m.
Special Benefit Performance for Outer Banks Hotline
Thursday, January 26
The performance on Thursday, January 26 at 7:30 p.m. is special performance in partnership with Outer Banks Hotline, Inc. to support their mission of helping those in domestic violence situations. All ticket sales from this performance will be donated to Outer Banks Hotline!
Word is out about this show, and tickets are selling fast. Get your tickets now, before they sell out.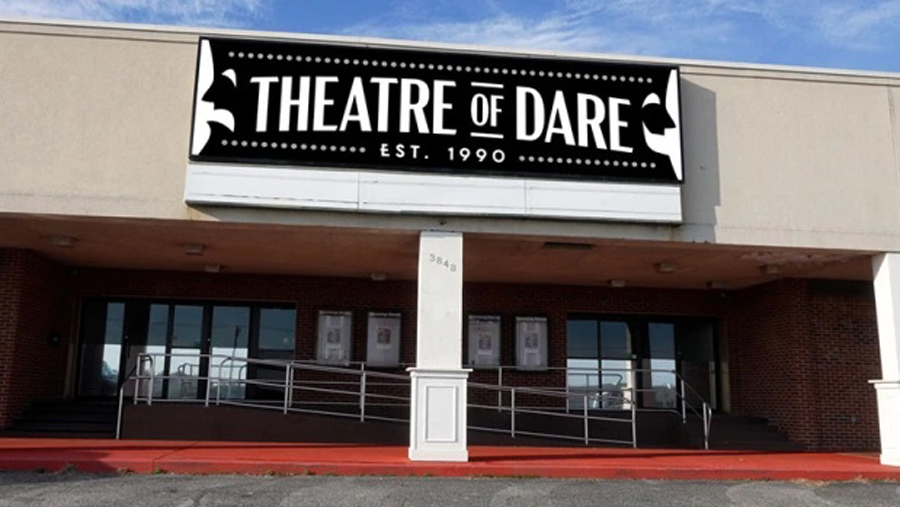 The new permanent home of Theatre of Dare in Kitty Hawk.
Coming Up
Coming up at Theatre of Dare are comedy production, a recurring summer show and two special performances.
Auditions for two shows are being held in February, and volunteers are welcome for the many aspects of staging these productions.
Hamlet
Thursday, February 2 
Dare County Arts Council and Theatre of Dare present a Mended Wing Theatre Company production of Shakespeare's Hamlet. Mended Wing was founded on the belief that Shakespeare is for everyone and they strive to make it understandable, thrilling, fun and accessible. This will run for one night only at 7 p.m. Tickets are only $10. 
Have a Heart for Dementia Care
Sunday, February 12
This fundraiser for Gentle Expert Memory Care and Theatre of Dare will present music by The Riff Tides and a staged reading of the one-act play Do You Remember Me? written by Stuart Parks. It's a true story of a character's progression before, during and after his diagnosis of dementia. The event will take place from 2 to 5 p.m., tickets cost $20 and drinks and snacks will be available.
The Trail to Oregon OBX
June 1 to September 8
This show produced by Rayolight Productions will run at Theatre of Dare this summer, from June 1 to September 8. It's a musical parody of the classic video game The Oregon Trail. Over the summer they'll stage 30 performances on 15 Thursdays, one a family-friendly version and one for adults only.
Auditions for paid summer positions are being held on February 3 and 4.
The Wizard of Wonderland
April 28 to May 7
This family-friendly comedy imagines the blurring of two of literary classics – The Wizard of Oz and Alice in Wonderland – and the man who has to unscramble the stories and send the characters to their ultimate destinations while avoiding the Wicked Witch and the Red Queen.
Auditions are being held on February 24 and 25.
If you love theater or you just love being a part of something fun, Theatre of Dare welcomes volunteers; click here for information. They also welcome donations and playbill advertisers.
Most of all, they want people to come to their shows! Their theater is at 3848 N. Croatan Highway in Kitty Hawk, and tickets can be purchased here. Ticket prices are a very reasonable $10 to $15.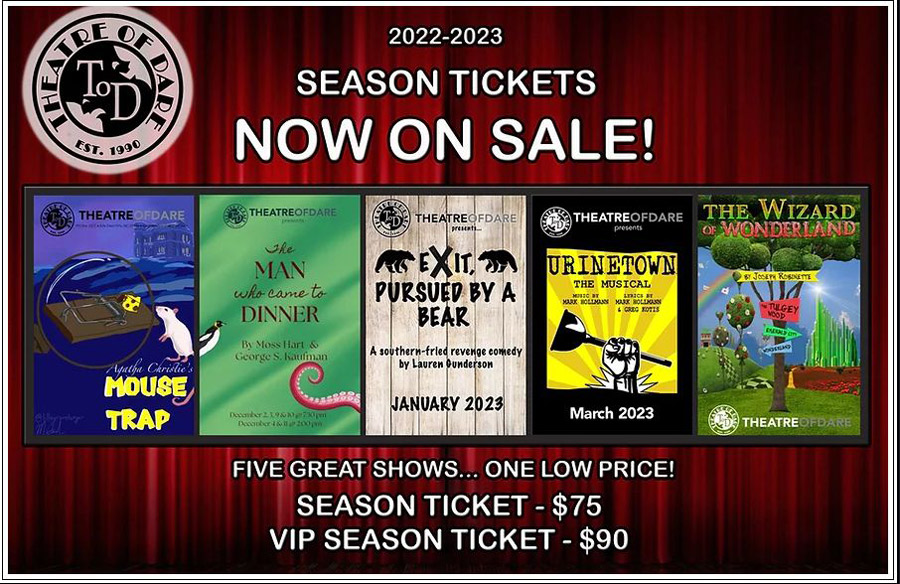 The five shows of the 2022-23 season.
For more information go to theatreofdareobx.com
For all the other fun things to do this week around the Outer Banks, be sure to see our Daytime and Nightlife listings.