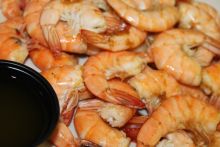 I had dinner with friends from northern Virginia, Maryland and Pennsylvania last week, and they were all going ga-ga over the "North Carolina shrimp." OK, so I don't get to the northern states much, but I guess I'd never thought about the fact that our shrimp was so special to Northerners. But good old Google has just turned up the factoid that North Carolina waters are the northernmost place in the nation to harvest shrimp. I grew up in North Carolina and I have to admit that while I enjoy just about every shrimp I eat (though I've been served some seriously overcooked shrimp in my time), I've taken the good old North Carolina shrimp for granted.
We're in the height of shrimp season here on the Outer Banks, so the shrimp you get right now is going to be the best you'll ever get - unless, of course, you're here for the "greentail" harvest in the fall. At my house, we've been eating our fair share fresh and stocking up the freezer so that we can enjoy the summery taste of the pink critters in the winter too. Thawed shrimp tastes great in January, but it doesn't even compare to the sweetness and tenderness of a just-harvested August shrimp.
As the T-shirt I saw this morning says: DEMAND LOCAL SEAFOOD. Don't even think about eating an imported shrimp when our waters are full of the "bugs" right now. Yep, that's what the old-timers call shrimp. Commercial fishermen used to consider shrimp a nuisance because they would clog up their fishing nets. They'd clear them out of the nets and throw the shrimp back in the water! In the 1920s eating shrimp fell into fashion, and now they're the most popular seafood in America, with the average American eating 4 pounds of shrimp per year. Shrimp is the second most economically important fishery in North Carolina (blue crab is the first), and millions of pounds are brought in every year - and often shipped to the north. But they'll never taste as good as they do right here.
Most of these shrimp were caught with trawl nets in our sounds and rivers. When you see big slow boats with giant extended arms plying the ocean or sound waters, that's a shrimp trawler. Shrimp spawn in the ocean but are carried to marshes and estuaries by tides and currents. In the estuaries the young shrimp are safe and there is plenty of food. They grow very quickly, and when they are almost full grown they swim out of the estuaries into the ocean. The amount of shrimp we have from year to year varies depending on the weather. If we have a very cold winter, then we will have a small shrimp population the following spring; we had a warm winter this time, which explains this year's healthy harvest. If we have lots of rain, then the shrimp will move out into the ocean before they are fully grown, which is what is happening this year.
North Carolina harvests three main types of shrimp: brown, pink and white. Brown is the most abundant - accounting for nearly 70 percent of N.C.'s shrimp harvest. Most brown shrimp are caught in the summer. Pink shrimp, aka spotted shrimp, are harvested in spring and fall, but they're kind of rare here, accounting for only 5 percent of landings. White shrimp, the famously tasty greentails, are harvested primarily in the fall. About 28 percent of N.C. shrimp are greentails.
Buying shrimp in a seafood market can be confusing but not intimidating. Shrimp are sold by count per pound. The shrimp are sorted by size as closely as possible and then sold by size. "Counts" are expressed as a range, so for example, a count of 26/30 means about 26 to 30 shrimp would make up one pound. The smaller the size of the shrimp, the higher the count. Jumbo shrimp have about 8 to 10 shrimp per pound; large is 10/25, medium is 26/40 and small is 41/60. Two pounds of shrimp in their shells will yield 1¼ pounds when they're peeled. How much you need per person depends on the dish. If you're serving steamed shrimp, you probably need at least ¾ pound per person. If you're serving shrimp and grits, obviously you'd need only a few shrimp per person. Don't be shy about engaging your fishmonger in a conversation. Tell them what you going to do with it, and they'll tell you how much you need to buy.
If you want to catch your own shrimp, consider a charter with Grandpa's Shrimp Charters in Manteo. On a four-hour trip, you can catch shrimp and crabs that you get to take home. They pull a small commercial-type shrimp net behind the boat. Passengers sort the catch, keeping all the fish, shrimp and crabs of legal size to take home. It's a fantastic hands-on experience for everyone, especially kids.
Whatever you do, don't overcook shrimp. It's easy to do and it ruins them. If you're boiling or steaming shrimp, the minute they turn pink they're done. Don't wait around, stirring the pot after they've turned pink. Get them out of the water - and remember they're still going to cook a little bit even when you get them out of the pot because they're hot.
Many markets will steam your shrimp for you to take home, but I personally never go this route. By the time you get the hot shrimp home, they're overdone. And how hard is it to boil water? That's all you need to do to cook a good shrimp. Fill a pot with water, add a can of beer, throw in the some other stuff like Old Bay, some garlic, some red pepper flakes and salt. Or just use plain water. When it boils, throw in the shrimp. When they turn pink, strain them in a colander. If you're eating them warm, eat them right away. If you're eating them cold, run cold water over them immediately and sit them in an ice bath. Done. Let people peel their own, if possible. You can devein your shrimp, but you don't have to. If you don't eat them all, make shrimp salad the next day.
There are SO many ways to enjoy shrimp, and the local restaurants are quite creative. Shrimp and grits, coconut shrimp, steamed shrimp, fried shrimp, shrimp scampi and shrimp burgers are staples, but you'll find lots more, from shrimp tacos to shrimp spring rolls to shrimp fritters.
Have you ever tried Shrimp Bisque? It's quite the summer delicacy, yet it's quick to make and always impressive. Here's the recipe from Elizabeth Wiegand's The Outer Banks Cookbook, which is available in local bookstores.
Shrimp Bisque
2 T. butter
½ cup chopped onion
½ cup chopped celery
1 tablespoon minced garlic
3 cups shrimp stock*, chicken stock or water
1 teaspoon Tabasco sauce
1 teaspoon salt
½ teaspoon freshly ground pepper
1 bay leaf
½ pound (2 cups) small shrimp, peeled and deveined, chopped in half
1 cup heavy cream
Sprinkle of paprika or Old Bay seasoning
1. In a large pot, melt butter over medium heat. Add onion and celery and cook for about 5 minutes, or until soft. Add garlic, and stir for 1 minute.
2. Add shrimp stock, Tabasco sauce, salt, pepper, and bay leaf. Bring to a boil, then simmer for about 15 minutes.
3. Raise the heat and allow the mixture to come almost to a boil, then add shrimp. Stir and cook until shrimp are thoroughly cooked, about 3 to 5 minutes.
4. Lower the heat, and stir in the cream. Taste for seasoning and add more salt and pepper if necessary. Continue to cook until thoroughly warm.
5. Remove the bay leaf. Ladle the soup into bowls, and sprinkle with paprika or Old Bay, if desired.
*To make a quick shrimp stock, peel the shrimp and save the shells. Places the shells in a large pot, add 1 or 2 stalks of celery chopped up, about 2 carrots, and a small chopped onion. Cover with water and bring to a boil. Reduce heat and simmer for about 30 minutes. Strain.
So I know you've got more on your mind than eating shrimp this week. How about a little nighttime entertainment? National recording artist Donovan Frankenreiter is playing at Kelly's tonight (Wednesday) and that's going to be a fun show! Opening band at 9:30 p.m., Frankenreiter at 11 p.m. The cover charge includes his latest CD. On Thursday night Kelly's has another big player: The Producers. Haven't heard those guys since 1987, but I loved them then. Get your shaggin' shoes on. The Beach Klub at Koru Village has the famous beach-music band The Embers on Thursday night from 6 to 8 p.m.
Thursday is the LAST night of The Lost Colony! Locals hate to hear that because that means that summer is coming to an end! Catch the show if you can.
On Friday The Elizabethan Gardens is holding a blood drive from noon to 6 p.m. To encourage donors, the Gardens will be giving a Blood Leaf plant to donors while supplies last.
Take the kids to an outdoor movie on Friday night. The Children at Play museum in Kitty Hawk is showing movies on the lawn this month. On Friday you can see A Dolphin Tale at 8 p.m. on the lawn south of Pamlico Jack's in Nags Head. Bring lawn chairs or blankets and a little extra cash for a Zen Pop. The parking fee is $5 per car, but entry is free.
High school sports have started. Support the local teams and have some fun. On Friday, Manteo plays Hatteras at Manteo and First Flight plays at home against Atlantic Shores.
Keep looking around the site. There's so much more to do listed in our By Day and Nightlife sections.
Have fun out there! And please tell us: What's your favorite shrimp recipe? Where is your favorite place to eat shrimp on the Outer Banks? Click on Add Your Voice below. We want to hear from you!

This week you have a chance to win a $25 gift certificate to Atlantic Coast Cafe and a $50 gift certificate to Indian Town Gallery!
For more information about Atlantic Coast Cafe, check out their website.
For more information about Indian Town Gallery, check out their website.
Last Week's Winner
Congratulations to Missi Smith!!!
You won a $30 gift certificate to Kena Activewear and a one week family membership to the Outer Banks Family YMCA!
For more information about Kena Activewear, check out their website.
For more information about Outer Banks Family YMCA, check out their website.