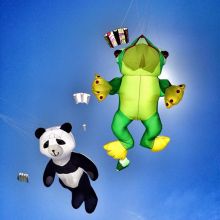 Outer Banks locals know that we're pretty proud of being first in flight. It's thanks to our windy home that we learn about Orville and Wilbur Wright in elementary school. We visit the Wright Brothers Memorial. We emblazon that primitive airplane across our license plates, driver licenses and everything else we can think of. This week's events let you embrace the legacy that sent Kitty Hawk's name soaring, so to speak. Whether you want to let your kite catch the wind or make normally ground-ridden objects airborne, you'll find opportunities for either this weekend. And not every event is wind powered. You can also enjoy swanky galas, Halloween-themed activities and spa specials.
Kitty Hawk Kite's Outer Banks Stunt Kite Competition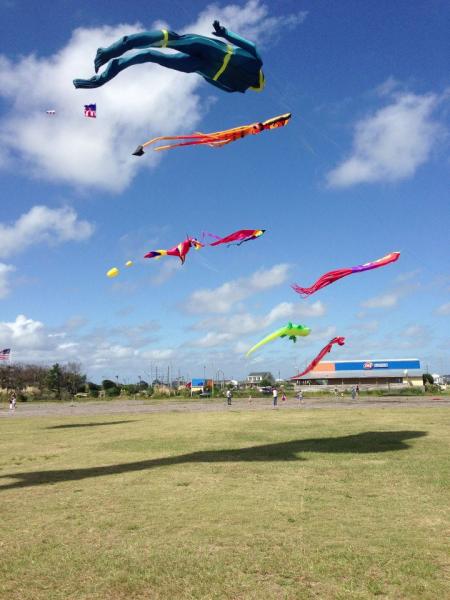 It doesn't get much prettier than seeing a clear azure sky fill with red, green, yellow, orange or pink kites of various designs. This sight to behold is what you'll find in Nags Head this weekend thanks to the Outer Banks Stunt Kite Competition. Members of the nation's top kite fliers bring their talents to the Outer Banks. You're invited to watch them battle it out in categories including Precision, Choreography and Dual Time. Bring your own skills, too, for the stunt and power kite flying lessons offered by the pros themselves. During the competitions you can also enjoy the kite demos and displays that cast their colors across the horizon. The competitions take place on Saturday from 9 a.m. until 12 p.m. and 10 a.m. to 4 p.m. on Sunday, and display kites will be up from 10 a.m. until 4 p.m. on Saturday and Sunday. The event will be held at the Soundside Event Site, and admission is free and open to the public. If you're interested in competing, check out the event's website.
Outer Banks Brewtäg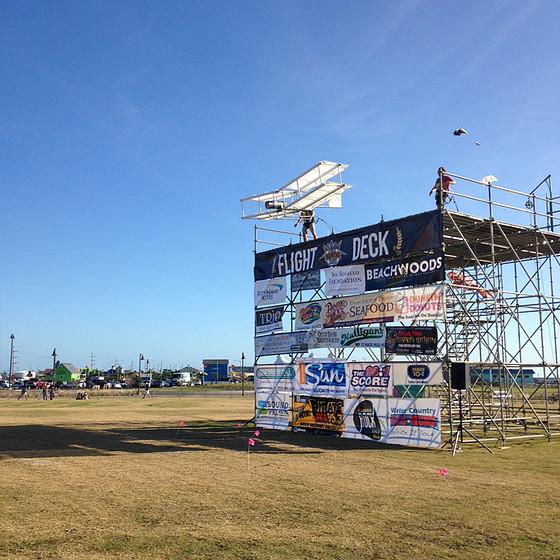 In addition to the kites, you can enjoy another style of flying (sort of!) at the Outer Banks Brewtäg, also happening at the Soundside Event Site this Saturday. As the event's ad declares, "Kegs Will Fly!" How can you not be curious?! Brewtäg is a celebration of beer and flight, especially when combined. Watch the competitors make handcrafted, half-barrel-keg-driven inventions take flight (they hope) in a spot famous for its advances in aviation. There will be live music, camaraderie filling the atmosphere and vendors from local restaurants selling mouthwatering eats and treats to complement the tastes of the best brews in Eastern North Carolina. This event is free to attend and open to the public, and you purchase the beer. The proceeds from the Outer Banks Brewtäg benefit the Rogallo Foundation, which honors the legacy of Francis and Gertrude Rogallo, creators of the flexible wing (think hang gliding, stunt kites, paragliders). Ready to make kegs and kites soar? Come to the Soundside Event site from 12 to 6 p.m.
Hooked on Halloween Family Fishing Fun Day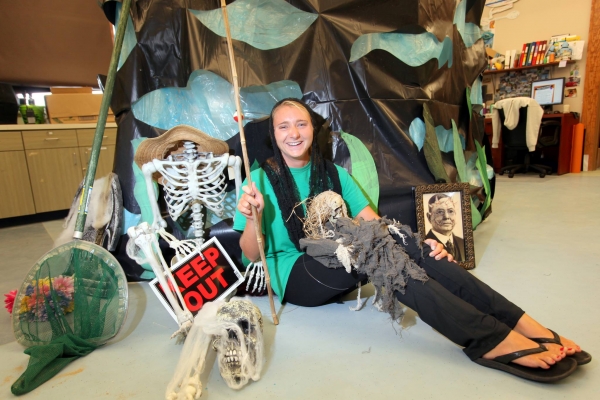 Halloween is just around the corner, and suddenly ghoulies and ghosties and other creepy creatures are everywhere. Jennette's Pier is inhabited this Saturday! Join them for a day of maritime Halloween fun at their Hooked on Halloween Family Fishing Fun Day. Practice your angling skills, try your hand at the Halloween-themed games and reap the prizes. Don your finest ensemble for the costume contest. The event goes from 12-3 p.m. Tickets are $10 if you arrive costumed and $15 if not. Tickets are $6 for children ages 4 and younger. Fishing equipment and bait is included in the price of the ticket.
Emerald Elegance Gala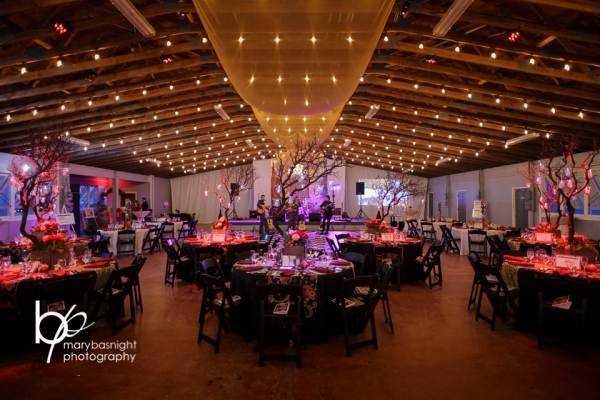 Brush off your finest evening jacket or strap on your on your heels for a swanky night at the Emerald Elegance Gala. This fundraiser for the Dare County Arts Council connects art and the community in a night of elegance and aesthetics. The Pirate's Cove Pavilion becomes a hotpot of sophistication with décor by Holiday House, and the Black Pelican catered food tempts all palates. Sip on cocktails from the open bar while you place bids on the original artwork and local businesses' exclusive packages at the silent auction. Dance the night away to the live music provided by The Finns. It's a fun time that you definitely want to be a part of. Tickets are $125 per person or reserve an eight-person table for $1,250. Reserve yours here. The event is Saturday night from 7 p.m. until 12 a.m. Black tie is optional, so get as gussied up as you want.
Passion for Pink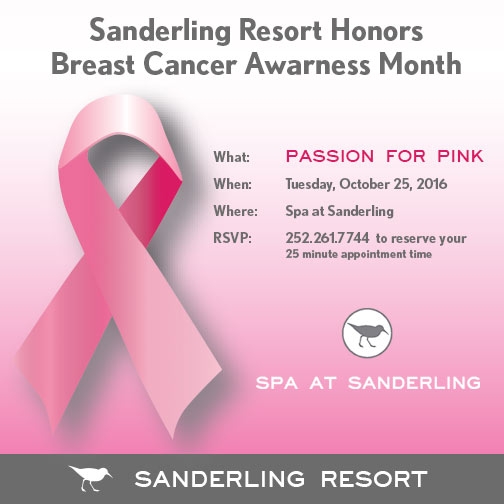 Are you battling cancer or did you in the past? The Sanderling Resort wants to pamper your body, mind and spirit at their Passion for Pink event. All you have to do is call and reserve an appointment time for Tuesday, October 25, then enjoy 25 minutes of complimentary spa services. Loosen up with a deep tissue massage, clear your pores with a rejuvenating facial or have your nails painted a festive fall color with a mani-pedi. Passion for Pink's goal is to raise awareness of breast cancer while making community members who've fought cancer or are currently fighting feel amazing. Call (252) 261-7744 to reserve an appointment time for yourself or someone you know. 
---
Ready for more? You got it. Catch the rest of the Wings Over Water Festival this week or keep up with football games at your favorite restaurant. Our Daytime Events listing is your guide to all activities and events happening this week. And when your sense of adventure extends to the evening hours, our Nightlife listing tells you where to find live music, trivia, bingo and more. So throw some kites, kegs and caution to the wind this week – fun waits for no one.