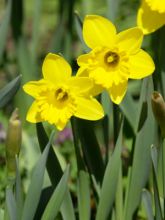 It's official. As of 7:02 a.m. today the earth's axis has met its annual obligation by tilting in such a way that the sun's center is shifted northward directly over the equator, an event known as the vernal equinox (which is kinda fun to say), and we have now formally exited Winter and entered Spring. Of course, for Outer Bankers this means gearing up for two more months of wacky, unpredictable weather. I can remember attending a First Friday several Aprils ago during which wintry squalls blew huge, wet snowflakes horizontally across the downtown waterfront so fiercely that walking outside was like being machine gunned with cold, damp cotton balls. So, here's to Spring, may it be lasting, sunny and mild.
Those who know me know that music, particularly live music, is one of my passions. Growing up, a prominent dream was to bring music to people the way my idols did with their incredible virtuosity. And, as luck would have it, I have been blessed with...absolutely no musical talent whatsoever. Fortunately, I have been surrounded for much of my life by people who do have the talent for creating music, and the joy of association is an acceptable substitute for those adolescent daydreams.
Last summer I had the good fortune to attend the Bonnaroo Music Festival with local radio personality, talented musician and good friend Grumpy Doug Dino. It was an amazing four days and nights filled with fantastic music, surprisingly good food, civilized camping and an inspiring joie de vivre shared among 70,000 of my closest friends. My Bonnaroo routine consisted of waking at 8:30 a.m., hitting the showers, then running down to breakfast before setting off around noon to experience what was essentially seven or eight concerts a day and stumbling back to the tent in the wee wee hours. It still seems unreal that I attended shows by Ben Howard, Sam Bush, AfroCubism, The Avett Brothers, Feist, Rodrigo y Gabriela and The Word (featuring John Medeski, Robert Randolph and members of the North Mississippi Allstars) all in one day. By the end of Day Two I was all out of superlatives.
But amazing musical experiences can be had on the Outer Banks, too. Just a few weeks ago an ad hoc band composed of Matt McGuire, Kevin Roughton, Doug Dino and Bill Rae put on a show at Poor Richard's in Manteo that was pure magic, one of those performances in which each musician seemed to be almost psychically connected to the others, everything flowed seamlessly and the audience knew they were witnessing something special. I had a similar experience at a recent Shaky Town gig.
The coming week offers a multitude of opportunities for musical magic from Kitty Hawk to Buxton. Thursday brings the next installment of Outer Banks Sounds Singer and Songwriters series sponsored by Dare County Arts Council and WVOD 99.1 The Sound and held at Kelly's Outer Banks Restaurant and Tavern from 7 p.m. to 10 p.m. On Friday Shaky Town plays Ocean Boulevard beginning at 10 p.m. Saturday offers the Jones Potion Band at the Sandbar and Grille in Buxton on Hatteras Island at 10 p.m., Jonny Waters and The Company at Lone Cedar Café at 9 p.m. and the Shack Band rocks the Outer Banks Brewing Station beginning at 10 p.m. If your taste in music runs more toward musicals, make sure to see Manteo High School's Stage Left performance of The Sound of Music at Manteo High School on Friday at 7 p.m. or Sunday at 2 p.m. I've heard only good things about it from those who saw the first week's performances. This is far from a comprehensive list. Check out OuterBanksThisWeek.com for more live music options.
The Week Ahead
You're never too young for a good party! The Outer Banks Hospital in Nags Head is hosting its Annual Baby Birthday Party Saturday, March 23 from 1 p.m. to 3 p.m. All babies born in 2012 are invited to a fun and festive birthday party featuring birthday cake, punch, games, music, giveaways, and information and resources for young families. Party on, babies!
The fun continues for young people with the Sea Turtle Egg Hunt held at the North Carolina Aquarium on Roanoke Island this Saturday, March 23 from 10 a.m. to 11:30 a.m. More than just an egg hunt, children will also participate in a sea turtle program, meet a loggerhead turtle face to face and make a craft to take home before joining a hunt on the Aquarium grounds for treat-filled eggs! Children aged 3-7 are welcome, and the event will take place rain or shine. Admission is $10/child; $9/child for NC Aquarium Members. Pre-registration is required. There will be two additional opportunities to take part in the Sea Turtle Egg Hunt on Saturday, March 30 at 9:30 a.m. and 11 a.m.
Perhaps your child is more attuned to the Easter Bunny than sea turtles. Then you'll want to get your little one to the Currituck County Library in Barco on Saturday between 9 a.m. and 11 a.m. for Breakfast with the Easter Bunny! Meet the Easter Bunny himself, share nibbles and make an Easter craft. Be sure to bring your camera so you can take pictures!
And while you're in Currituck, consider this...Just when it seemed Spring would never arrive we receive confirmation of its imminent presence with the Northeast North Carolina Daffodil Show at the North Carolina Cooperative Extension Currituck County Center on the Currituck County mainland near Barco. Anyone interested in gardening, arranging flowers and the beauty of nature is invited to enjoy this remarkable free exhibition scheduled for Saturday, March 23 from 9 a.m. to 5 p.m.
How about a little high fashion to kick off Spring? The fundraiser Fins & Fashion - An Alluring Ladies' Event begins in Nags Head on Saturday morning with a champagne brunch at Jennette's Pier from 10 a.m. to 12 p.m., followed by a scavenger hunt and shopping spree at Tanger Outlets from 12 p.m. to 2 p.m., and concludes back at Jennette's Pier with high tea and a raffle from 2 p.m. to 4 p.m. Tickets are $25 and can be purchased at Tanger Shopper Services. Proceeds will benefit the Tanger Breast Cancer Fund administered by the Outer Banks Relief Foundation.
Thanks to funding from the Get Pinked! Campaign this Wednesday, March 27 from 8 a.m. to 7 p.m. the Outer Banks Hospital is offering free screening mammograms for uninsured and under-insured Dare County residents. Hyde and Currituck county residents who work in Dare County can also take advantage of the screenings. Pre-screening and appointment are required. Call (252) 449-5918 or visit the hospital website for more details.

This week you have a chance to win a two-night stay at Colonial Inn and a $35 gift certificate to Tortugas' Lie!
For more information about Colonial Inn, check out their website.
For more information about Tortugas' Lie, check out their website.
Last Week's Winner
Congratulations to Joan Lewis!!!

You won a $35 gift certificate to Agave Roja and a $35 gift certificate to BARR-EE Station!
For more information about Agave Roja, check out their website.
For more information about BARR-EE Station, check out their website.