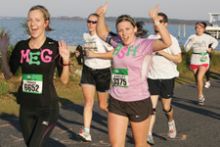 Are you used to the shorter days yet? I didn't think so. Why does losing one simple hour of daylight feel like such a robbery?...
Outer Banks Marathon weekend is here again. I can't believe it's the fifth annual event. * This is a big deal in our community whether you participate in the races or not. It not only raises major funds for the Dare Education Foundation and the Outer Banks Relief Foundation, but also brings thousands of people to town on an otherwise off-season weekend, giving our businesses a boost. * Be involved in it. You can still register for the races (at the Expo on Friday), you can volunteer to help out in advance or during an event, or you can stand along one of the races courses and cheer for the runners (local support truly makes a difference to runners and is what brings them back again)...
Here's the lineup for the marathon weekend: Friday from noon to 7 p.m. and Saturday from 9 a.m. to 6 p.m. is the EXPO at the Dare County Youth Center on Mustian Drive. Sure, it's a place to pick up your race packet, but it's also a place to pick up athletic apparel and other goodies from national and local vendors, and there is food and music. * Saturday is the Outer Banks Marathon Race Festival at First Flight High School from 7:30 a.m. to 1 p.m. The Outer Banks 8K starts at 7:30 a.m., the Buccaneer 5K starts at 9:30 a.m.; the Outer Banks Fun Run starts at 10:30 a.m. and the Diaper Dash starts at 11:30 a.m. Besides the races, there is fun for the whole family including games, activities and food on Saturday. * On Sunday, the full Marathon starts in Kitty Hawk at 7:20 a.m. and the Half-Marathon starts in Nags Head at 7 a.m. Everything ends up at the race village in downtown Manteo. * Note: Sunday morning is not a good time to drive to Manteo. A lane of the road is blocked off for the race and traffic gets a little backed up. If you're going to meet a runner, take a shuttle. * See www.obxmarathon.org for info...
Another big thing going on this week is the Wings Over Water Festival. * It's also bringing lots of people to town - in this case to explore the wild areas of the Outer Banks. The festival includes paddling, birding, photography, field trips, hikes, tram tours, boat tours - all of them guided by experts in ecology and wildlife. See www.wingsoverwater.org for information and to register. * I've been very impressed with the level of organization and efficiency of the WOW staff...
Looks like we're going to have weather in 60s all week, and that's great news for runners and WOW explorers...
Thursday is Veteran's Day. Do you know a veteran? Call them, write them a letter, bake them a pie. Thank a veteran this week. We owe so much to them...
Remember, local kids get out of school on Thursday for Veteran's Day. * If you're looking for something to do, consider a Wings Over Water trip (register early in the week). Or head to the Wright Brothers National Memorial or the North Carolina Aquarium on Roanoke Island - both attractions are offering free admission to everyone on Veteran's Day...
North Carolina Coastal Federation wants to meet you at a free Wine Tasting Social on Wednesday. NCCF is committed to protecting coastal waters through restoration, environmental education and ensuring that laws protecting the coast are enforced. They want to make their presence in the community more known, so come meet the staff at Chip's Wine and Beer Market in KDH on Wednesday from 5 to 7 p.m. to learn about NCCF. You might find that you want to volunteer to help this worthy organization, and they'll tell you what they need. * BTW, NCCF has an upcoming volunteer opportunity available on Thursday. They need adults to help with maintaining the rain garden at Manteo Middle School - i.e., pulling weeds, removing invasive plants, trimming shrubs, etc. Work will begin at 12:30 p.m. and you can come for the whole afternoon or just a little while. Email sarahjh@nccoast.org if you have questions...
On Thursday, national recording artists Drivin' N' Cryin' are playing at Kelly's. Admission is just $10 and its an early show. * I'm going straight to hell, just like my mama said...
Roanoke Island Festival Park has a couple of things going on this week. On Friday night, Roanoke Island Festival Park is hosting an evening with N.C. wildlife artist Duane Raver and author Charles S. Manooch, who will be sharing anecdotes about their book, Fisherman's Guide: Fishes of the Southeastern United States. This will happen from 7 to 9 p.m. in the Art Gallery * Saturday is Festival Park's Outer Banks Jewelry Expo 2010. From 9 a.m. to 5 p.m. meet local and regional professional jewelry designers, who will be demonstrating and selling their hand-crafted jewelry that includes gems, precious metals, gold and silver and beach glass. It's a great place for early Christmas presents...
Opening on Saturday at Festival Park is a new Civil War Exhibit called From Slaves to Freedmen: U.S. Colored Troops & the Freedmen's Colony on Roanoke Island. It will be displayed in the Grand Mall at Festival Park until May 13, 2011. Visitors can explore the fascinating history of the Freedmen's Colony that was based on Roanoke Island during the Civil War.
Another place for holiday shopping is the 2nd Annual Manns Harbor Holiday Craft and Gift Show at the Manns Harbor Volunteer Fire Department. They'll have arts and crafts, door prizes and lunch and will be accepting donations for Angel Tree. Hours are Friday 10 a.m. to 6 p.m. and Saturday 10 a.m. to 5 p.m...
Down on Hatteras this weekend, the N.C. Beach Buggy Association is having its annual Beach Cleanup and Volunteer Cookout. For info, call Pete East at (252) 480-0388. * Hatteras Island also has Wild Times for kids on Saturday at Cape Hatteras Secondary School. From noon to 5:30 p.m., bring the kids to learn about the programs the students are doing in partnership with the Coastal Wildlife Refuge Society and other organizations. It's free...
Here's another recommendation - cooking classes with Outer Banks Epicurean on Colington Road in KDH. Tuesday the class is Cheap Meat - what to do with the cheaper cuts of meat. Wednesday and Friday are Holiday Stuffing, Dressings and Sides. Thursday is A Very Vegan Thanksgiving. Saturday is Eating for Long Distance Running. Classes are small, inexpensive and fun and of course you get to taste! Reservations are required. Call (252) 480-0005...
Keep looking around the site. There's a lot more going on than I can tell you about here. Local businesses are offering special deals and events for the big weekend. And feel free to comment by clicking ADD YOUR VOICE, below. We love it when you tell everyone about an event that isn't listed here...