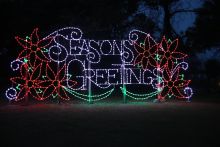 Strings of colorful lights adorn streets and shops, carols fill the radio stations, and I've already made the first batch of Christmas cookies I have planned for the season. The Outer Banks towns also have many home-grown, time-honored traditions that they use to welcome the holiday season. This weekend brings parades, festivals and grand illuminations of Christmas trees to officially kick off the season. Yep, it really is beginning to look a lot like Christmas.
Photo: Town of Duck
Festivities begin with First Friday in Downtown Manteo. Every First Friday in town is a blast, but this one is by far my favorite of the year. The Lighting of the Town Tree joins December's First Friday. Starting at 6 p.m., choirs and singers perform carols on the steps of the historic courthouse, and simply walking around results in people giving you as many Christmas cookies and hot chocolate as you can carry. This free event gives all ages a delightful way to greet the season. Be sure to stop in the local shops, galleries and restaurants for special surprises. 
It's no secret that the best sorts of celebrations are those in which the merriment spans multiple days. Stick around for Manteo's Christmas Parade on Saturday morning. The procession of marchers, floats, pulled boats and decorated cars and trucks leaves Manteo High School at 10:30 a.m. and works its way downtown. Spectators line Queen Elizabeth Street for front-row viewing.
Later in the day, the Duck Yuletide Celebration lights up the Town of Duck with Christmas cheer. Starting at 11 a.m., all ages can participate in the Great Elf Hunt that encourages exploring different shops, eateries and businesses in town to complete a Yuletide Passport. Completed passports are collected at the end and entered into a drawing to receive gift cards and gift baskets crafted by Duck retailers.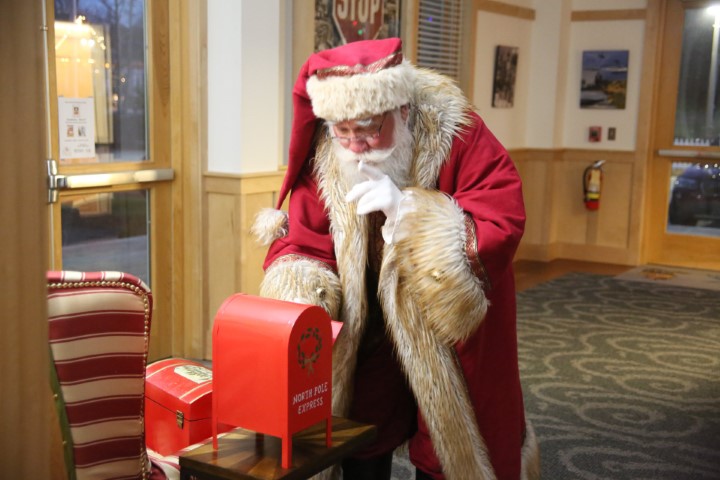 Photo: Town of Duck
From 3 to 5 p.m., gather in Duck Town Park for live music performed by students and local groups and Santa arriving via a town firetruck for the lighting of the Town Crab Pot Tree. Grab yourself a cup of coffee or hot chocolate and a tasty treat to enjoy during the festivities. The town encourages attendees to bring a donation for either Outer Banks SPCA or Food For Thought.
Another top holiday tradition on the Outer Banks is Outer Banks Hotline Festival of Trees, a community-centered, spirited event dedicated to all things Christmas: trees, music, cookies, gifts, sweaters and more. A series of happenings circulate around the featured Holiday Festival and Live Auction, a ticketed event in which attendees bid on beautifully decorated trees and local artwork, held on Saturday, December 7, starting at 6:30 p.m. Leading up to the event, check out the Bazaar of unique finds collected from Hotline Thrift Shops over the year, held from 9 a.m. to 9 p.m. on Friday, December 6, and 9 a.m. to 1 p.m. on Saturday. Friday at 7 p.m. there's also a free Ugly Christmas Sweater Party with light hors d'oeuvres, a cash bar, a silent auction, a raffle and music from Blue Crab Boys. This event raises funds for the Outer Banks Hotline to assist those in the community who have or are facing domestic or sexual violence. The Village Beach Club hosts this year's Festival of Trees. For Saturday's Benefit Auction, pick up tickets either online or from Hotline Thrift Shop locations north of Oregon Inlet.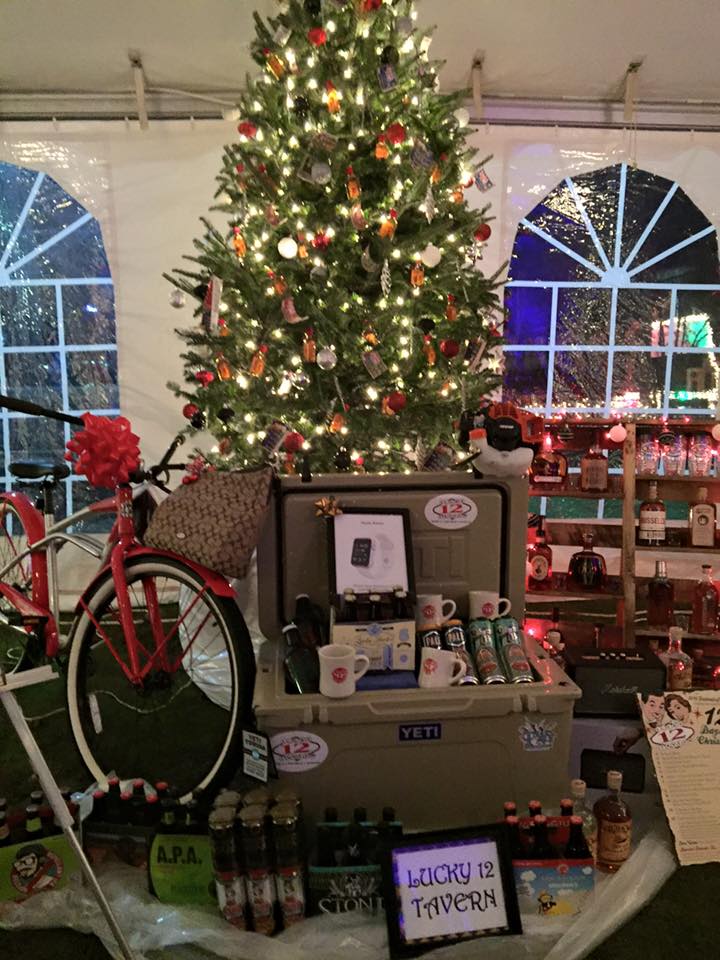 The Christmas tree donated by Lucky 12 Tavern for Outer Banks Hotline Festival of Trees. Photo: Outer Banks Hotline
Keep up the trend of shopping locally for holiday gifts at the annual OBXmas at Outer Banks Brewing Station this weekend. The brewery and pub turns into a large Christmas party and market, welcoming more than 40 local artists and crafters, a silent auction, raffles and outdoor music. Come browse the vendors' wares, enjoy a bite from the brunch or lunch menus or order one of the drink specials. A portion of proceeds benefits Interfaith Community Outreach, which supports individuals in the community in times of crisis or financial hardship.
And as you're zooming from one end of the beach to the other, feeling like Santa as he makes his world tour on Christmas Eve, take a minute to check out the holiday lights at Jockey's Ridge State Park. On Friday and Saturday nights during the holiday season, organizations and businesses from around the Outer Banks add bursts of color and sparkle to the park with festive light displays. Swing by to marvel at the decked-out dunes.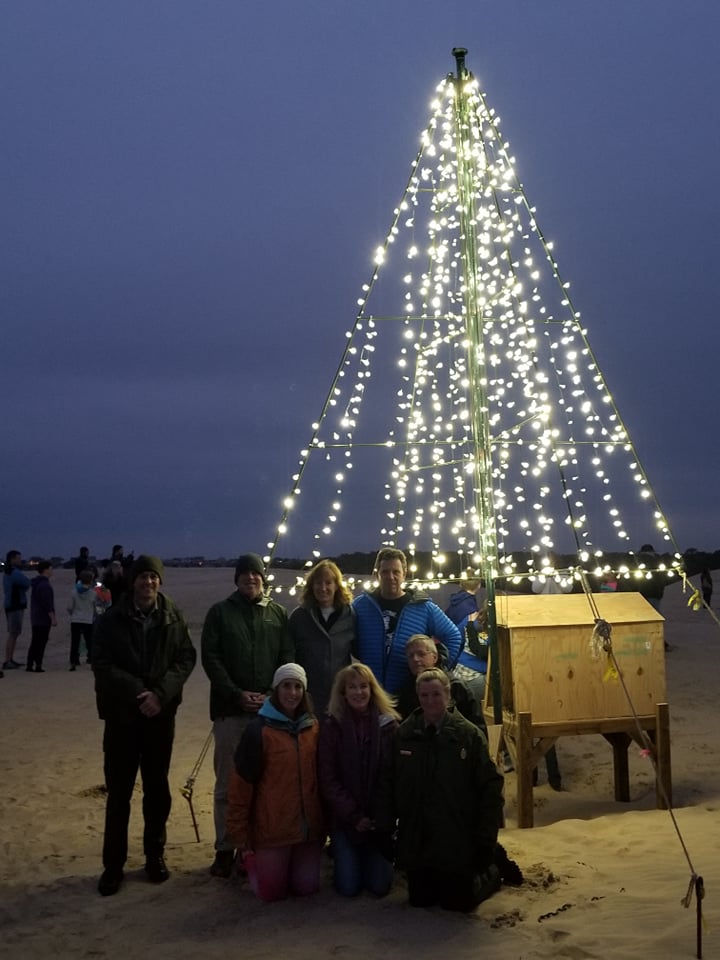 Photo: Jockey's Ridge State Park
This isn't even the beginning of the list for festivities around town. Learn more about where to see Santa, toy drive collections and more on our Daytime Events page. For other information about holiday light displays, live music and trivia nights, see our Nightlife page.