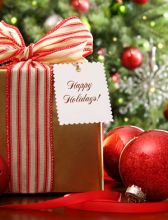 Several times recently I've engaged with friends and acquaintances in critiques of the modern Christmas. The holiday season, with its sometimes overwhelming demands, can be one of the most hectic, stressful times of the year. Although traditionally a time of spiritual celebration, in recent years Christmas has seemed characterized more and more by an oppressive, nearly universal frustration and anxiety regarding holiday shopping and gift giving. But perhaps we're making this all too difficult. Perhaps the dichotomy between spiritual meditations and the commercial focus of modern gift giving is not necessarily the gaping chasm that it appears to be.
As I write this, flanked by two shamelessly snoozing felines, I'm blearily coming to terms with the morning assisted by industrial-strength coffee sipped from a beautiful mug crafted by local potter and friend Jim Fineman. The mug was given to me as a Christmas gift by my wife nearly a decade ago. Over the years I've received larger, more expensive gifts, but this humble bluish mug with the subtle fern motif remains one of my favorite possessions.
Each time I hold the warm mug in my hands I'm reminded of its genesis in the creative mastery of a friend who, due to the demands of daily life, I do not see as often as I would like. With each sip comes an opportunity to consider the investment of talent, experience, time and care required to conceive and shape and glaze and fire the mug. And, to me, there is a certain spiritual aspect to such skillful manipulation of those ancient elements - earth, water, fire and air - that invests this seemingly simple utilitarian object with a majesty that belies its daily use as a vessel for my morning coffee.
As you wrap up your holiday shopping over the next few days, keep in mind that a great gift needn't be grandiose. The most meaningful gift you give, or receive, could be a "simple" coffee mug.
Of course, what goes better with a cup of coffee than relaxing with a good read? Well aware of the natural affinity between books and coffee are the good folks at Duck's Cottage Coffee & Books in Duck and Duck's Cottage Downtown Books in Manteo. At each location you'll find great java, hot reads, gourmet teas, children's books, educational toys, puzzles and more. They are the perfect source for last minute gifts and stocking stuffers.
For me, as for many men, footwear is just a basic necessity to which we don't give much thought. What kind of shoes do I own? Ummm, brown shoes, black shoes and a pair of canvas slip-ons. Possibly a decrepit pair of ancient Docksiders in the back of the closet. But if I was ever struck with a footwear fetish, Chameleon Clogs in Nags Head is the first place I'd go. Textile designer Rabiah Hodges is Chameleon's owner/operator, creative spark and clog maker extraordinaire. Chameleon's handmade-on-the-premises custom clogs have several sole options, and the variety of materials available for the uppers is enough to make your head spin, from woven textiles to velvets, leathers in 50 different colors and styles, ribbons, trims, buckles, paint, animal prints and more! Ask about Chameleon Clogs' gift certificates. Available in either pre-set or open-ended amounts, they make great gifts...easy to wrap, too. One envelope, one bow, all done. Consider a gift from Chameleon Clogs for the fashionista in your life. Faux leopard skin, hmm...
Great food is an essential component of any holiday gathering, but food items can also make excellent gifts for the gourmet on your list. One of my go-to sources is Coastal Provisions Market in Southern Shores. For several years I've relied on them for the makings of personalized Christmas gift baskets. From homemade cookies and peanut brittle to gourmet condiments, nuts, crackers, jams, treats and a great selection of wines, Coastal Provisions Market has everything you could need to create a custom gift for your favorite foodie. And with its full-service butcher, impeccably fresh seafood, hand-selected seasonal produce and specialty cheese and deli items, Coastal Provisions can transform your holiday feast into an event in its own right. Gift cards are also available good for 20% off at any of the three restaurants in the Coastal Provisions family (the Wine Bar Café in Southern Shores and Coastal Cantina and Coastal Cravings in Duck). And while you're doing your last-minute gift wrapping on Christmas Eve, make sure you tune in to the Food Network at 10 p.m. for the Coastal Cravings segment on Diners, Drive-ins & Dives with Guy Fieri.
If you need a break from all the holiday hustle, gift yourself with a few hours off and stop by Kelly's Restaurant and Tavern in Nags Head from 7 p.m. to 10 p.m. on Thursday, Dec. 20 for the latest Outer Banks Sounds showcase. Performing will be local songwriter Christina Garey and local bands Mosquito Net and High Tide. The first Outer Banks Sounds CD is currently available at the Dare County Arts Council gallery, Silver Bonsai, Radio Shack, Birthday Suits and Cloud Nine. Subsequent showcases will be held every third Thursday from 7 p.m. to 10 p.m. through May 2013.
Mom and Dad, take advantage of Kids Craft Day at The Elizabethan Gardens to get in a little shopping without the kids! On Wednesday, Dec. 19 from 10 a.m. to 2 p.m. children ages 5 and up can be dropped off for four hours of entertaining fun including arts and crafts activity, healthy snacks, lunch, story time and a special stroll through The Gardens. Bring hat, gloves and a coat. Price for Friends, $15; non-Members, $20. Pre-registration is required.
You still have a few more days to help spread holiday cheer to our furry friends at the Outer Banks SPCA. The North Carolina Aquarium on Roanoke Island is once again collecting gifts for the SPCA's Santa Paws Tree. Welcome donations include dog, cat, puppy or kitten food, blankets, dog shampoo, kitty litter, pillowcases, dog or cat toys and rawhides. Contributions will be accepted at the Aquarium daily from 9 a.m. until 5 p.m. through Friday, Dec. 21.
Do your kids usually spend the entire winter break indoors? This year, while they're home celebrating the spirit of the season, why not celebrate the spirit of adventure, too? The North Carolina Aquarium's Winter Wilderness Field Day Camp held Friday, Dec. 21 from 9 a.m. to 4 p.m. is a wonderful opportunity for young people aged 8-12 to spend the day outdoors in a supervised exploration of the maritime forest and marshes of Nags Head Woods. A half-day version of the camp will be held for younger children aged 6-7 from 9 a.m. to 1 p.m. Dress appropriately for the weather. Closed-toe shoes and a bag lunch are required. Price for the full day camp is $35 per child; $31.50 for NC Aquarium members. Price for the half-day camp is $25 per child; $22.50 for NC Aquarium members.
You've never seen Santa like this! On Sunday, Dec. 23 visit the North Carolina Aquarium on Roanoke Island at 1 p.m. or 3 p.m. as "Diving Santa" suits up and makes a splash in the 285,000-gallon Graveyard of the Atlantic exhibit. Youngsters 5 to 10 years old can have souvenir photos taken with Santa and relay Christmas wishes via the Aquarium's Neptune Communication System. The price is $18 per person; $16.20 for NC Aquarium Members.
Give the gift of life this holiday season! An American Red Cross Blood Drive will be held Thursday, Dec. 20 from 9 a.m. to 3 p.m. at Outer Banks Hospital in Nags Head. Donating one pint of blood can help save up to three lives! Pre-registration is required. Register online at www.redcrossblood.org (keyword search OBXHospital).
And finally, from all of us here at Outer Banks This Week, best wishes to you and yours for a very merry holiday!

This week you have a chance to win a one-night stay at Cameron House Inn and a $35 gift certificate to Ortega'z Southwestern Grill & Wine Bar!
For more information about Cameron House Inn, check out their website.
For more information about Ortega'z Southwestern Grill & Wine Bar, check out their website.
Last Week's Winner
Congratulations to Cindy Wiatt‎!!!

You won a two-night stay at Days Inn Oceanfront and a $25 gift certificate to Island Gallery and Christmas Shop!
For more information about Days Inn Oceanfront, check out their website.
For more information about Island Gallery and Christmas Shop, check out their website.