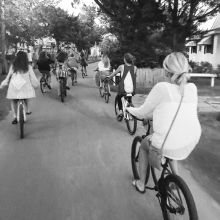 One of my favorite parts of summer is the bike riding. Whether I'm exercising, running errands, visiting friends or aimlessly wandering, it makes me so happy to hop on my bike, pump my legs and feel the warm wind on my skin. The Outer Banks has some amazing places for riding bikes. In this blog I'm going to tell you about some of my favorites for easy, casual, beach cruiser-style rides. I'll also let you know where you can rent bicycles, if needed.
Downtown Manteo & Roanoke Island Multi-Use Path
Roanoke Island is one my favorite places to ride bikes. You can ride the whole length of the Manteo portion of the island (not Wanchese) on a sidewalk or multi-use path and be connected to restaurants, shops, quiet neighborhood side streets and all of the local attractions except the N.C. Aquarium, which is down a non-bike friendly road. You could spend hours on your bike on Roanoke Island, just cruising around and stopping and exploring to your heart's content. In downtown Manteo and on the side streets, you have to be a little more mindful of traffic, but it's still easy to bike around. The best biking is on the north end of the island, where the 7-mile asphalt bike path is wide and shaded and very safe; go all the way to the end and you'll be rewarded with a stop at a nice little sound beach by the Umstead Bridge. If you drive your bikes over to the island, there's plentiful parking downtown and at Roanoke Island Festival Park.
Rent a bike: Manteo Cyclery, 627 U.S. Highway 64, Manteo, NC 27954, (252) 305-0306, manteocyclery.com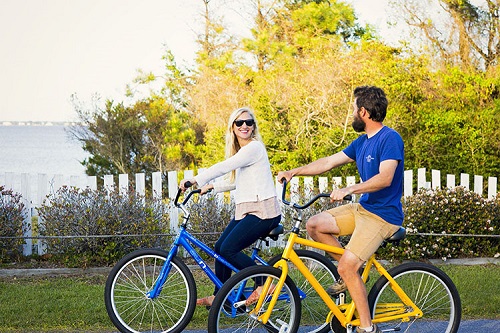 Biking in scenic downtown Manteo. Photo: Manteo Cyclery
Nags Head Multi-Use Path
The Town of Nags Head has two long multi-use paths, one running along the beach road and one along the bypass, and you can connect the two safely at multiple stoplights. I like the 11-mile beach road path best because it's asphalt and a little more scenic and quieter. The bypass path is kind of loud because of the traffic, but it's great for connecting the businesses, restaurants, shops and neighborhoods. I love to just hop on the beach road bike path and go, stopping at a beach access, an ice cream shop, a surf shop or a park along the way. On Thursdays, be sure to stop at Dowdy Park Farmers Market at MP 11. The beach road bike path continues past Jennette's Pier into South Nags Head; this area is mostly residential, but Fishheads restaurant at Outer Banks Pier at about MP 18 is a definitely worth the trip. 
Rent a bike: Outer Banks Bicycle, 203 S. Virginia Dare Trail, Kill Devil Hills, 252-480-3399, outerbanksbicycle.com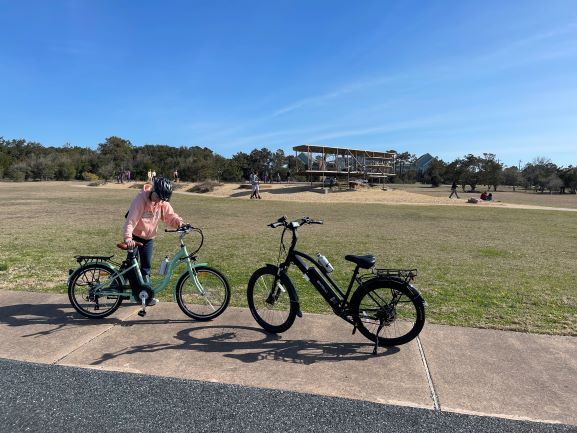 Biking along Colington Road behind Wright Brothers National Memorial. Photo: Carolina Shores E Bikes OBX
Bay Drive/Beach Road Loop – Kill Devil Hills & Kitty Hawk
On the west side of Kill Devil Hills, Bay Drive runs right along the sound and is a beautiful place to ride bikes. For a ride that's about 10 miles and connects Kitty Hawk and Kill Devil Hills and includes both soundside and oceanside pedaling, here's a good route.
Start on the beach road, somewhere around Ocean Bay Boulevard. Bike north on the beach road to Kitty Hawk Road. You'll pass shops, restaurants and Avalon Pier (a fun place for a beverage pitstop). Turn left on Kitty Hawk Road and bike across the bypass at the light. Bike a little way then turn left on Moore Shore Road, which will connect to Bay Drive on the west side of Kill Devil Hills. Ride as far as you want to go. Bay Drive will turn into First Street, which will connect to Colington Road. From there you can go to the First Flight Air Strip to access the back entrance to Wrigth Brothers National Memorial or cross the street to Veterans Park in Kill Devil Hills. Cross back over to the bypass at Ocean Bay Boulevard and head north up the beach road back to your car.
To make this route longer, when you're on Kitty Hawk Road, turn right onto The Woods Road for a long ride under shade trees. The Paul Pruitt Multi-Use Path runs the entire length of the road. You can turn around wherever you'd like and head back to the loop. A park and other bike trails can be accessed from this route.
Rent a bike: Ocean Atlantic Rentals: 2001 S. Croatan Highway, The Bypass, MP 9.75, Kill Devil Hills, (252) 441-7823, oceanatlanticrentals.com
The Town of Duck
Riding bikes is definitely the fastest and easiest way to get around the busy Town of Duck in the summer months. Just hop on your bike and you've got access to all the shops and restaurants and to Duck Town Park without having to worry about parking the car. You can also explore the side streets or continue riding the bike path either north or south of Duck for a long leisurely ride. The entire multi-use path is about 6 miles long.
Rent a Bike: Carolina Shores Electric Bikes OBX, 8568 B Caratoke Highway, Harbinger, (252) 599-0400, carolinashoresebikesobx.com
Corolla Greenway
Bicycles are a great way to connect to the shops, restaurants and attractions of Corolla as well. The Corolla Greenway is a 5.5-mile concrete path that runs north along Ocean Trail (N.C. 12) from 1 mile north of the Southern Beach Access at the north end of the Pine Island Community to Albacore Street at Monteray Shopping Plaza. An additional mile was recently added connecting the Monteray Shores and Corolla Light Communities. The last 1.5 miles of the Corolla Greenway runs north from Historic Corolla Park to the 4WD ramp. There are connections to existing community paths along the way, making the path almost 7 miles long. You'll bike over boardwalks and past beach accesses, enjoy views of the Currituck Sound and easy access to shopping, dining, Whalehead, Currituck Beach Lighthouse, Historic Corolla Village and more.
Rent a bike: Just for the Beach Rentals, 520 B Old Stoney Road, Corolla, (866) 629-7368, justforthebeach.com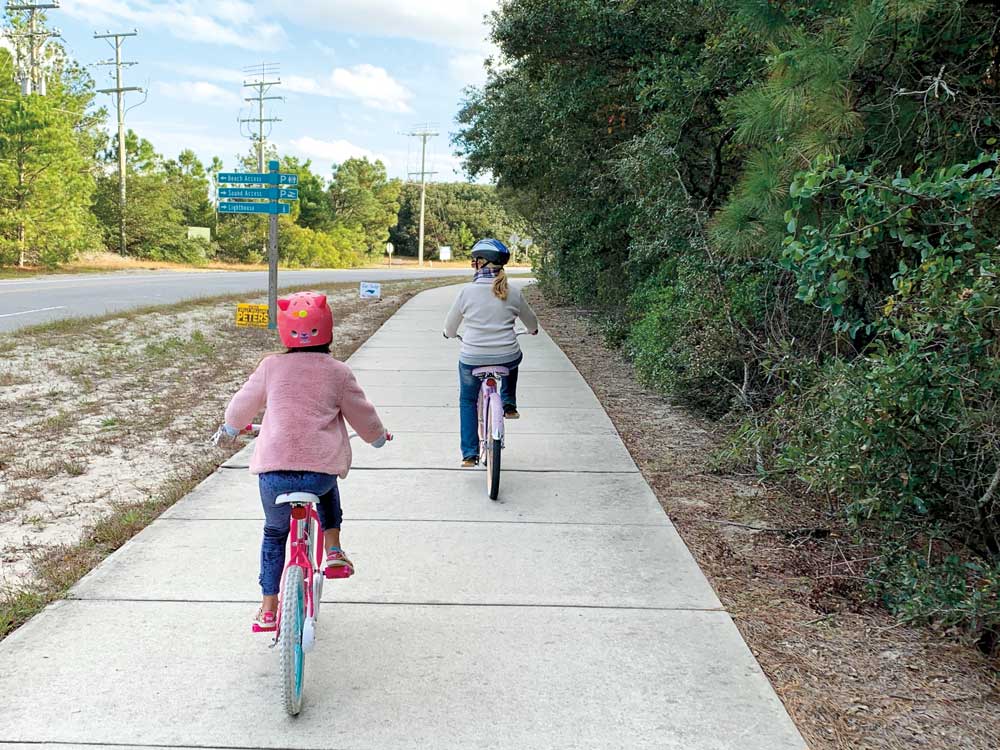 Riding on the Corolla Greenway. Photo: Currituck County Department of Travel and Tourism
Ocracoke Village
In Ocracoke everyone gets around by golf cart and bicycle. I personally think bicycles are the best way to see Ocracoke (except for that one time I was biking with a bag of ice and a 12 pack and the mosquitos started biting…). You can bike around the entire village in about an hour, and you'll see the harbor and all the local houses, graveyards, shops, restaurants and attractions along the way. You can also bike out of the village along N.C. 12 if you want to keep going, heading out to the beach accesses and NPS campground. For a really fun experience, leave your car at the Hatteras ferry dock and just take your bikes on the Ocracoke Passenger Ferry. The ferry puts you out right in the heart of the village so you can just hop on your bike and go until you're ready to ride the ferry home.
Rent a bike: The Slushy Stand, 473 Irvin Garrish Highway, Ocracoke, (252) 928-1878; theslushystand.com
I hope you have fun on your biking escapades! Remember to bring a bike lock with you if you plan to stop in any restaurants, shops or attractions – and especially at the beach accesses. For safety tips on Outer Banks bicycling, click here. For more bike rental companies and Outer Banks biking information, click here.