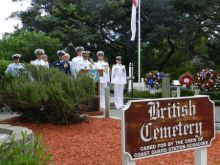 Did you know that there's technically English soil right here on the Outer Banks? Ocracoke Island's British Cemetery is considered English territory – its own little island within a slightly larger island. This week marks the 76th annual memorial service for the British Cemetery, and if you've never been to this event before, it's a captivating slice of international history that's worth knowing and observing.
I'm sure you already know that Britain and the United States allied against Germany during World War II, but the extent of their alliance runs deeper than D-Day. During World War II German forces preyed on the United States's shipping channels in the Atlantic, using their U-boats to attack American merchant ships carrying cargo to and from western Europe. Between January and June of 1942, the United States lost almost 400 ships to the attacks. The series of tragedies hit especially close to home for Outer Bankers. Residents witnessed explosions and fires rage offshore in the dead of the night. In the following days, debris from the attacked ships and bodies of crew members washed ashore.
Thankfully Britain stepped in to defend U.S. ships and the Mid-Atlantic shipping channels against these attacks. The British Royal Navy's fleet maintained a collection of trawling vessels that could detect below-water activity. This made them like Kryptonite for the U-boats. However, it wasn't without a price. 
Of the trawling ships in the convoy charged with crossing the Atlantic to protect the U.S. shipping channels and vessels, the HMT Bedfordshire's job involved escorting a group of merchant ships to Hatteras. During this venture, though, a U-boat torpedoed Bedfordshire off Ocracoke Island's coast on May 12, 1942. The ship and 34-member crew sank to watery graves, except for four of the naval officers.
Two bodies appeared on Ocracoke's shore after a couple of days and were identified as boys from Bedfordshire. Two more crew members soon followed. The islanders honored the mariners with a formal burial in the village's local cemetery. They wrapped the four men's caskets in Union Jack flags and laid them to rest in a corner of the cemetery. They raised the Union flag above the men's grave sites, identifying the British Cemetery within the Ocracoke Cemetery.
The land where the Englishmen were buried was later given to the Commonwealth War Graves Commission and declared British Territory, so that the men could be laid to rest in their "home soil."
Today the U.S. Coast Guard stationed in Ocracoke maintain the British Cemetery. The Union flag still flies over the four graves to mark a piece of England beyond Britain's borders. Appropriately, a plaque accompanies the graves with an excerpt from Rupert Brooke's poem "The Soldier":
If I should die, think only this of me,
That there's some corner of a foreign field
That is forever England…
Tradition holds that on the Thursday or Friday closest to May 12, Ocracoke holds a memorial service to honor the Bedfordshire seamen who lost their lives defending the East Coast. It's an event with due fanfare: Representatives from the United States Coast Guard, National Park Service, British Royal Navy and Ocracoke high school partake in the ceremony. They place wreathes on the graves, read the names of Bedfordshire's crew who were lost in the attack and close with the playing of "Taps" and finally a 21-gun salute.
This memorial service is open to the public, and it's a unique way to pay respects and appreciate this small but significant piece of national and local history and culture. Whether you're an Ocracoker or looking for an excursion, make your way to the British Cemetery this Friday, May 11, at 11 a.m. to honor this synergy of nations and tradition.
Wait! There's More...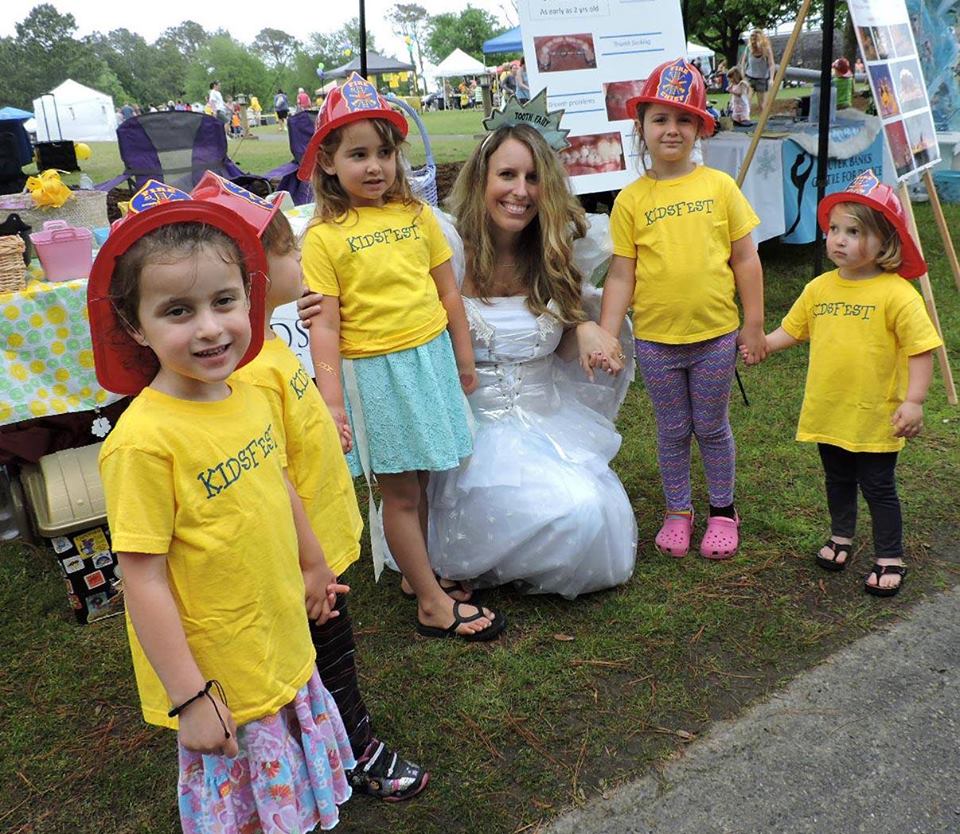 KidsFest - Friday, May 11
Children and Youth Partnership of Dare County is holdings its annual KidsFest event this Friday, May 11, from 9 a.m. to 12 p.m. at Roanoke Island Festival Park. This event is unique in that it's for the 5 and youngers only. Dozens of activities, games and crafts are geared specifically to young children, and there's ice cream and entertainment too. It's all held outdoors, and the site is stroller friendly.
Artrageous - Saturday, May 12
Dare County Arts Council's annual Artrageous festival is one of the most popular events for local families. Founded in 1989, it's a huge celebration of the arts. One of the best parts is all the free art activities and projects for kids. There is also live music and other entertainment, food and art vendors. It's all held outdoors at Dowdy Park in Nags Head, an absolute perfect venue. It's held from 10 a.m. to 3 p.m. It's totally free, but bring money for food and for buying art from the vendors.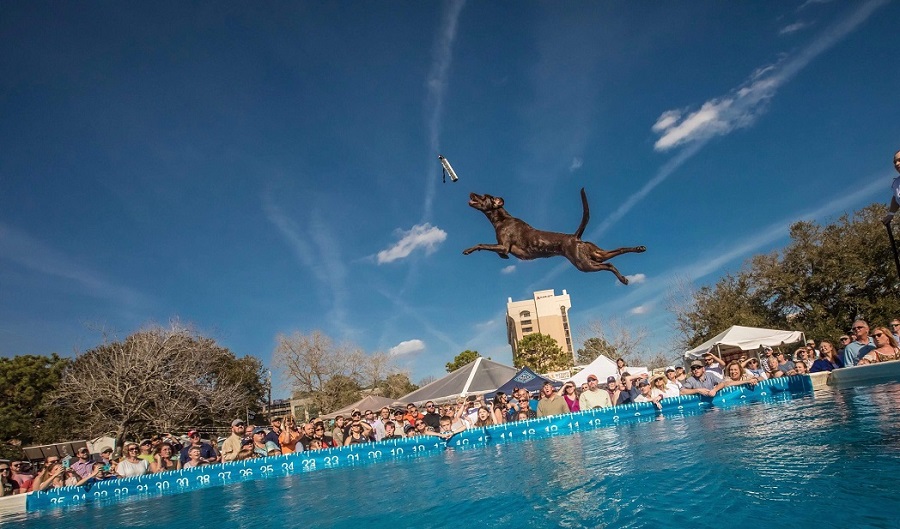 WOOFstock - Saturday, May 12 to Sunday, May 13
Dog lovers will unite at Soundside Event Site in Nags Head this weekend. WOOFstock is all about dogs, with exhibitors, vendors, activities, music, concessions and more for dogs and humans. You're welcome to bring your pet. There will be contests for dogs, too, such as best bark, best trick/talent, best owner-pet lookalike, best dancer etc. The highlight of the weekend is Outer Banks Spring Splash with Dock Dogs, a 25,000-gallon competition pool in which you can watch dogs compete in jumping competitions. Tickets cost $5, and parking costs $3 This is a fundraiser for The Elizabethan Gardens and Outer Bank SPCA. Hours are 8:30 a.m. to 6 p.m. both days. 
Photo: DockDogs, Facebook
Mother's Day - Sunday, May 13
Looking for a Mother's Day brunch special? Look to our Daytime events listings. Looking for a special gift? Be sure to check our Must Haves section.
Have a great week on the Outer Banks. Click around our site and you'll find many more fun things to do, see, buy and eat!