I'm currently in vacation-planning mode and quickly remembering how app-oriented our world has become. Just this week I have added airline, car rental, accommodations and recreation booking apps to my phone (not to mention more ticket apps for all the concert tickets I've bought because every band in America is on tour!).
It got me wondering: What apps do the locals use? And if I'm wondering that about Utah, then someone out there must be wondering the same thing about the Outer Banks. Here's a little rundown of apps that I use for Outer Banks life as well as a few others that you might need while you're here. I'm not including the obvious ones – the Waze, Instacart, Uber and such that you probably already have. And keep in mind that your vacation rental company or hotel will probably have an app for you to download as well.
Windfinder
Wind is constant on the Outer Banks, and I swear this has been the windiest spring ever (but I say that every year). Wind affects everything out here – from recreational pursuits to workdays (for many people) to kids' sporting events and dog walks. Therefore, this is one of my most used apps – I use it literally every day. It pinpoints the wind direction and speed with really cool graphics, and it's amazingly accurate. My husband and a lot of people I know prefer the Windy app to Windfinder; they're both great, it just depends on which one you're used to.
Tides Near Me
I love this app too. Most people probably use it for fishing, but it mostly helps me decide what time to go for a beach walk or run. You zone in on your location, and it tells you exactly where the tide is at the moment and how long to the next high or low tide. You can look at the high and low tides for the upcoming week as well. It also tells you the time of sunset, sunrise, moonset and moonrise, which is super helpful for watching the moon rising out of the ocean once a month.
Surfline
Surfline is the gold standard surf-forecasting app; there are others for sure, but this one is the most used. Whether you're a casual waverider or a serious swell searcher, you can see live Outer Banks surf cams, check the tides, read a local report, check forecasts and much more. Most people pay for premium, which gives you way more access to information.
Navionics
If you're boating, especially in unfamiliar territory, this one is a lifesaver. It turns your phone or iPad into a chart plotter, offering electronic navigation charts for oceans, sounds, bays, lakes and rivers. It's almost essential for boating, sailing, cruising, diving and fishing, even if you are in familiar waters. We have it on our iPad, so it's super simple to take that onboard any boat we're on.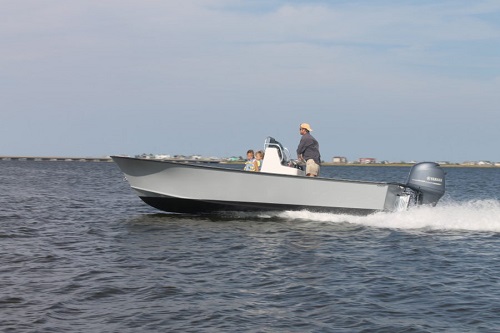 Photo: Whether you're fishing, boating, waterskiing or diving, there are several apps that are useful for being on the water, especially Navionics and a good storm radar app. Photo courtesy Harrison Boatworks
NOAA Weather Radar – Storm Tracker
Do you leave the beach or stay? This NOAA radar app is great for pinpointing exactly where thunderstorms and rain currently are and where they're going. This is always one to check before you do anything on the water. We have used this app many times when in the boat and literally been able to move in a direction away from the storm to stay safe. 
National Hurricane Center Data
This hurricane tracker app is a good one to have in hurricane season (June 1 to November 1). I like to get my information from this app instead of all the Facebook forecasters and weekend weathermen around the neighborhood whose contradictory forecasts are maddening. I've also used the NOAA Hurricane Center app. They're both good. Hopefully, I won't have to open either of them this year.
Night Sky
The Outer Banks is the perfect place for a stargazer app. I use Night Sky in my neighborhood in Nags Head when I'm walking my dog at night, but there's a lot of light pollution here so my options are kind of limited. The best place for a stargazer app is Cape Hatteras National Seashore. There are a lot of stargazing apps out there, so get one on your phone and go sit on the Hatteras or Ocracoke beach at night.
Audubon Bird Guide
With more than 400 species spotted on the Outer Banks, this is the perfect place for a birding app. I'm not a true, diehard birder, but I do love birds and I like to know what I'm looking at. This app helps me identify species for sure. It can also track your sightings, but I haven't gone that far with it yet. There are a ton of birding apps out there, so pick one for amateurs unless you're a serious birder.
The NPS App
The National Park Service app lets you explore more than 400 national parks, including Cape Hatteras National Seashore, Wright Brothers National Memorial and Fort Raleigh National Historic Site on the Outer Banks and Cape Lookout National Seashore south of here. It has maps and all the info you need for visiting the parks.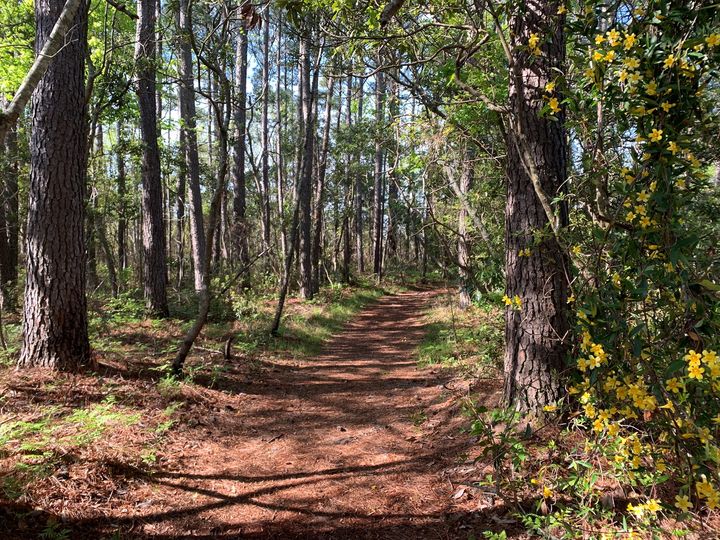 Photo: The All Trails app can help you find any Outer Banks hiking or paddling trail. Photo courtesy The Nature Conservancy Nags Head Woods Preserve
All Trails
This app is one of my favorites, and it is applicable to any place you go. It's the best way to find places to walk, hike or paddle in almost any place around the country, and you can sort by difficulty and length. All of the Outer Banks hiking trails are on this app, with a map and all the pertinent info you need. It also tells you whether pets are allowed or not.
Radio Free Outer Banks
Almost all radio stations have apps now, but Radio Free Outer Banks is the only one I have on my phone. This non-commercialized station plays a huge range of good music, and the local DJs give me that warm, fuzzy Outer Banks feeling.
OBX Beach Conditions
This is not an app, but it's something you should definitely tap into while you're on the Outer Banks. It's a text alert that gives you daily beach conditions and lets you know if it's unsafe to swim in the ocean. It tells you if there are No Swimming red flags flying. Text Join OBX Beach Conditions to 30890. When you leave, text STOP to the same number.
I hope this helps somebody out there have a better Outer Banks vacation. And, of course, if you're looking for all the things to do on the Outer Banks, you're already in the right place. Check around this site for all the events, things to do, restaurants, shops and more on the Outer Banks. Have fun and stay safe!
Photo at top:  Tim Mossholder, Unsplash