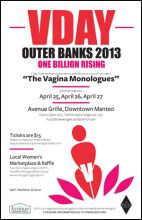 As I mentioned briefly at the conclusion of last week's post, Eve Ensler's award-winning play The Vagina Monologues returns to the Outer Banks with a three-day run from Thursday, April 25 through Saturday, April 27 at Avenue Waterfront Grille in downtown Manteo. The play is based on V-Day Founder and playwright Eve Ensler's interviews with more than 200 women. A talented cast of local women will bring Ensler's Monologues to life under the direction of Gail Hutchison, who is directing the show for her eighth and final time. The play is a frequently humorous, sometimes harrowing, always enlightening window on the experiences of women throughout the world.
But, let's be clear. The Vagina Monologues is not a women-only, man-bashing frenzy of feminism. Anyone who has lived with, been raised by, cared for or loved women, should see this show. Yes, guys, I'm talking to you. I would contend that no man should reach the age of 30 without seeing The Vagina Monologues. The insight the play provides into the thoughts and experiences of those who comprise more than half of all humanity is well worth any momentary discomfort you may experience. And balancing everything is the frequently laugh-out-loud humor woven throughout the show coupled with a rare and valuable opportunity to consider life from an entirely different perspective. Over the years, I've attended at least half a dozen performances of The Monologues. Trust me, whether gal or guy, you'll come away with a new respect for the strength and resilience of the women in your life and of those with whom you share the planet.
Doors open each night at 5 p.m. for dinner, drinks and the Woman's Marketplace. The show will begin promptly at 7:30 p.m. Seating is limited to 120 each night. Tickets are $15 and can be conveniently purchased at BrownPaperTickets.com. (Dinner, drinks and the Marketplace are not included in the ticket price.) Proceeds from the production will go to local organizations that work to prevent violence against women and girls with a small portion going to the national V-Day organization.
The Week Ahead
Although the weather has been somewhat uncooperative so far, the 11th Annual Outer Banks Bike Week continues for four more activity-filled days until Sunday, April 28. Always packed to overflowing with entertainment, great food and special attractions, the event feature bike shows, poker runs, guided tours, tattoo and bikini contests, live music, outdoor concerts, pig pickings and more than 100 vendors! Fortunately, the forecast looks better for Bike Week's second half. See the event website for an up-to-date list of events.
The Dare County High Schools Student Art Show runs through Friday, April 26, providing the procrastinators amongst us a couple more days to take in this amazing display of the youthful artistic talent nurtured at our three local high schools. The exhibition, held in the Roanoke Island Festival Park gallery, features two- and three-dimensional handcrafted art including ceramics, stained glass, wood and fiber art, mixed media, digital art, printmaking, sculpture, paintings, drawings and photography. The free exhibition is open to the public from 9 a.m. to 5 p.m. each day through Friday.
If you find yourself in Avon Thursday or Friday make sure to stop in at Studio 12 for Outer Banks jewelry artist Laura Howard's two-day event that includes a trunk show of her jewelry, a free demonstration of hand-hammered silver and copper jewelry on Thursday at 4 p.m. and a sea glass jewelry class (the $26 fee covers most materials) Friday at 10 a.m. The class is a great creative activity for kids 12 and older and comes just in time to make something nice for Mother's Day!
On Saturday the Appalachian Young People's Theatre from Appalachian State University will give two performances of the heartwarming comedy Luna as part of Roanoke Island Festival Park's Performance Series. The story, by Ramon Esquivel, follows the journey of Soledad, the daughter of migrant farm workers who is constantly changing homes and schools, as she turns inward and finds comfort in books, the stars and the company of the friendly moon, Luna. Colorful sets, props and costumes bring this whimsical story to life. The morning performance begins at 10:30 a.m.; the afternoon performance begins at 2 p.m. Both performances will be held in the Film Theatre. Tickets are $5 with children 5 and younger admitted free. Tickets may be purchased in advance at the Park or at the door.
Over the past several years the Outer Banks has blossomed into one of the most popular wedding destinations on the East Coast. Prospective brides, and their grooms, will want to attend the Outer Banks Wedding Show held at the Sanderling Inn Resort & Spa in Duck this Saturday, April 27 from 11 a.m. to 4 p.m. Caterers represented will include The Good Life Gourmet, The Red Sky Cafe, Ocean Boulevard and The Black Pelican. Just Desserts and Great Cakes! of the Outer Banks will be there with samples of their best wedding cake creations. Outer Banks wedding professionals from photographers and videographers to salons, spas, ceremony and reception venues, florists, planners, officiants and DJs will all be there. In short, everything you need to put together a complete Outer Banks wedding package can be found all in one place!
So, what do you have planned for Saturday night? Sure, dinner and a movie is a valid option, although chores and a nap in front of the TV is just as likely. But, why not take advantage of Saturday's full moon and go out where the wild things are? No, I am not referring to Kill Devil Hills. Get in touch with your own wild side and join the season's first Red Wolf Howling Safari. This free safari conducted by Alligator River National Wildlife Refuge staff and volunteers offers the experience of a lifetime! Learn about the endangered red wolf during a short presentation and then journey to the heart of the refuge for an adventurous attempt to hear the haunting sounds of red wolves in the only place they still exist in the wild. The program will proceed as scheduled except in the event of lightning, heavy wind or rain, or impassable road conditions. Participants should meet at Creef Cut Parking Area and Wildlife Trail at the intersection of Milltail Creek Road and U.S. Highway 64 (map and directions) at 7 p.m. Dress appropriately, bring a flashlight and insect repellant, and plan ahead (the meeting site is a 20-minute drive from Manteo). Do NOT bring pets. For more information visit the Fish & Wildlife Service website.

This week you have a chance to an Absolutely Wild Horse Tour for 2 and a $35 gift certificate to Corolla Cantina.
For more information about Bob's Corolla Wild Horse Tours, check out their website.
Last Week's Winner
Congratulations to Alexis Howell!!!

You won a one-night stay at Cameron House Inn and a Restaurant Tour for two with Outer Banks Restaurant Tours.
For more information about Cameron House Inn, check out their website.
For more information about Outer Banks Restaurant Tours, check out their website.