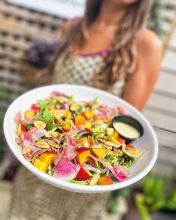 Interestingly, Nags Head was just named one of PETA's 2022 Top 10 Vegan-Friendly Beach Towns. I have never really considered any town on the Outer Banks as being overwhelmingly welcoming to vegans, but I will say that more and more restaurants are now offering plant-based options alongside their meat, seafood and dairy-based dishes. Veggie burgers are commonplace on most menus, for instance, and many pizza restaurants now offer a vegan cheese option and a gluten-free crust. If you're looking for more inspired vegan options, a few great local restaurants have more than one obligatory option, and several of those restaurants can be found in Nags Head as well as other towns around the Outer Banks.
Photo: A fresh, tasty salad is one of the many vegan options at Avenue Grille & Goods in Manteo.
According to PETA, eliminating animal products from your diet not only saves animal lives but also dramatically shrinks a person's carbon footprint, reduces the risk of diseases like cancer, diabetes and heart disease, and also helps prevent future pandemics. For these reasons, vegan diets are gaining rapidly in popularity, and awareness of the health of veganism (for people and the planet) is encouraging. As plant-based diets become more normal, I'm sure more restaurants will begin to offer more vegan options, and maybe we'll get a some entirely plant-based restaurants to join the one we have in Kill Devil Hills (thanks, Shine On Juicery!).
If you're looking for a plant-based meal on the Outer Banks, here are some of my favorite options. I'm not vegan, but I do prefer plant-based foods over animal-based so I typically order the vegan option when it's available. Please note: Many restaurants beyond those on this list have at least one or more vegan menu items, so this list is not at all exhaustive. The bottom line is that if you're vegan, you won't go hungry here. These are the restaurants that go to extra effort for their plant-based diners. Enjoy!
Sit Down Dining
NC Coast Chef Wes Stepp creates cutting-edge cuisine with a healthy flair at this Duck waterfront restaurant, and there are always plant-based options. There's always a completely vegan salad, but my favorite dish here is the Go-Gho Cauliflower, which is coconut-milk marinated, quick fried and tossed in-house Gochujuan Korean sweet chili sauce.
Outer Banks Brewing Station always has a tasty vegan entree on its menu as well as vegan Jackfruit Tacos. In the off-season they offer vegan tapas nights when the entire menu is plant-based.
Saltbox Café in Kill Devil Hills offers vegan options, even at brunch, and their menu clearly states which items are vegetarian, vegan or contain potential allergens. For brunch they offer things like Veggie Chorizo Burrito and Chia and Hemp Pancakes with veggie sausage. For lunch and dinner you might find Vegetable Spring Rolls or Malaysian Peanut Curry.
Bad Bean Baja Grill, which serves fresh Mex in Kitty Hawk, offers its Bad Bean Tacos with very tasty marinated, grilled tofu or rice and beans, and their salsas are so flavorful you won't miss the cheese and sour cream. The Tofu Bowl and Burrito and the Roasted Sweet Peppers and Onions Bowl are great choices, and their Black Bean Quinoa Burger is excellent.
Freshfit Café on the waterfront in Nags Head has numerous plant-based offerings for breakfast and lunch, including vegan pancakes, overnight oats, smoothies, salads, apps and build-your-own bowls. The chickpea wrap and Portobello wrap are so filling and delicious.
Woo Casa Kitchen in Nags Head has plant-based rice bowls and salads and more. Their Casa Casado Plate with beans, rice, pickled onions, casa fries and plantains is a favorite. For those mornings when you have a little hangover, the Morning Rice Bowl with sweet potato, kale, red cabbage, roasted corn and pickled onions does the trick.
Avenue Grille in Manteo has dedicated vegan menu options for lunch. Their Hemp Seed Edamame Hummus is to die for, and I could eat a Shala Shala Salad with cabbage, kale, carriots, cashews and a peanut-ginger dressing every single day. Their tofu tacos are very flavorful.
Olives A Greek Kitchen in Manteo brings a Mediterranean restaurant to the Outer Banks. Hummus, dolmades, falafel, white bean salad – yum!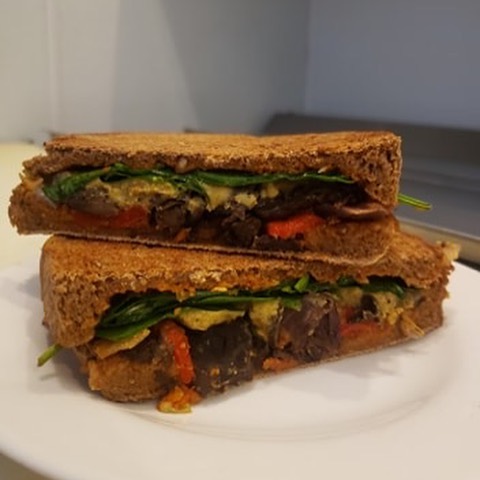 Outer Bean Cafe's mushroom panini is a delicious vegan sandwich.
Quick Fare and Takeout
Outer Bean Juice & Java in Kitty Hawk has fantastic vegan options. I love their vegan breakfast sandwich or mushroom panini with a Beet Dream or Going Green juice. The juices are fresh-pressed and seriously healing. You can also get plant-based sandwiches, avocado toast, big chopped salads and bowls for breakfast and lunch.
Shine On Juicery is an all plant-based spot for cold-pressed juice and food. They're open for late breakfast and lunch a few days a week and the food menu always varies, but it's always fantastic. Shine On also offers Juice Flood packages for a few days of detoxing.
South Beach Takeout, Catering & Delivery Nags Head definitely makes the extra effort for vegans. They have several options for vegan bowls, tacos, wraps, apps and burritos. Their blackened chickpea wrap and Buffalo Cauliflower Tacos are the best on the beach. And the Sesame Bowl is to die for. Look for their food truck, Fork'et Me Not, at local events. They always have something plant-based.
Waveriders Coffee & Deli in Nags Head is one of my go-tos for healthy fast food. Their veggie burger is one of the best around, and they have avocado toast, wraps, sandwiches and bagels with vegan cream cheese and cheese. Plus they have tasty smoothies.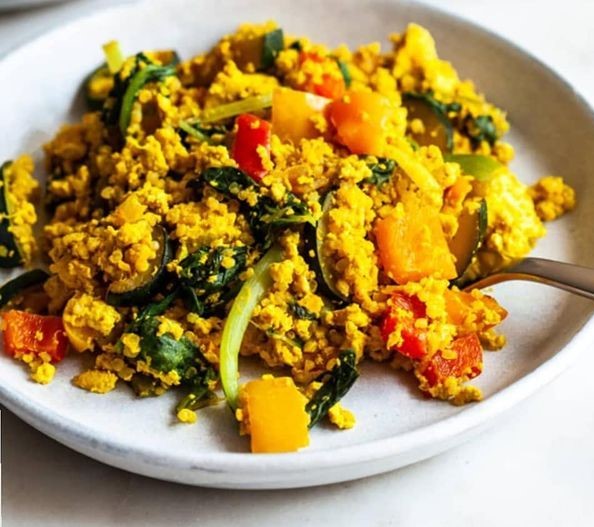 The Tofu Scramble is a protein-rich vegan option at Freshfit Cafe in Nags Head.
Asian/Thai/Indian
You can count on Asian, Thai and Indian restaurants to have solid vegan choices, and the Outer Banks has numerous options. Thai Vilai in Kitty Hawk and the Thai Room in KDH have all the goods, from vegetable-based curries to pad Thai to noodles and fried rice. Pok's Art in Kitty Hawk, Single Fin Sushi and Thai in Nags Head and Bangkok Thai Sushi in Duck are also great places to find plant-based dishes. Poke Box in Nags Head is one of my favorite places to pick up a quick vegan lunch.
For Indian fare, Masala Bay Grill, just over the bridge in Currituck, and Himlayan Indian Cuisine in Kitty Hawk, offer all several vegan Indian favorites like vegetable samosa and vegetable pakora, lentil soup and vegan curries and entrees.
Let us know what your favorite vegan dishes are on the Outer Banks in the comments below. And for the rundown on every Outer Banks restaurant from Corolla to Ocracoke, click here.