The upcoming trifecta of holidays reminds us to be thankful, to appreciate the act of giving and sharing, and to acknowledge the past as we look toward the future. While we're reflecting during the holidays we should also take time to consider the furry family members with whom so many of us are fortunate to share our lives, as well as those homeless souls so desperately in need of assistance. Fortunately, there are local organizations to help these beleaguered animals. In our community, we can rely on the Coastal Humane Society, Feline Hope Animal Shelter and the Outer Banks SPCA to assist local animals. But, who helps the helpers? Well, in this case, we all can. And we can have a good time doing it, too.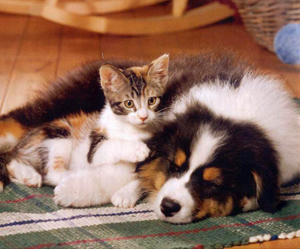 Show your support for our four-legged Outer Bankers and their hard-working caregivers at the Wag and Whiskers Gala on Friday, November 22 from 7 p.m. to midnight at the North Carolina Aquarium on Roanoke Island. An evening of music, dance, delicious food and drink, and a silent auction, all in the service of improving the quality of life of the animals of Dare County? Why, it's enough to make you wag your tail or purr. Tickets are $45/person and $85/couple and may be purchased at Outer Barks in Duck; The Holistic Pet Shop, KDH Cooperative and Toy Gallery in Kill Devil Hills; Salty Paws Biscuits in Nags Head; the Dare County Animal Shelter in Manteo; and at Outer Beaches Realty in Avon.
Holiday Bazaar
Holiday shopping is not high on the list of favorite things for some of us. But, if it must be done, the 11th Annual All Saints Church Holly Days Bazaar is one of the least stressful options available. On Friday, November 22 and Saturday, November 23, from 9 a.m. to 4 p.m. each day, more than 35 artists and craftspeople will display their works at All Saints Episcopal Church in Southern Shores. Shoppers will discover a variety of handmade jewelry, handbags, wooden art, functional whimsical gifts, painted glassware, furniture, Christmas decorations, Yesterdays' Jewels, original photography and watercolors, scarves, pottery, bird houses and much more. Save yourself time in the kitchen with a purchase of something delicious from the Gourmet Bake Sale. Then, after all the shopping is done, you can sit back and enjoy a tasty lunch in the church's café from 11:30 a.m. to 1:30 p.m. As shopping goes, this is positively civilized.
Holiday Color
The Elizabethan Gardens are worthy of a visit any time of year, including winter. For instance, The Gardens boasts one of the best and most varied camellia collections anywhere, and the colorful, rose-like blossoms of the camellia are all the more impressive as they burst forth into the monochromatic winter landscape from November through March. On a more immediate note, if you need to quickly inject some holiday color into your life, you'll want to visit The Gardens during Poinsettia Week Monday, November 25 through Saturday, November 30 to pick from their array of specialty poinsettias. While you're there check out the gift shop for unique holiday gifts. For more information call (252) 473-3234 or visit The Elizabethan Gardens website.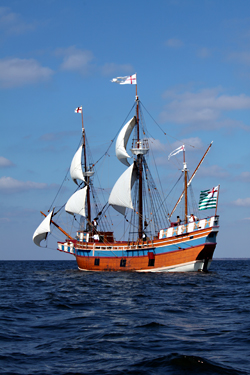 Happy Birthday, Elizabeth II!
Prior to the reconstruction of the Roanoke Marshes Lighthouse in Manteo's Shallowbag Bay the Elizabeth II was the most recognizable icon on the downtown's waterfront. Built to commemorate America's 400th anniversary, the ship is still a source of pride for the community and a major draw of visitors to the downtown area. In something of a maritime birthday celebration, the Elizabeth II marks the 30th Anniversary Commemoration of its christening and launch on Friday, November 22 at Roanoke Island Festival Park in Manteo from 10 a.m. to 12 p.m. Entrance to the festivities will include a 30% discount off regular park admission. For more information visit RoanokeIsland.com or call (252) 475-1500.
16TH Annual Rockfish Rodeo
The annual Rockfish Rodeo fishing tournament returns to Roanoke Island for its 16th year this Saturday and Sunday, November 22-23 at the Pirate's Cove Pavilion. Sponsored by the Manteo Rotary Club, the event opens with registration Friday, November 22 from 4:30 to 7:30 p.m. including a welcoming social and an anglers meeting. Fishing will begin Saturday at 6 a.m. with the official weigh-in set for 3 to 4:30 p.m. After the fishing comes a silent auction, a pig picking banquet, live music with local band Flip Flop Five and the awards presentation. Tickets for fishing and the after-tournament party can be purchased separately. For more information visit the event website.
A Bounty of Thanksgiving Dinner Choices
Late November can be a wonderful time to be on the Outer Banks. The weather often is balmy, water temperatures still moderate, the beaches wide open and the pace slowed considerably from the in-season rush. Which make the Outer Banks a perfect setting for a Thanksgiving gathering, whether you are a local or a visitor. And thanks to the efforts of some of the Outer Banks' finest restaurants, the savory aromas of Thanksgiving dinners and buffets will be wafting along the beaches and sounds from Duck to the Nags Head/Manteo Causeway. Following is a brief list of some of the local restaurants serving Thanksgiving dinner:
Duck
Up in Duck, Fishbone's Sunset Grille will host their Thanksgiving buffet from 1 to 6 p.m. featuring everything from clam chowder and cheddar soup to roast turkey, prime rib, lump crab cakes, baked ham, roast pork loin, baked rockfish and all the fixings and sides you'd expect. Call (252) 261-3901 for details or to make reservations. The menu can be viewed here.
Kitty Hawk
At Ocean Boulevard Bistro & Martini Bar parties from one to 21 will find a celebratory four-course Thanksgiving menu offered from 3 to 9 p.m. that presents this traditional holiday meal with a fresh, updated flair. Highlights include crispy fried oysters with heirloom grits and chipotle aioli, a creamy oyster chowder with applewood bacon and crispy panko-crusted North Carolina turkey. Children younger than 12 are offered a limited three-course meal of kid favorites, ensuring that everyone enjoys this Thanksgiving meal. The adult menu is $55/person, the children's menu is $18/child. Click here for the complete menu.
Kill Devil Hills
Thanks to its beachside location Beachside Bistro at Sea Ranch Resort has the luxury of offering a calorie burning walk on the beach following your Thanksgiving feast! From noon to 7 p.m. Beachside Bistro will be serving a menu that includes such favorites as Hatteras clam chowder, deep-fried turkey, cornbread stuffing, chocolate chess pie and more! The meal is $23.95/adults and $14.95 for children 12 and younger. Call (252) 441-4126 to make reservations and view the menu here.
Mako Mike's will be open Thanksgiving Day from noon to 8 p.m. serving their regular full menu in addition to a traditional plated Thanksgiving meal including roasted turkey, Smithfield ham and all the trimmings. The meal is $13.95/adults and $6.95 for children. Call (252) 480-1919 to reserve your table.
Peppercorns in the Ramada Plaza will be serving a traditional Thanksgiving all-you-can-eat buffet from noon to 5 p.m. Buffet offerings include shrimp and corn chowder, stuffed oysters, roast turkey with giblet gravy, crab Florentine stuffed flounder and assorted desserts! Prices are $21.99/adults, $10.50/children younger than 12 with children younger than 4 eating free. Click here for a complete menu.
Nags Head
Kelly's Thanksgiving Day buffet serves from 11 a.m. to 8 p.m. and features Clam Casino, Oyster Rockefeller, homemade cranberry relish, hand-carved turkey, oyster dressing, bouillabaisse and homemade desserts from pastry chef Becky Miller. Prices are $31.99/adults, $22.99/seniors, $10.99/children ages 5 to 12, free for children 5 and younger. Reservations are strongly suggested; call (252) 441-4116. See the complete menu here.
Pamlico Jack's Thanksgiving Buffet & Oyster Festival offers something for everyone - Oysters Remick, smoked rockfish, crab bisque, Jamaican-roasted pork loin, roasted turkey, Shrimp and Scallop Newburg and more than a half dozen desserts! The buffet will be served from 11 a.m. to 7 p.m. Prices are $29.95/adults, $22.95/seniors, $14.95/children younger than 12 with children younger than 5 eating free. Click here to view the full menu.
At press time, settings at Owens' Restaurants 21st Annual Thanksgiving buffet were filling up quick, but a few spaces still remained. Owens' Thanksgiving feast is always incredible, from the appetizers through the main course to the desserts. Visit their Facebook page for more information. Call (252) 441-7309 to reserve your space.
Nags Head/Manteo Causeway
This year Basnight's Lone Cedar Café is serving up its 7th Annual Thanksgiving Feast from 11 a.m. to 6 p.m. Their traditional Thanksgiving buffet includes such delectables as baked rockfish, prime rib, oven-roasted turkey, sage dressing, corn pudding and homemade breads and desserts. Prices are $32/adults, $15/children ages 5 to 12 and free for children younger than 5 (prices do not include drinks, tax or gratuity). Reservations are recommended but not required; call (252) 441-5405. The complete buffet menu can be viewed here (scroll down until you see 7th Annual Thanksgiving Feast).

This week you have a chance to win a $65 gift certificate to Grace Bodywork Therapy & a $50 gift certificate to Gray's Outer Banks!
For more information about Grace Bodywork Therapy, check out their website.
For more information about Gray's Outer Banks check out their website.
Last Week's Winner
Congratulations to Katie Bacon!!!

You won a $50 gift certificate to Ocean Annie's Craft Gallery & a $35 gift certificate to Trio!
For more information about Ocean Annie's Craft Gallery, check out their website.
For more information about Trio check out their website.